Ground reality: How Jharkhand's poorest are being kicked out of PDS due to Aadhaar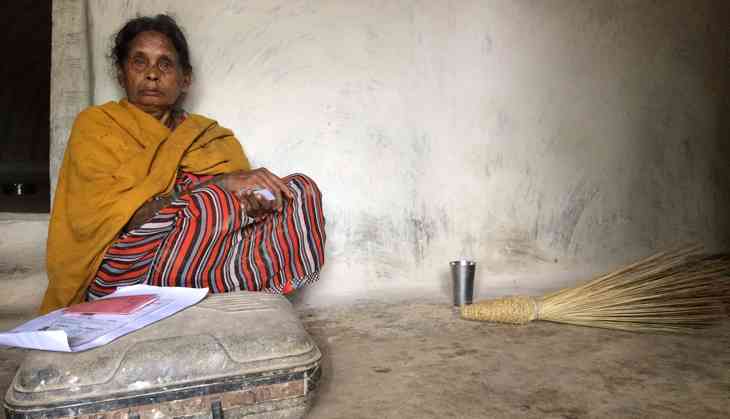 Mamata Devi in Katamkuli village claims she is not getting any grains from the PDS despite an Aadhaar (Sadiq Naqvi)
Chatku Mahto has not received ration for two months – oil, sugar, salt and, most important, the 20 kilogrammes of rice his family is entitled to – none of it.
Mahto works as a construction labourer. Monsoons are anyway lean months as there is hardly any work.
"That 20 kg rice at Re 1 a kg makes a difference," Mahto says as we chat in his courtyard. The family lives in a one-room house at Lola village, nestled in the lush green Ramgarh valley surrounded by hillocks, a few kilometres off a four-lane expressway in Jharkhand.
The ration shop is in Gandke village, a couple of kilometres away. Mahto went there four times in May and June, only to return empty headed.
"Thepa nahi mil raha, they said," Mahto says, pointing to his thumb, worn with cuts after years of hard manual labour. Thepa is the word for thumb in the local dialect.
Mahto's thumb impression was not recognised by the point-of-sale (PoS) machine at the local dealer's for the Public Distribution System. No biometric recognition means no ration.
He even took along his children, hoping their thepa would work. They didn't.
"Will we get the ration this month?" Mahto's wife asks before rushing inside to get the ration card. She has been visibly worried as she sat in a corner trying to make sense of our conversation.
"We are poor people," she says clutching the pink card that entitles the family to affordable rice, sugar, salt and kerosene oil.
The Jharkhand Government's Food and Public Distribution Department's smart website shows the Unique Identification (UID) of all four family members as verified.
Mahto's phone number too has been seeded into the system. So if biometrics don't work, transaction would still be possible with a one-time password (OTP).
Mahto, however, doesn't know what an OTP is. The inbox of his Nokia feature phone shows he received two OTPs, on 21 June – when he went to the ration shop last – suggesting his desperation to get ration.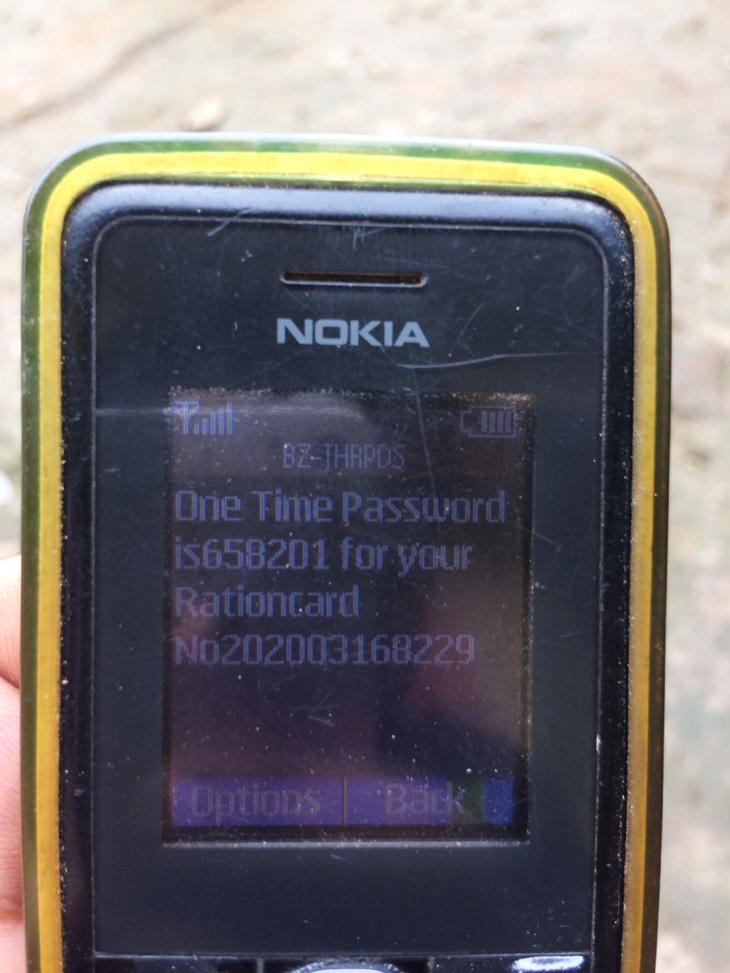 Chatku Mahto's mobile phone shows he received an OTP (Sadiq Naqvi)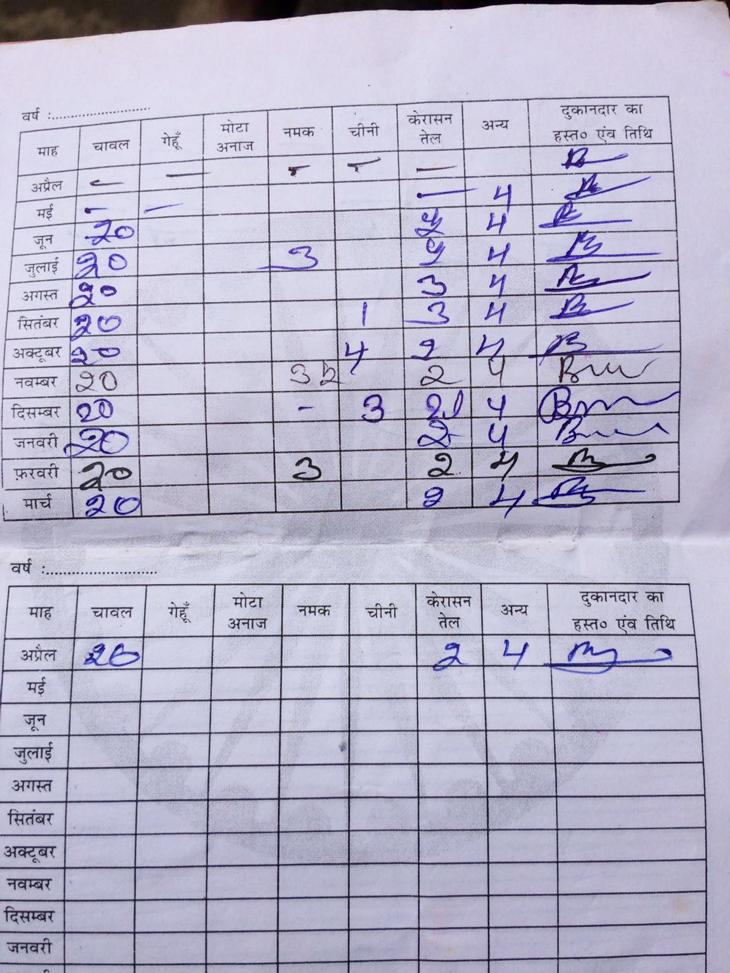 Chatku Mahto's card shows he didn't receive any ration in May and June (Sadiq Naqvi)
Thumb rule
In the villages in Jharkhand,'Thepa' thumb in local dialect comes up often in conversations after Aadhaar seeding was made mandatory for the 97% of the population registered under Aadhaar to avail benefits of the Public Distribution System.
'Thepa' has indeed become the most important thing for these poor. Their monthly ration is at the mercy of the Point of Sale machines on the condition that the biometrics are authenticated. In short, you don't get rations without Aadhaar-based Biometric Authentication or ABBA.
The initial findings of a recent survey revealed that roughly 10-15% of the poorest of people are getting kicked out of the system since this programme to link Aadhaar with the PDS has been rolled out in phases. For these people, the monthly supply of PDS is a right since the National Food Security Act was enforced.
Meanwhile, the old problems of quantity fraud, that is the ration dealer forcibly taking a cut from every household, persists even as the Central Government continues to boast about how Aadhaar is plugging the pilferage in various government welfare schemes including the PDS.
Since Aadhaar has been made mandatory for all PDS transactions, something which happened in Lola only in May, there is utter confusion in the state as people scramble to get their Aadhaar numbers seeded with their ration cards.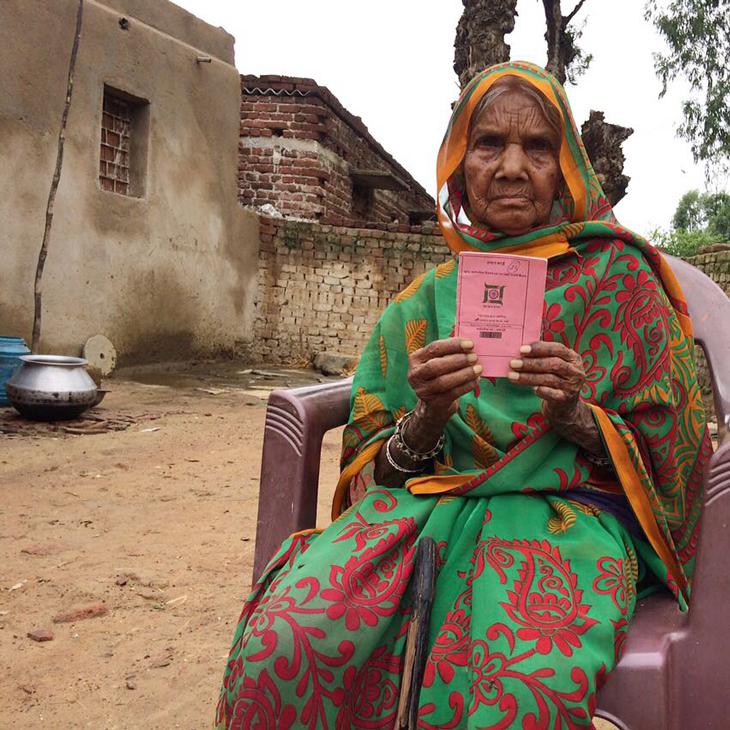 Aalo Devi, Katamkuli village (Sadiq Naqvi)
The issues
The scheme to link Aadhaar with PDS started in Ranchi the state capital in August 2016. Gendu Mahato, a septuagenarian in Katamkuli village in Kanke block of Ranchi had to go five months without any ration before he finally managed to get his wife's Aadhaar number seeded into the system. Gendu Mahato owns just a little more than half an acre of land which does not produce enough for the survival of the family.
He is now among the 70% people in the state whose Aadhaar numbers have been seeded with their ration card data, as Saryu Rai, the state cabinet minister in-charge of department of food, public distribution and consumer affairs told Catch, in an interview at his residence in Ranchi.
But as in Chatku Mahato's case merely seeding Aadhaar is not enough to get you the essential ration supply from the PDS dealer. This reporter came across several cases in Katamkuli where mostly destitute people complained of not getting ration despite Aadhaar. There are indeed several other variables.
In Lola, too, there are around fifteen families who are not able to avail ration because of issues with their biometric authentication, according to Nirasha Devi, who runs the PDS shop in Gandke. The shop was allotted to Bishnu Mahila Vikas Sangh. The Jharkhand government's website shows that only 88% of the villagers could transact at Nirasha Devi's shop in June.
As you go driver further on the four-lane expressway, Kaitha village is little less than a kilometre when you get off the highway to enter Ramgarh town. The transaction rate for the local PDS dealer here, Rajendra Mahato, meanwhile is worse than Nirasha Devi's and shows a mere 76%.
Those left out include sixty-five-year-old Bilaso Devi's eleven-member household. She has a yellow card, meaning they come under the Antodaya, the poorest of the poor, who are entitled to 35 kilograms of rice irrespective of the size of the family, something which works for smaller families but comes as a disadvantage for people like Bilaso Devi. Cabinet Minister Rai says the state government is asking everyone who
Cabinet Minister Rai says the state government is asking everyone who has more than seven family members to give up Antodaya cards for the pink ration cards.
"That will not only get these people more ration but also create vacancies in the Antodaya list for other deserving families," he told Catch.
But Bilaso Devi is distraught. She has not received even the 35 kilograms of rice and other essential items since April. "Machine thepa nahi leti," she complains as she sits on the ledge next to the well in her courtyard. "I have made multiple trips to the ration dealer," she says.
If the POS does not recognise your biometric information three straight times, it sends out an OTP to the mobile number seeded with your Aadhar number to aid authentication.
The data about transactions from Mahato's shop in Kaitha shows zero OTP transaction. The data of Nirasha Devi's shop in Gandke, too, shows not even one transaction through the OTP route explaining why Chatku Mahato did not get his ration despite the OTP. Like Chatku Mahato, Nirasha Devi, too, does not know about the OTP.
"The training lasted a few hours, I do not know how to use the OTP," she explains as she tries to show how the POS machine works. Or did not work most of the time in her case.
The machine shows no network even when you put its antenna up, in a ninety-degree position. Nirasha Devi points to a Banyan tree at a distance. "That is where I have to walk every month because we get the network there mostly," she explains. Days it is too cloudy, she walks further away to a flat spot in the valley looking for the elusive cell phone network.
"The old system was better. Now people have to come multiple times," Nirasha Devi says.
Even minister Rai accepts connectivity is a big hurdle.
"Yes, the network is a big problem. And 80% of our POS machines are online while only about 20% are offline. There is no other way, the network has to be strengthened," he points out explaining how he came to know about bungling by dealers using offline mode.
"They are as good as old register system," Rai says.
Although, he claims that the dealers claim to not know about the OTP are misleading the public.
Rai is not happy with the ration dealers and thinks much of the problem lies with them. He pointed out how dealers in some cases have bought multiple sim cards and seeded those numbers in the beneficiary accounts to corner the monthly entitlement.
"We are aware of all of this," he says.
Associate Professor of Economics at IIT Delhi Reetika Khera, who was part of the survey along with economist Jean Dreze, is aghast by the way ABBA is kicking out a section of people. Albeit, she accepts that more than 80% transaction rate defies expectations.
"These are the people who have done everything the government wants, that is got their Aadhaar, got it seeded, and they are entitled to it under a law which government made, even then they are not able to transact because the technology is unreliable," she says.
Rai, meanwhile, in the long conversation, accepted that authentication through biotmetric is an issue for several people. He says the government is mulling buying iris scanners to replace the POS machines with fingerprint scanners but the former are costlier.
Meanwhile, for some multiple trips mean loss of work. "Every month the day dealer distributes ration I have to take an off from work," says Manoj Mahto in Katamkuli. He works as a salesman in neighbouring Ratu town. He has no other option because it is only his 'Thepa' which works on the POS.
Multiple trips are painful for almost 90-year-old Aalo Devi who lives alone in the Mahato Tola in Katamkuli. She can barely walk and moves around with a stick. After her husband passed away she used to send her neighbours with the ration card and get her monthly PDS.
Since government made Biometric authentication mandatory, she has to walk all the way the PDS shop. She does not have a cellphone.
"The cost of transaction has gone up because the people have to come multiple times," Khera, the who have been working on the survey in Jharkhand told Catch.
"We found two sets of people, one who are able to transact and another set of people who have been kicked out because of connectivity issues, or fingerprint issues and are not able to transact," Khera says explaining the initial findings of the survey. "Even people who are getting it seamlessly, there are two sets of problems many of them face,"Khera says.
"Even people who are getting it seamlessly, there are two sets of problems many of them face," Khera says.
One, that they have to make the trip more than once. Many times they are told "tower nahi hai" or "electricity nahi hai" or the POS-able member of the family is not in town that day and they are left high and dry. And that the "Dadagiri" of the dealers to do quantity frauds continue.
In May, in Katamkuli several locals say that the dealer refused to give them rice. "The dealer took the '
"The dealer took the 'Thepa' and then only gave us oil, sugar and salt and refuse to give rice, saying there is no rice," Ramnath Mahato complains as we walked away from the ration shop in Katamkuli. Several others joined in including Satish Thakur, a student in Delhi who was visiting family in
Several others joined in including Satish Thakur, a student in Delhi who was visiting family in summer break. Thakur explains how dealer takes two to three kilogram depending on the size of the family and the total entitlement.
"My mother fought with him so things went well for a couple of months and then he again returned to the old ways," he says.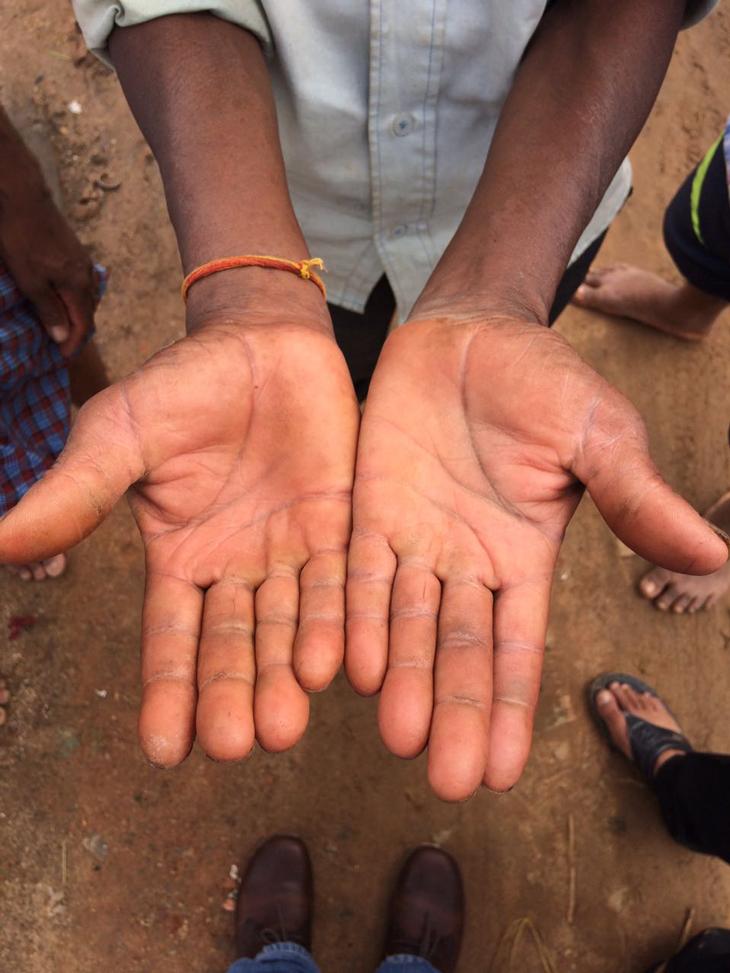 A villager in Katamkuli, who claims his biometrics do not work on the POS machine (Sadiq Naqvi)
Plugging pilferage
In each village this reporter visited, the locals complained of the ration dealer taking a cut from every household which was getting more than 20 kilograms of rice.
"What option do we have than to just agree to him giving us less rice or taking Rs 35 for per litre of kerosene," Ramnath Mahato asks.
Technology has ensured that people now at least know how much they are entitled to. "It is a good thing since we at least get to know how much we are entitled to. It comes on the phone," Ramnath Mahato says.
Khera says the government is fooling when it says that Aadhaar can cut down on pilferage and corruption. She explains how there is no way Aadhar can solve this problem of quantity fraud or people being overcharged for kerosene or sugar.
Meanwhile, Rai knows the dealers continue to take a cut despite Aadhaar.
"Yes we have been getting such complaints of how people are getting less, and how dealers take a half kilogram cut on every five kilograms," Rai says.
He, too, seems to agree that Aadhaar cannot solve this problem and talks of electronic weighing machines as the answer.
"We are sending electronic weighing machines to ensure that people see how much they are being given. Then they will at least question if they are getting less," Rai says.
He points to a weak administrational machinery, how there are just nine full-time district supply officers and how the state needs at least three hundred marketing officers and block supply officers. "Those who have not got ration in the previous months can go and get the pending quantity," the minister claims.
However, for now the system gives you only a month's window. If a local fails to get ration for two consecutive months it at least means a loss of one month of ration. For the ration dealer, however, people not taking ration mean savings because next month they will again get the full allocation thereby incentivising turning people away.
But what about those who are not getting any ration at all?
"If they are not getting ration they can always complain at our call centre," Rai points out how it has been functional for the last four months. He then talks about the newly formed food commission. "If they prove that they have not got their PDS, they will get compensated as per the market rate," he explains.
"We are a pro-people government and keep their interests as priority."
One of the reasons why the government claimed to have introduced Aadhaar in PDS was to weed out identity frauds. However, activists say the problem, for example in Jharkhand is minuscule especially after the National Food Security Act came into place and the government issued new ration cards based on socio-economic caste census data. "That exercise predates Aadhaar," Khera points out adding how in the recent survey they came across only seven to eight cases out of a sample size of about 1000 where the ration cards looked dodgy.
"What is it that the government is achieving my deploying this elephant-scale technology to weed out anant-scale problem and in the process kicking out a considerable population," Khera says.
"What is the point of this technology if the Thepa does not work?" Chatku Mahato asks.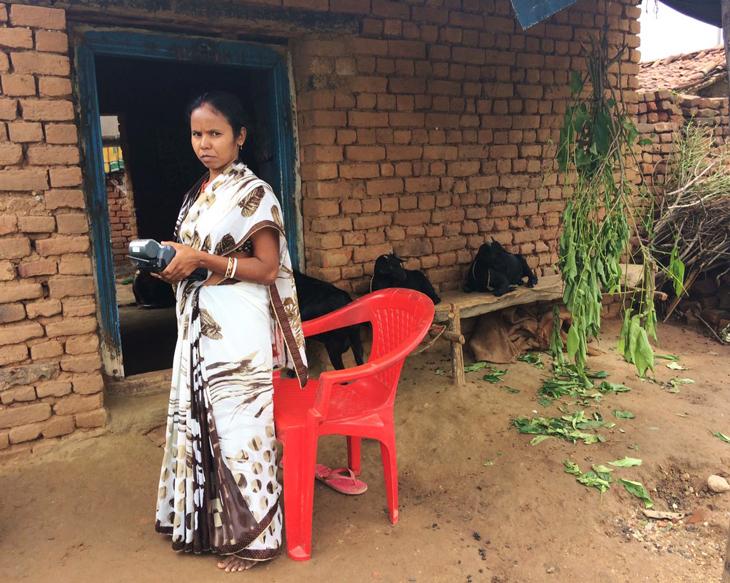 Nirasha Devi, outside the ration shop in Gandke village (Sadiq Naqvi)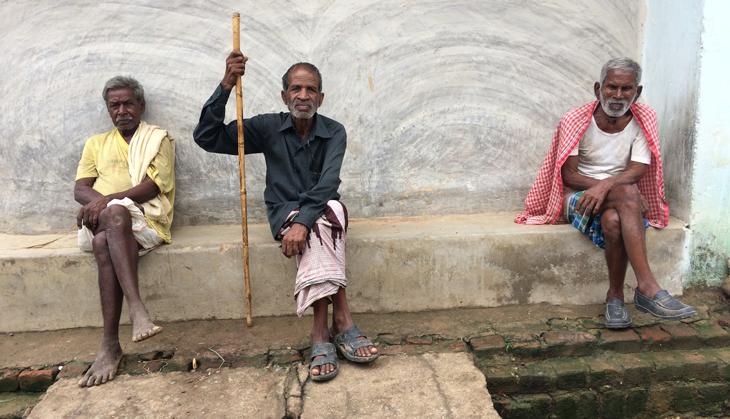 Villagers in Katamkuli (Sadiq Naqvi)
Villagers in Katamkuli (Sadiq Naqvi)