Gorkhaland agitation may have calmed down but Darjeeling's economy is not back on track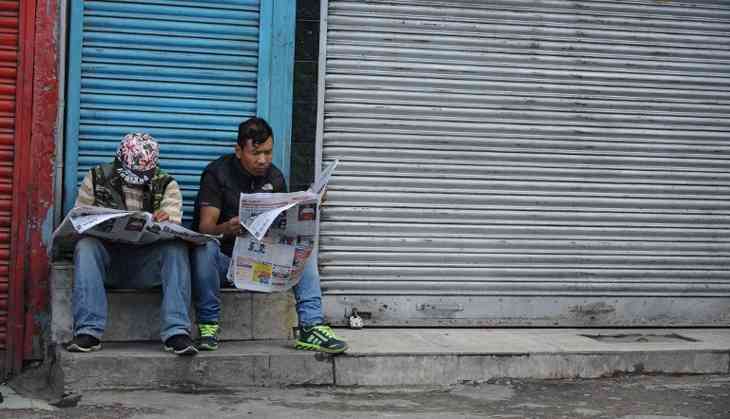 To say that West Bengal's Darjeeling hills had a turbulent 2017 would be an understatement. Political violence over a renewed demand for a separate Gorkhaland left 12 dead and hundreds injured. Eventually, Chief Minister Mamata Banerjee managed to bring the situation under control after a 104-day strike. But the economy is yet to pick up the pieces.

Banerjee effectively managed to splice up Gorkha Janmukti Morcha, leaving little political space for its former chief Bimal Gurung. But the damage has been done by the June-September strike – to the extent that a state-backed tourism festival towards the end of 2017 could hardly mitigate.

Tourism, of course, is one of the important pillars of the local economy, the other being its famed tea industry. But both these labour-intensive sectors seem derailed. Since the strike ended, government offices and local enterprises have limped back to normalcy. But without the support of the two major sectors business is hard to come by.
BREW GONE BAD
Being a plantation-based sector, the tea industry is anyway vulnerable to a lot of factors. Darjeeling's gardens have long boasted of producing the best tea in the world, a significant part of which has been lapped up by foreign markets. But their best days are arguably over and their ageing plants need a lot of reinvestment.

"Research has shown that annual precipitation has declined by a fifth over the past two decades in the Darjeeling Hills specifically, that was already resulted in decline of tea production," Sandeep Mukherjee, a member of the Darjeeling Tea Association, said.

The near-four-month strike dealt a blow to the sector, hampering production crucially. What's more, absenteeism still remains high, which could take a toll on this year's first flush crop.

Tea production in Bengal's Dooars and Terai regions (that includes the hills) dropped by around 9 million kilogramme last year, according to Tea Board India. The Darjeeling Tea Association estimates the loss at more than Rs 400 crore for 2017, with little to no leaves plucked until last September. Production is not expected to recover for at least two years.

"We keep getting reports of tea garden workers going on strike time and again in the region. The political climate in the hills is affecting production significantly," Indian Tea Association Chairman Azam Monem told Catch.

"September and October contribute 25-30% of annual tea production. Last September, production in Dooars and Terai fell over 25%. Due to the Gorkhaland agitation, tea garden workers did not show up for work. As tea was not plucked when it was supposed to be, the industry faced a major loss," Bidyananda Barkakoty of North Eastern Tea Association said.

"In the area, production dropped from 14 million kgs a year, to 9 million kg a year. This year due to the agitation, there has barely been any yield in the months of June to September. The Darjeeling tea industry has already been in crisis. The Gorkhaland agitation is the most recent blow to an industry
already hit by declining production and increasing competition."

While industry captains are worried over the lack of production, the trickle-down effect has been equally worrisome. Tea garden workers on daily wages went without pay for the duration of the strike as they could not report for work.

"Even those willing to work were not allowed to do so," said trade unionist Babu Kazi Ghimirey.
"The livelihood of so many workers – tea pickers, collectors, factory workers – were affected," added Ghimirey who organises tea workers at Bagrakote in the Dooars.
QUEEN OF HILLS IN DISARRAY
The Darjeeling district has been a traditional favourite with tourists, both from Bengal as well as outside. It also attracts a lot of foreign tourists. Naturally, the tourism sector generates employment for many both directly and indirectly.

The summer months, when the temperature soar in the plains, normally see the most footfall. But the Durga Puja vacation and the time around Christmas and New Year also draw a lot of crowd. Last year hardly any tourist could enter the hills during the strike.

Those depending on the sector expected the situation to improve by the winter holiday season. But that did not happen. Tourists stayed away, fearing a return to violence. Also, provisions and facilities continued to be affected

Local reports pegged the loss at Rs 100 crore for the hospitality industry. There are around 2,000 hotels and home stays across Kalimpong, Darjeeling, Kurseong and Mirik. Darjeeling town itself has 350.

"Hoteliers, restauranteurs, travel agencies and taxi companies have been struggling even after three months since the agitation was over," said Harka Bahadur Chettri, former legislator from Kalimpong.

"The atmosphere is now peaceful, but tourists evidently stayed away, fearing agitation could break out again. This is precisely why the Gorkhaland Territorial Administration decided to organise the tourism festival," Chettri, the founder of Jan Andolan Party (JAP), added.

"The tourism industry has suffered the most. November-January is one of our peak seasons. This is when the skies are clear and you can see the Kunchenjunga through the day from all over. But there are hardly any tourists this time," Siliguri-based travel agency operator Dechen Tamang
said.

"The Gorkhaland is a dear cause to the people in the hills. When the strike was called, people were more than willing to oblige. They suffered a lot: Small business owners, hired workers, restaurant and hotel owners and staff, taxi drivers, labourers – everyone was out of work. There was a lot of hoarding and basic amenities were being sold in the black market," pointed out Tenzing Dolma, a taxi driver in Kalimpong, who went with hardly any income for more than three months.

"But we are a resilient lot," he adds. That resilience, perhaps, drives optimism.

"It seems tourists aren't yet aware that the situation in the Hills has returned to normal," said a manager with one of the better-known hotel in Kalimpong.

"At least the festival will send out a signal to tourists and visitors that things have normalised in the hills and hopefully things will pick up by next year again," Tamang said.

For now, it's the hope that has kept the hills going.

Edited by Joyjeet Das