Ganesh Chaturthi at Srinagar's Lal Chowk: And you thought J&K can't do harmony?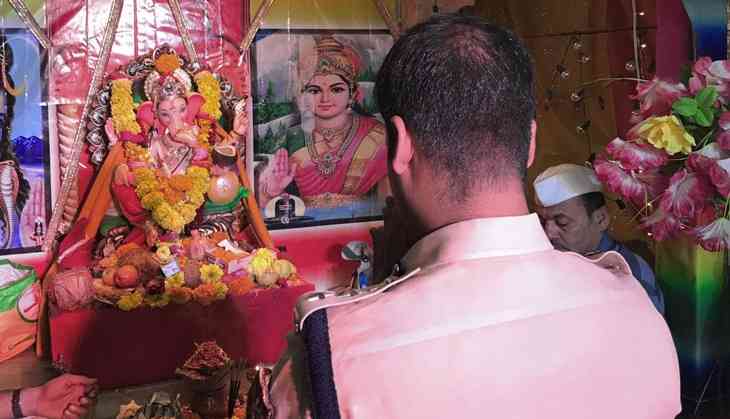 Jammu and Kashmir has become synonymous with communal tension, militant activities and a social life that is ever disrupted. Terror attacks and curfews are routine. Despite various efforts to normalise life and keep a check on militant activities, the situation is far from improving.
But amidst the violent protests there was a ray of hope that came after the Friday prayers. A sign that the situation in the militancy-torn state is not as bad as it looks to the rest of the country. Kashmir saw a group of Srinagar-based Maharashtrians celebrate Ganesh Chaturthi in the Lal Chowk of the town.
Infamous for frequent clashes between civilians and armed forces, Srinagar's Lal Chowk also has a distinction, which hardly anyone knows about. The Maharashtrian community living there celebrates Ganesh Chaturthi just the way it is celebrated back in Maharashtra.
There are around 100 families of Marathis, natives of Sangli, Satara, Jalgaon Khandesh and various other places in Maharashtra. They work as goldsmiths in jewelry shops at Hari Singh High Street, Shaheed Ganj in Srinagar. These families migrated to Srinagar many generations back and brought their culture with them.
These families used to celebrate Ganesh Chaturthi individually, in their houses, till eight years back when Dr Shailendra Mishra, 2009 batch IPS officer joined the services in Jammu and Kashmir.
During his initial posting at Srinagar, Mishra came to know about the Maharashtrian families living there. Being a native of Thane near Mumbai, Mishra made sure he met these people. After many such meetings the idea of publicly celebrating Ganesh Chaturthi came into being.
"We started celebrating the festival on the premises of the Hanuman Temple at Lal Chowk. We celebrate it just like it is done back home in Maharashtra. I have been associated with the festival ever since I joined service in Jammu and Kashmir. The Ganesha idol comes from Sangli in Maharashtra," Mishra said.
He said that traditional pooja is performed every day over the 10-day of the festival and on the last day (5 September this year), all the community members came together for lunch and the idol is immersed in the Jhelum.
Mishra, who recently received Sher-e-Kashmir medal for gallantry and is also known as Singham of Kargil, said that the celebrations is a classical example of communal harmony. He is currently posted as SSP Traffic, Kashmir region.
"The festival is celebrated right at Lal Chowk that has been at the centre of communal tension. Hindu community constitutes only 1% of the total population in and around Lal Chowk. But there is no problem in celebrating Ganesh festival here. The Muslim community here does not pose any hurdle, though they do not actively participate in the festival. This is the best sign that we can restore communal harmony in the state," he said.
Datta Suryavanshi is a native of Kadegaon in Sangli district of Maharashtra. He migrated to Srinagar 38 years ago.
"First my elder brother came here 39 years ago. I followed him a year later. Since then many people have come to Srinagar from Satara, Solapur, Sangli and other districts," Suryavanshi said.
The public celebration of Ganesh Chaturthi started 14 years ago. The Hanuman Temple trust generously accommodated the Ganesh Pandal and now they have even constructed a permanent one for the festival.
"The local Muslim community in Srinagar is highly cooperative. They never objected the festival. On the contrary, Muslim community leaders are extra careful about it and more than happy to help in all possible ways," Suryavanshi said.
This display of communal harmony at Lal Chowk, which has been flourishing for more than a decade now, is certainly a ray of hope and gives people all the reason to believe that the situation can turn around.
Edited by Jhinuk Sen