From crusaders to scamsters: what corrupted the Karnataka Lokayukta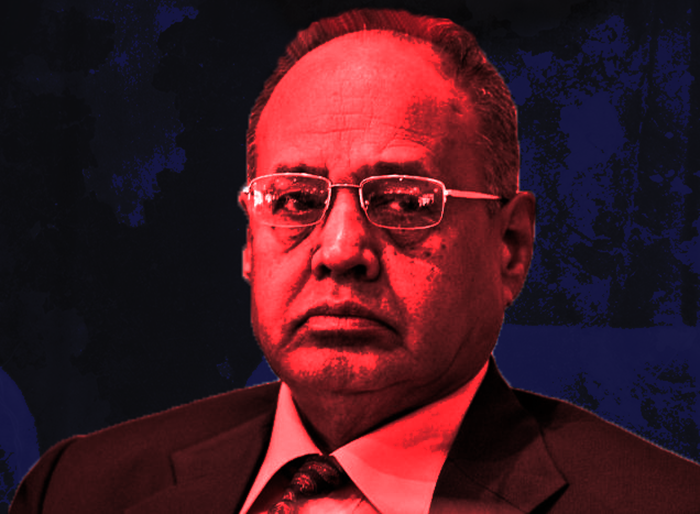 Revealed
Karnataka Lokayukta Bhaskar Rao is accused of illegally acquiring land.
A gang in his office runs a blackmail and extortion racket.
They take bribes to stop raids on babus, have made Rs 130 crore.
Hushed up
The Lokayukta\'s son is allegedly part of the racket.
Rao sat on complaints against corrupt officials.
When his deputy ordered a probe, Rao tried to derail it.
Blowback
FIRs against 23 officials and Rao\'s son will be filed soon.
Public, Opposition want Rao\'s head, and may just get it.
Rao\'s deputy may seek a CBI inquiry.
"When the fence starts eating the crop, what can you do?" goes the Kannada variation of the common Indian proverb. The saying is in wide circulation in Karnataka these days, channelling equal parts sarcasm and exasperation over corruption allegations against the Lokayukta Justice Y Bhaskar Rao.
It's also a sad comment on the degradation of an institution that rose to great public esteem under Justice Santosh Hegde between 2006 and 2011.
Then, through meticulous investigations and raids, the Lokayukta had struck terror among corrupt officials and politicians. The campaign crescendoed in a 9,000-page report on the now infamous Karnataka mining scandal that forced out B S Yeddyurappa as chief minister in August 2011.
Not long after, Hegde was succeeded by former Supreme Court justice Shivraj Patil, but he had to resign within a month following allegations that he and his wife had acquired prime land in Bangalore in violation of rules. That was in September 2011.
For a year and a half thereafter, the Karnataka government showed little urgency to fill the post. When it did, in February 2013, it brought in Rao, a former chief justice of the Karnataka High Court. That he was facing the same allegations of acquiring land illegally as his predecessor didn't seem to bother the state much.
Rot sets in
Under the octogenarian Rao, the Lokayukta was reduced to a shadow of its crusader self, lacking enthusiasm and attending to fewer and fewer complaints.
Then, a few months ago, the Lokayukta suddenly sprang back to life. But not to go after the corrupt. Instead, some of its officials ganged up with private individuals to use the institution for blackmail and extortion.
The modus operandi was simple: identify corrupt officials in revenue, transport, public works and excise departments, and demand bribes in return for 'protection' from raids and investigations. And it was devastatingly effective: reports suggest the gang has raked in Rs 130 crore from nearly 200 babus in the past six months.
Charges are ready against 23 Lokayukta officials. Some of them have implicated Bhaskar Rao's son
The 'reverse engineering' of Rao's Lokayukta was going smoothly until an executive engineer named Krishnamurthy called up the Lokayukta SP Sonia Narang. He complained that one Krishna Rao, who claimed to be from the Lokayukta's office, had called him on 5 May and again two days later demanding a bribe of Rs 1 crore to prevent a raid on him. Krishnamurthy also said he had previously met Krishna Rao at a hotel.
Narang sent a letter to the Lokayukta registrar on 11 May, detailing Krishnamurthy's complaint and pointing to suspicious activities of some staff members. Around the same time, the police had intercepted a cash haul of Rs 35 lakh and found that it was meant for someone in the Lokayukta.
Rao, instead of acting on these complaints, tried to stall any investigation as speculation grew that his son, Ashwin Rao, was part of the gang.
Cleaning house
As protests broke out in Bangalore and other parts of the state demanding Rao's head, his deputy Subhash Adi stepped in and ordered Narang to conduct a probe. "I have asked her to find out the truth in the interest of this esteemed organisation as doubts in the minds of the people have to be cleared," he explained.
Narang's police began by checking CCTV cameras at the Lokayukta office. That didn't help much as the cameras only record in real time and do not preserve the footage. They then gathered cell phone Call Data Records of some Lokayukta staffers whose integrity was in question.
In less than three days, the investigators narrowed their probe down to persons named Bhaskar, Narasimha Murthy and Krishna, who had allegedly called several government servants demanding money. They were certain that if they could obtain pictures of the trio and showed them to Krishnamurthy, Krishna Rao and his gang in the Lokayukta would be outed.
But before they could make a move, the Lokayukta, suddenly and surprisingly, called a press conference on 26 June and announced that he was handing over the investigation to Chandrasekhar, a joint commissioner of police in the City Crime Branch, or CCB.
Denying his son was in any way involved, Rao said, "If the inquiry report indicts me or any member of my family, I will resign immediately."
Subverting justice
Rao took advantage of the absence of Upa-lokayukta Adi, who was away on an official engagement in Udupi, to change the course of the investigation. Rao telephoned Adi and cryptically told him the probe was being handed over to an outside agency.
But when Adi learned the details, he was furious. "How could someone facing allegations choose his own investigator? After all, the CCB is only a small crime branch and has no jurisdiction over cases under the Prevention of Corruption Act," he said.
"Also, there are so many complaints before us against the CCB and its officials appear as accused before our courts. If necessary, I will write to the government recommending a CBI inquiry."
The Lokayukta gang has raked in Rs 130 crore from nearly 200 babus in the past six months
Then, giving an embarrassing twist to the saga, Chandrasekhar wrote to the Lokayukta registrar that he couldn't handle the probe. His reason: his father-in-law, Ramanjaneyalu, a special deputy commissioner of Bangalore district, had been investigated by the Lokayukta for allegedly illegal land deals and the resulting departmental inquiry was still on.
"If I take up this case now and even if I conduct a free and fair investigation, some people may view it through a coloured lens. This will have a bearing on my father-in-law getting justice," he explained.
The investigation, as a consequence, is now in limbo, much to the outrage of the public and the opposition.
On Monday, representatives of the Aam Admi Party rushed to the High Ground police station with a complaint to probe the "affairs" of the Lokayukta, while several Karnataka High Court advocates demonstrated outside the Lokayukta office, demanding Rao's resignation.
The clock seems to be winding down on Rao's inglorious term. Narang is ready with bribery charges against 23 officials, some of whom have implicated the Lokayukta's son, and the FIR is expected to be filed soon. It's only a matter of time now.
The views expressed here are personal and do not necessarily reflect those of the organisation.