Forget history, move beyond UN resolutions: Hurriyat leader Abdul Gani Bhat
Riyaz Wani
| Updated on: 6 December 2017, 17:11 IST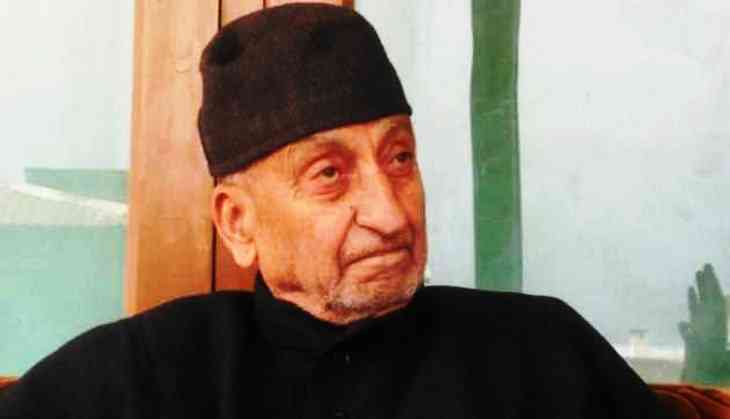 Kashmiri leaders must forget history, form their own outline of a pragmatic Kashmir solution and present it to India and Pakistan, top Hurriyat leader Abdul Gani Bhat told Catch days after reportedly meeting Dineshwar Sharma, the Centre's new interlocutor for Kashmir.
"Forget history, forget the United Nation's insensitivity about the implementation of the resolutions on Kashmir, forget the Tashkent and Shimla agreements. Nothing is going to be achieved by raking up the past. Don't tie yourself down with ropes of yesterday," said Bhat who had met Sharma at his residence reportedly along with another senior Hurriyat leader.
Bhat, the former chairman of the undivided Hurriyat, said he did not want to discuss UN resolutions and agreement with Sharma as "we have reached a stage where we can't play with words, nor exploit the sentiments." His bet would be on flexibility.
"Look to the future. What are your ideas for a brighter tomorrow? Those ideas can be translated into an outline of a workable Kashmir solution and into engaging the attention of India and Pakistan," said Bhat who claims to have "a couple of things in mind" to resolve the Kashmir impasse. "Let us hope I complete the details and produce it," he said while refusing to share them. "It is an outline which may not work wonders but will engage the minds of the people concerned," he added.
The situation in the Valley took a turn to the worse in recent years, especially after militant Burhan Wani was gunned down last year. Terrorist attacks have been increasing and clues point to several foreign as well as local militants' presence. The anti-government mood in the state has been underscored by incidents of stone pelting and huge crowds at funerals of slain militants.
Bhat blames his colleagues in Hurriyat too.
"You tell me who is our quarrel with? India. Who should we talk to? India. But you are saying I won't talk to India. Then who will you talk to? I am of the opinion that we should talk to not only to India but also to Pakistan," he said.
He made it clear that the United Nations Resolutions would not help Kashmir.
"Nor will a war decide the fate of Kashmir. India, Pakistan can't fight. Both are nuclear powers. Dialogue is the only way out. I have thrown the doors of my home open. Whosoever comes, I will talk to him," he said.
However, by choosing to meet the interlocutor, Bhat has gone against the decision of the Joint Resistance Leadership (JRL) comprising of Syed Ali Geelani, Mirwaiz Umar Farooq and Yasin Malik. In a statement, the three leaders who have now hurtled to the centre stage of Kashmir's separatist politics termed Sharma's initiative "a futile exercise" and "a new tactic" by the centre.
"I can't tell about others. They may have reservations but I will talk as the leader of my own organisation Muslim Conference," Bhat said adding the JRL are just "three people".
When asked if he thought that the interlocutor's initiative will evolve into a major political effort to resolve Kashmir over a period of time, Bhat answered in the affirmative.
"I think yes. We also need to start on a workable solution. But in talks, we don't have to count the waves of the rivers but work towards a settlement. And for that, we need to have a concrete idea what that settlement should be," he said.
Bhat is a member of the Hurriyat faction led by Mirwaiz Umar Farooq who himself is a part of the three-member JRL along with Geelani and Malik. But Bhat's refusal to go along with the JRL's policy on talks with Sharma has exposed the deep rumblings within the separatist ranks. This is seen as an attempt by the marginalised leaders to assert their relevance and to snatch the limelight back from the JRL.
Bhat, along with Bilal Gani Lone, isn't happy with the JRL becoming the sole arbiters of Kashmir's separatist camp. So weren't the senior leaders like Shabir Shah and Nayeem Khan – both now in NIA custody – in the Geelani camp. Early this year, Shabir Shah had resigned as the General Secretary of the Geelani faction.
But with Bhat deciding to talk to Sharma, the discontent is out into the open.
Bhat told Catch he will make a formal statement about his positive stand on the talks with the interlocutor.
"I owe it to the people of Kashmir to reveal what I did. I will issue a statement. I will make things clear," he said.
Will it benefit Sharma's initiative? Unlikely.
For Bhat made it clear that any dialogue on Kashmir has to include Pakistan for it to succeed. "There can be no solution to Kashmir without involving Pakistan. That is, what I have told everybody who has met me and that is what I will tell anybody who will meet me in future," Bhat said.