Food Shock Report: India to be hit by El Nino & rocketing food prices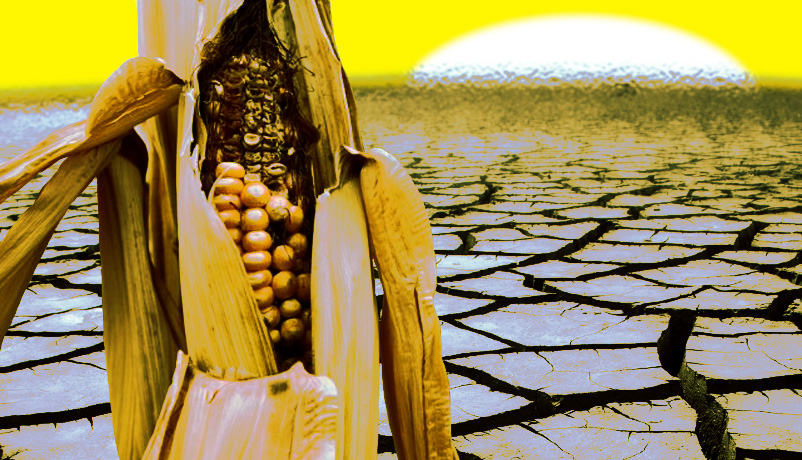 The danger
El Nino is a weather effect that warms the Pacific Ocean and changes global climate
The El Nino expected this winter is set to be the strongest since 1950
It\'s expected to bring numerous natural disasters to India
India is already highly disaster prone: in 2013, it ranked fifth globally in the number of reported natural calamities
India was also second in terms of the number of people dying in disaster
The consequences
The damage from natural disasters is expected to lead to a huge food shortage
A 2002 El Nino led to a drought, which caused an 11% drop in wheat production and 18% in rice
This time, global rice production is set to drop 7%, and prices are expected to climb 500%
A major landslide at Gurudwara Manikaran Sahib, Himachal Pradesh, this week killed at least 10 people.
Before we start outraging on the government's inept disaster management, it should be noted that landslides and other natural disasters will be more of a common occurrence in the near future.
Floods and torrential rain will also wreak havoc in the country very soon, according to Lloyd's of London, a specialist insurance market.
These ecological disasters will lead to a much bigger problem in India. According to Lloyd's Food System Shock Report 2015, there will be an acute food shortage, leading to price escalation. The inevitable consequence of this will be social unrest, political instability and crumbling business.
Strongest El Nino in 65 years
The report ascribes this vicious cycle to El Nino - a weather effect which warms the Pacific Ocean. The consequent rise in temperatures is set to create havoc across the global climate.
The strongest El Nino since 1950 is expected to strike during the winter of 2015, and the effect will continue till the monsoons of 2016.
CNN's climate prediction centre says India will be warmer than usual due to this, but the Lloyd's report contradicts the CNN prediction.
Overall, climatic changes will lead to a fall in global rice production (by almost 7%) and hence, rice prices will increase by almost 500%, according to estimates.
Regardless of the contradictions, India is not safe from any calamity that El Nino may cause.
Disaster, a fact of Indian life
Here is a stark fact: in 2013, India ranked fifth globally in the number of reported natural calamities. It was also second in terms of the number of people dying in disasters, third in terms of the absolute number of deaths and eighth in the damage caused.
About 74 districts covering 13 states -- that is more than 50 million hectares -- of India are drought prone. In regions like western Rajasthan, Tamil Nadu, Jammu & Kashmir and Telangana, the probability of drought occurrence is once in 2.5 years. Historically, droughts have led to the loss of millions of lives.
El Nino is a weather effect which warms the Pacific Ocean. The rise in temperatures will create havoc in India
Notably, during the El Nino of 2002, a severe drought had hit India, leading to an 11% reduction in wheat production and 18% in rice production.
Landslides in India cause the third highest number of deaths due to natural calamities. In the Himalayan region alone, one person is killed every 100 square kilometres every year.
The effects of landslides lead to an average loss of Rs 550 crore and around 200 deaths. They affect around 15% of India's geographical area every year.
Between 1953 and 2011, floods damaged an average of around four million hectares of crop area every year. That's almost the size of Kerala.
This led to a loss of around Rs 112 crore, and killed around 1,500 people every year on average.
Damage to food production
Ecological disasters in India have always taken more of a toll on farming than human lives.
For example, the 1981 floods in Uttar Pradesh damaged 1.5 million hectares of crop area; the 1982 Odisha floods spoiled nearly double that.
The greatest harm was caused by the 1995-96 floods, which destroyed 22 million hectare of crop area, roughly double the area of Bihar.
The Food and Agriculture Organisation says the agriculture sector takes more than 20% of disaster impact.
Within the broad category of agriculture, more than 40% of damage is caused to crops, with floods and droughts having the most severe impact.
India already has 195 million hungry people, and nearly half its children suffer from malnutrition. Significantly, about 40% of foodgrain is leaked on an average every year, according to the Food Corporation of India (FCI).
With an already existing burden of hunger and leakage in the food chain, natural disasters surely have the power to cause political unrest and damage the economy.