Exclusive: Indians at risk of bioterror as food regulator looks away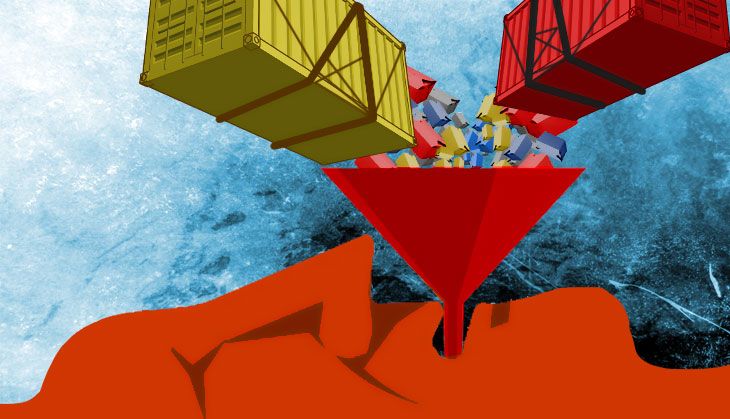 What\'s FSSAI
Food Safety and Standards Authority of India is the country\'s food regulator
It draws its power from Food Safety and Standards Act, 2006
What\'s wrong with it
It is hardly doing its job
Reaction to a note by a legal advisor is shocking
More in the story
How FSSAI has been abdicating responsibility
Just how vulnerable does that make us all
In December 2015 a legal advisor to Food Safety and Standards Authority of India (FSSAI), the national food regulator, wrote a startling internal note to the management.
The note talked about how food could become a tool for bioterrorism. It was written to Food Safety and Standards Authority of India (FSSAI) by one of its legal advisors.
It all started with a case filed in Delhi High Court by Hyderabad Duty Free Retail Ltd (HDFRL), challenging national food regulator's authority to oversee food and beverage being sold at the country's international airports.
HDFRL's argument: FSSAI had no jurisdiction over imported food sold in airports.
The counterargument: Giving up FSSAI's duty to check food coming into the country will give rise to diseases due to consumption of products that were counterfeit or past their sell by date.
But not that alone. For the first time, perhaps, someone underscored the "capability of food as a tool for bioterrorism".
According to the legal advisor's note: "All imported food items should be looked at with a comprehensive view of the safety of the citizens of India." It urged that FSSAI asserts its right to regulate and check all food being imported in the country, including what's sold at duty-free shops at airports.
The thrust of the legal consultant's argument was that terrorists would have a field day if food coming in the country wasn't regulated or checked for safety. They wouldn't have to take the traditional route of assembling bombs, conducting recce, looking for recruits and arranging logistics.
Enemies of India can just garnish imported food with Bacillus Anthracis (that causes anthrax) or spray it with a bacterium called Clostridium Botulinum, which causes the muscle-paralysing botulism.
India has been importing record quantities - millions of tonnes - of wheat, rice, maize, apart from regularly buying pulses, sugar and sugar confectionery, tea, coffee, spices, dried fruits, edible oil, vegetables, dairy products and cereals from neighbouring countries.
Quoting a report compiled by the Centers for Disease Control and Prevention (CDC), Atlanta, USA, the 11-page legal note to FSSAI talked about the dangerous epidemics and diseases that people in India might be exposed to, if appropriate measures were not taken.
The note went on to list causes, effects and prevention of diseases like brucellosis, pneumonic plague, smallpox and tularemia and could spread by contaminated food.
FSSAI's reaction
"A very interesting and informative treatise which has little or no relevance to the case at hand...We have to address issues of food safety, not of bio terrorism or disease control... which in any case will operate outside the confines of the legal system of the country... The measures adopted by us have to be no more restrictive of trade than is required... I reiterate my directions... that we should not contest this matter any further," FSSAI Chairperson Ashish Bahuguna wrote in an internal note.
Remember, this body is responsible for regulating all food in India, except the produce of the country's farmers and fishermen. Its jurisdiction is covers "the whole of India," according to the Section 1 (2) of the Food Safety and Standards Act (FSSA), 2006.
The 'trade-friendly' attitude is not towards airport shops alone. Documents available with Catch show how FSSAI has gradually weakened food regulation and quality check at 125 of India's 200 big and small ports.
The food regulator, through an order on 29 March, delegated the responsibilities of food safety officers to those in the Customs department.
The task requires specialised qualification to check imported packages for necessary labels, take their samples and analyse their reports. How qualified Customs officials are to carry out such task is anybody's guess.
According to FSSA, the act governing FSSAI, a very specific procedure has been put in place to check food that is imported into India.
According Paragraph 47 of the Act: "In case of imported articles of food, the authorised officer of the Food Authority shall take its sample and send to the Food Analyst of notified laboratory for analysis who shall send the report within a period of five days to the authorised officer."
A Food Safety Officer is the designated officer to check labels on imported food and take samples for testing.
Food Safety and Standards Rule, 2011, the rulebook for FSSAI, states that such an officer "shall be a whole time officer and shall, on the date on which he is so appointed possesses the following:
(i) a degree in Food Technology or Dairy Technology or Biotechnology or Oil Technology or Agricultural Science or Veterinary Sciences or Bio-Chemistry or Microbiology or Masters Degree in Chemistry or degree in medicine from a recognised University, or
(ii) any other equivalent/recognised qualification notified by the Central Government, and
(iii) has successfully completed training as specified by the Food Authority in a recognised institute or Institution approved for the purpose."
But the March 29 FSSAI order changes all that. It says: "The superintendent/ appraiser/ inspector/ examiner of the concerned port mentioned in the list enclosed hereby is hereby notified as the Authorised Officer for the jurisdiction mentioned against each port for imported food clearance from the date of order till further orders."
Ports (both by the sea and inland) in Bangalore, Surat, Ahmedabad, Rewari, Panipat, Mundra, Jaipur, Indore, Puducherry Dawaki, Agartala and Attari were among those notified in the list.
Recently, a blunder by the Customs department in checking and sampling imported food was brought before the Delhi High Court: A food distributor imported 'energy gels and energy chews' and got a clearance.
But it was found out that the importer affixed those labels while the package was in Customs custody. Customs officials had no explanation for the blunder.
The court rapped both the Customs and FSSAI, which argued that food products such as energy gels and bars, called proprietary foods, were not in its ambit.
In its 23 May judgment, the High Court ruled that regulating proprietary foods was the responsibility of FSSAI and delegated the responsibility of regulating and checking samples of imported food back to it.
It asked Customs to not give any clearance to imported food until FSSAI personally okayed it.
Meanwhile, larger threats loom.
Edited by Joyjeet Das