Five rockstars to replace Rajan in RBI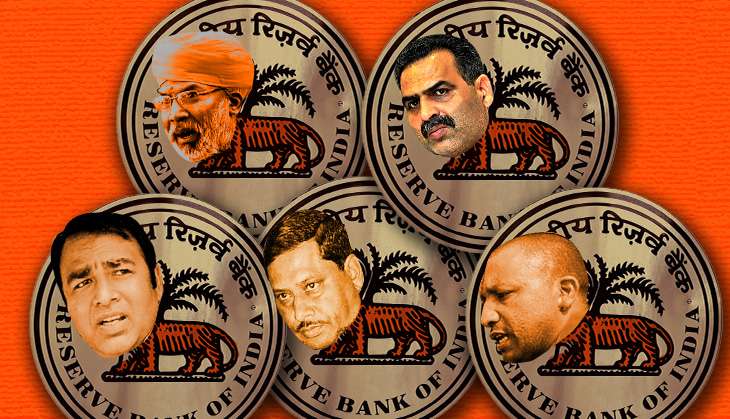 With everyone busy discussing who could be appointed the next governor of Reserve Bank of India once Raghuram Rajan exits, we at Catch decided to come up with our of recommendations.
These are highly talented individuals. While deciding, we kept in mind some of the criterion that many felt were not checked against Rajan\'s name:
[ ] being an Indian citizen
[ ] being an NDA appointee
[ ] being on the same page as the NDA government
[ ] enoying sarkaari patronage
[ ] most importantly, being of sound mind
To these, we added what we felt was a key parameter indicated by the government\'s recent appointments in various institutions - an imagined command over the area given charge of.
Apart from the many talents that unite them, there is also a hidden advantage that the appointment of either one of them will bring to the Bharatiya Janata Party (BJP). They are all from Uttar Pradesh so their appointment might enthuse UP voters vis-a-vis the BJP, ahead of Assembly elections next year.
So, here\'s our list... with a pinch of salt:
BJP's firebrand member of Parliament from Gorakhpur, whom many believe to be a seer, is in fact an excellent mathematician and a "growth" enthusiast. He is well-versed with the census data and is often found ruminating on the growth in the country's Muslim population.
The first time parliamentarian from Unnao is junior to Adityanath in the party and in 'firebrand' quotient. But he is highly educated, having completed "Vedant Visharad (Inter), Shastri (B.A.), Acharya (M.A.) and Vidya Varidhi (Ph.D.)". Whatever those are.
His obsession with numbers is also widely known and he has a significant body of work on population theory. He believes "the concept of four wives and 40 children just won't work in India" and "every Hindu woman must produce at least four children."
The junior human resource development minister is another shining evidence of the BJP brimming with talent. However, it is not his Ph.D degree that holds his real talent - that just puts him on a par with Rajan - the real talent is the alleged lack of it.
The two-time Agra MP, of course, has the other regular credentials of hate speech and furthering the RSS's agenda.
The MP from Muzaffarnagar - a junior minister in the agriculture ministry - is an algebra ace.
When a man is killed by a mob for allegedly eating beef, lesser mortals occupy themselves with a debate on cow-politics and hate-crime while Balyan comes up with mathematical problems: If one cow weighs 150 kilos, find out how many ate it, he asks.
The BJP MLA from Sardhana has deep faith in team work, evident from his frequent calls for Mahapanchayats.
Apart from such a key leadership attribute, he is also a businessman who once owned meat-processing units and can be expected to have a keen sense of how to revive the economy.
The opposition has been unfair to all these stalwarts and has often called for their sacking and strict action against them. Prime Minister Narendra Modi and BJP president Amit Shah have rightly stood by their men and have simply refused to heed to such calls.
We think if the government and the ruling party are so proud of them, it will only be befitting to promote them to a position that suits their stature. Relevant qualification can be ignored.
Edited by Joyjeet Das