First arrest in 34 months in Dabholkar murder: Who is Virendra Tawde?
Parth MN
| Updated on: 10 February 2017, 1:49 IST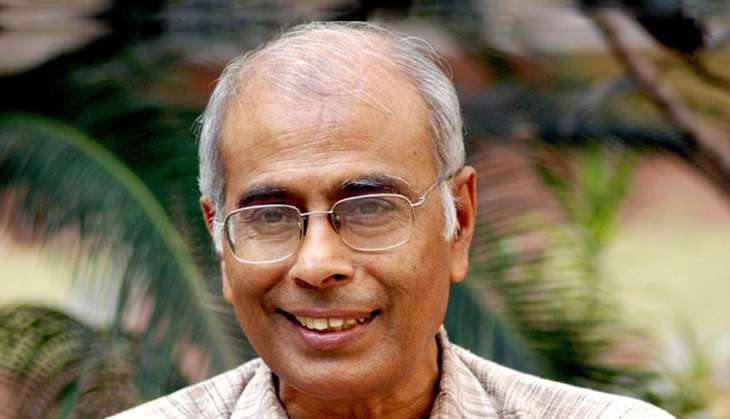 The breakthrough
Rationalist and activist Dr Narendra Dabholkar was shot dead in August 2013
After 34 months, the first arrest has been made in connection to his murder
The suspect
The man arrested by the CBI for Dabholkar\'s murder is Virendra Tawde
Tawde is a former ENT surgeon and the western region chief of the Hindu Janajagruti Samiti, a splinter of the Sanatan Sanstha
More in the story
Tawde\'s links to other accused and the scene of the crime
Dabholkar\'s son Hamid\'s reaction to the arrest
Almost a decade ago, when Dr Narendra Dabholkar launched a campaign in Satara against polluting water bodies during the Ganesh festival, one man vehemently opposed him.
Through his organisation, ANIS, Dabholkar and his colleagues had decided to educate the citizens and request them to donate the Ganpati idols instead of immersing them, which would avoid water pollution.
But the initiative did not go down well with a former ENT surgeon. He tried to disrupt the programme and filed complaints with the police. Nearly 10 years down the line, he is in CBI custody in connection with the murder of Dabholkar in August 2013.
Also read: CBI arrests rightwing Hindu group member for rationalist Dabholkar's murder
Virendra Tawde was picked up by the CBI on the night of Friday, 10 June, from Panvel near Mumbai. He was produced in a Pune sessions court on Saturday, and was remanded to police custody till 16 June. This is the first arrest in the case since Dabholkar's murder 34 months ago. There are 30 organisations working under the umbrella of Sanatan.
Suspect's profile
Tawde is the western region chief of the Hindu Janajagruti Samiti (HJS), a splinter of the Sanatan Sanstha. There are 30 organisations working under the umbrella of Sanatan.
He was being questioned by CBI at its Belapur office since 2 June, when his residence was first raided.
Tawde belongs to a well-off family hailing from from the Sindhudurg district of Maharashtra's coastal Konkan region. He completed his MBBS from Grant Medical College at Mumbai's JJ Hospital in 1987, with a specialisation in ENT (ear-nose-throat) from the Sion Hospital Medical College.
Later, he started practising in Kolhapur, where he roamed around clean shaven and neatly dressed, as indicated by his earlier photographs.
In 2001, however, he left his practice to join the HJS. He lived in Kolhapur until 2007 and the next two years in Satara, where he opposed the programmes of Govind Pansare, who was killed in similar fashion to Dabholkar in February 2015, and Dabholkar, in the two districts respectively. Tawde was one of those who had manhandled Dabholkar in 2003 at Kolhapur.
Tawde had been leading a normal life in Panvel for the last few years with his family, while covertly working on 'project Dabholkar', which was launched by the Sanatan Sanstha way back in 2007. CBI sources quoted by the Mumbai Mirror described him as one of the 'kingpins'. Tawde's job was to keep track of Dabholkar's whereabouts and movements.
Interestingly, in a press conference on 1 June, advocate Sanjeev Punalekar claimed Tawde was suffering from memory loss, but the CBI denied it.
A 180-degree turn
Interestingly, according to a junior of his at Grant Medical College, Tawde was not at all superstitious during his college days. The junior, who used to live in the same hostel, requested anonymity, and said Tawde would admonish students if they indulged in chanting.
He further recounted an incidence when the he had opposed ISKCON members and their chanting. "The news of his arrest was circulated on our WhatsApp group," the junior said. "All were surprised. He was a composed man."
The junior said Tawde did not taste a lot of success after his MBBS degree. He said Tawde could have been radicalised after his college days.
Residence and family
Kalpataru is arguably the most posh society in Panvel. The complex comprises four buildings consisting of more than 700 flats. It also features a swimming pool, a gymnasium, a badminton court and is home to elite families.
Around Diwali in 2014, Tawde took possession of a 2 BHK flat in the society, spread across 1,400 square feet. He is said to have spent more than a crore on the flat.
However, his neighbours say he led a reclusive life, and was hardly seen in the colony. The flat is in the name of his wife Nidhi, who works as a paediatrician at the Prachin Hospital in Panvel.
"I remember meeting him once in a passage," one of his neighbours, requesting anonymity, recollected. "He told me his grandfather worked with the Mumbai police. We did not even exchange numbers."
The neighbour further added that after the initial meeting, he next saw Tawde only when the CBI walked in the society with him. "The clean-shaven look was gone," he said.
Nidhi, on the other hand, used to mingle with neighbours and attend society functions. Virendra and Nidhi had been in love since their days at the medical college, but sources say of late, all was not well between the husband and wife.
She was often spotted dressed in salwar-kameez, riding a silver Honda Activa. When neighbours asked her what her husband did, she told them he worked in rural areas as a doctor and helped needy people.
Even though a native Punjabi, she spoke fluent Marathi, another neighbour added. This neighbour remembers interacting with her while making rangolis around Diwali. "She was extremely polite and well-mannered," the neighbor said. "Her daughter too was very similar."
Their daughter studies in DAV school at Panvel. Interestingly, his wife and daughter left on a long holiday to London around the end of April, and have not yet returned. "Nidhi's sister resides in London," one of the neighbours said. "It is the first time they have gone on such a long vacation."
Before they left for London, the flat had undergone renovation for around six months. However, there were no yellow stripes in the flat, as opposed to what is prescribed for a Sanatan sadhak.
Tawde's father lives in a Sanatan Ashram, and he has donated some of his land to the Sanatan Sanstha as well.
The CBI has sealed the residence in Panvel, which is located near the Sanatan Ashram, and indicated it will remain that way if the wife and daughter refuse to cooperate upon their arrival.
Links to other accused
Tawde came in the spotlight when his constant email contact with Sarang Akolkar, one of the prime accused in this case and a conspirator in the 2009 Goa blast, was established.
Akolkar has been at large since the 2009 blast in Margao, Goa. The operation, which was allegedly masterminded by him, had gone horribly wrong when two alleged Sanatan Sanstha members were killed as the bomb they were carrying accidentally exploded.
Akolkar and Tawde's email exchanges are substantial and also point to conspiracy. Also, the sketch of the suspect in Dabholkar case is similar to Akolkar's face.
CBI also said that Tawde owns a black-coloured Honda bike, similar to the one used in Dabholkar's murder.
Another absconding suspect, from the Pansare murder in 2015, Rudra Patil, has cropped up after the arrest of Sanatan activist Samir Gaikwad.
Also read: Government not serious in probing Dabholkar and Pansare murders, allege family members
The Sanatan connection
The weapons and modus operandi used in the Dabholkar, Pansare and MM Kalburgi murders seem to have been similar. The CBI is exploring this possibility, while observers say absconding members of the Sanatan Sanstha are the men to catch, because they run an underground module and have undergone arms training.
Dabholkar's son and noted activist Hamid said Tawde's arrest is a major breakthrough because it points to absconding Sanatan activists.
Hamid said if the NIA had not botched up the Margao blast case, where five or six other accused were acquitted on technical grounds, the murders of the rationalists may not have happened. "The members who absconded after the Margao blast are cropping up again and again," he said. "It was an open and shut case. But the NIA did nothing."
Every Radhe Maa kills my father again
Edited by Shreyas Sharma
Note: This article has been updated with fresh details at 16:45 IST on 14 June 2016