Family bullied for not standing during national anthem in movie hall; netizens call 'Pakistani terrorist'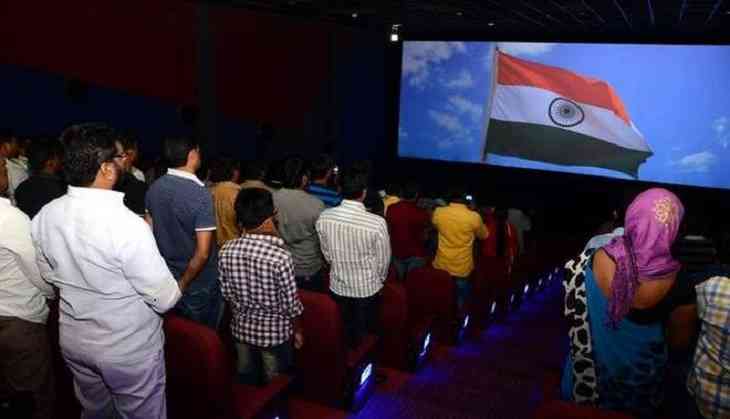 A video of a family facing the wrath of people at a movie hall for not standing up during the national anthem is going viral online.
The video shows a group of people, including two Kannada actors BV Aishwarya and Arun Gowda, bullying a family and calling them "Pakistani terrorists" for not being able to stand while the national anthem played in a movie hall in Bengaluru.
A family from Bengaluru bullied for not standing during the national anthem in a movie hall. The incident was also captured, which is viral now.
In the video, a group of people, including two Kannada actors Arun Gowda and BV Aishwarya were having a heated argument with a family for not standing up for the national anthem. The group was led by actor-duo.
The video was also shared by Kannada actress BV Aishwarya on her Facebook account. The incident was held on October 23 during the last show for the Dhanush-starrer Tamil movie.
The actress post reads, "..so called citizens of India refused to stand while the national anthem was played n we are here as the True citizens to set these Anti-Indians right. Don't You Dare."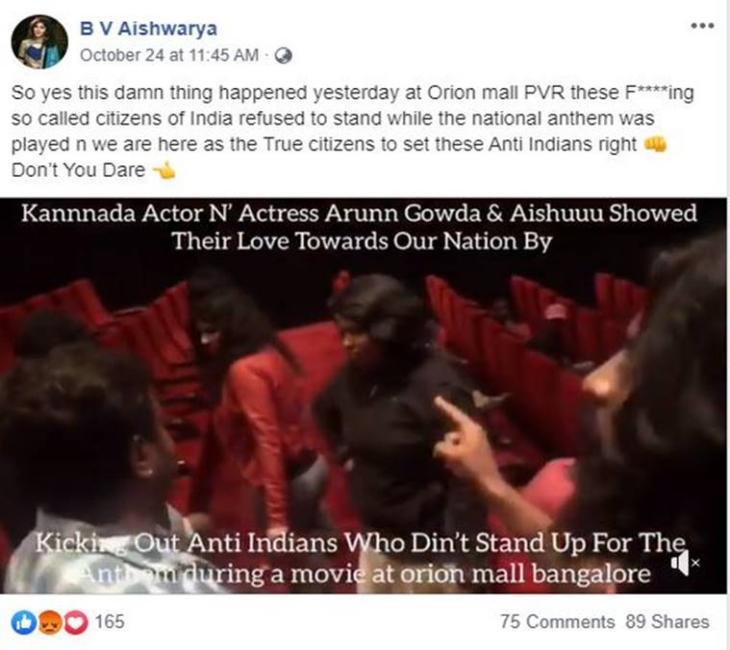 In the video, actor Arun can be seen pointing at the family and saying, "These people chose not to stand up while the national anthem was being played. When asked why they are asking us to file a police complaint."
He also continued by saying that "Look at these guys..look at their faces once again." Another person also joined him said, "Standing in Indian soil, not able to spare 52 seconds for the country and you have the audacity to sit here and watch 3 hours movie (sic.)"
Who the hell are these goons to intimidate and threaten those who do not follow their dictate on nationalism?
Salute to those few people who stood their ground in front of threatening idiotic goons.pic.twitter.com/75BmveJHez

— Ravi Nair (@t_d_h_nair) October 28, 2019
One of the men from the group also questioned the family, "Are you Pakistani terrorist?," when the lady on the receiving side of the argument reacts saying, "I am amazed to listen that the opposite of Indian is Pakistani."
Later the group started hurling abuses in Kannada. Later, Aishwarya said to them, "If you cannot stand up, then get out of here."
As per the reports of indianexpress.com, actor Arun Gowda said that the incident turned to be a heated argument only when the family started speaking about "the army in a disrespectful manner."
Gowda further told, "it feels awkward to see some fellow citizens using their mobile phones and sitting with their legs up towards the screen where the national flag is shown when the anthem is played."
"When standing up for the anthem can be left to one's discretion, disrespecting the army is not at all tolerable," he added.
Gowda also said that his intention to record video was to show the mindset of some people.
"I was expecting a reaction with some rationale behind them choosing not to stand up for the anthem but the conversation took other paths," he said.
Arun also said that over 80-100 people joined them and demanded that the family should leave the theatre.
However, netizens were divided over the incident. Some people supported the family while some not.
Check out Tweeple reactions:
Please read the entire judgment again. If there is a short audio part of national anthem being played in a movie scene then it's not required to stand. In all other scenarios where the entire national anthem is being played then you are required to stand.

— Shishir Dabas (@shishirdabas) October 29, 2019
SC Judgement is clear pic.twitter.com/F7scWr47si

— venkat (@venkat1962) October 28, 2019
Playing national anthem inside a cinema hall is not required. A person going to a cinema hall is not to prove his love for his nation. There are so many ways to show national spirit. Time to respect our own citizens.

— arun (@arunk0306) October 28, 2019
Our soldier brothers r standing in the border & fighting 4 us & these goons have come Inside a movie theatre to intimidate people.what the hell r these goons doing inside a movie theatre wasting 3 hours watching movie while they can instead stand in the border& fight 4 our nation

— zina shalom (@AmberBrownGirl) October 28, 2019
I'm pretty sure today Bharat Mata also would be wondering ki, ye kaise kaise namune ko meine janam diya hai. Sad..!

— Wise.Kind.Lovin (@Wise_Kind_Lovin) October 28, 2019
It is good that they were shown the door.

— Sreevara (@sreevara) October 28, 2019
It's not about proving patriotism. It's a respect for National Anthem. Before getting 2-3 hrs of entertainment if U stand for less than a minute will not break your legs & also it will not spoil your entertainment.

— Mahendersingh yadav (@Mahi_05101991) October 29, 2019
These goons are local actors Aishwarya and Aru Gowda. They should be booked for threating and intimidating the movie goers and for instigating others against them

— Theo (@altheo27) October 28, 2019
Moreover, no complaint was filed about the incident in the jurisdictional Subramanya Nagar police station.
Also Read: TikTok star Sonali Phogat files case against sister, brother-in-law for assaulting, giving death threats
Also Read: West Bengal: BJP MP orders mobile phone online, finds this shocking thing inside box