Eyes wide shut: Dalit votes welcome in Bihar, not their woes
N Kumar
| Updated on: 24 August 2015, 1:13 IST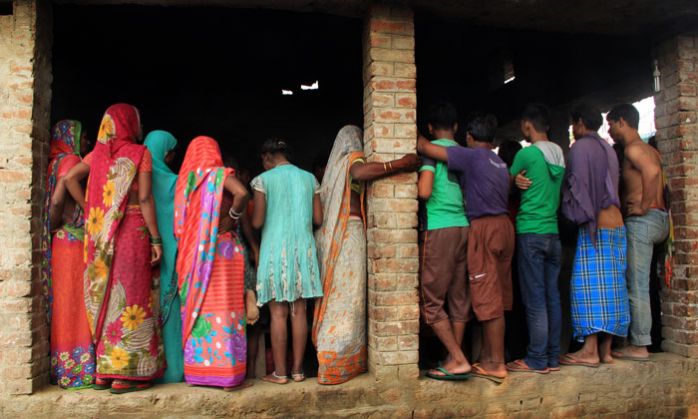 The incident
A married upper-caste girl eloped with her Dalit paramour
On 27 July, her Bhumihar community attacked Dalits in the Nayagaon village and molested women
Some 80 Dalit families fled the village to Jamalpur Bazar, also in Khagaria district
The reaction
Political leaders like Pappu Yadav, Chirag Paswan and Kavita Krishnan visited the victims
JD(U) MLA RN Singh, who hails from the village, didn\'t react except to blame Pappu Yadav
The state govt quickly got hand-pumps and toilets installed in the ghost village
Political inaction
All parties are trying to woo the Dalit vote bank in the forthcoming Bihar assembly elections
But this incident hasn\'t raised any hackles in Patna, let alone in Delhi
Incidents of Dalit oppression continue to grow, but it\'s only their votes that seem to matter to politicos
Dalit identity is witnessing a resurgence in Bihar politics. But, there are doubts whether this will cut ice with the voters, considering the apathy of the political class to Dalit issues.
A case in point is the blatant persecution of 80 Dalit families in the state. The sheer magnitude of the event should have rattled Delhi. However, the matter barely reached Patna.
Also read- Owaisi to contest 25 seats in Bihar: does the BJP stand to gain?
Why is it that all political parties want the Dalit vote but none of them want to take up Dalit issues? Here's a ground report.
The victims speak
Sita Devi tries hard to control her tears. However, the veil of rage can't hide her vulnerability.
"What will happen to the family? We have sent our children to their maternal grandparents' house. But they can't stay there forever. Where will they live after they come back?" she says, on the brink of wailing.
Fellow villager Meera Devi interjects: "They spared neither 12-year-old girls, nor 60-year-old women. Their breasts were mauled. Scores of women were raped."
Meera Devi shows the injury marks on her chest and legs.
"You can see it for yourself. The authorities are saying that nothing has happened. Have we done this to ourselves? They attacked our houses not once but three times within a time span of five hours," she says.
Meera Devi has barely completed her statement when Draupadi Devi jumps in.
"We would rather beg than go back to our village. How can we stay in a village where we were publicly beaten, in the presence of the police? They have destroyed all our belongings. They will treat us at their will if we ever dare to go back. All we have there are our homes. They will make it difficult for us to even attend nature's call. After all, they own the land," she says.
There are 40 other women like Sita, Meera and Draupadi; all of them eager to express their angst. This is the Tanti Tola of Jamalpur Bazar, a nondescript part of Khagaria district of Bihar. The same Khagaria that was declared a separate kingdom by Raja Todarmal during the reign of Akbar. Farakia, the name given to the place by Todarmal, is still popular.
These women belong to the Shiromani Tola in village Nayagaon, 20 kilometres from Jamalpur Bazar. On 27 July, Shiromani Tola saw barbarism that would put medieval despots to shame.
The women managed to escape the attack somehow and took refuge at Tanti Tola. The people of Tanti Tola sheltered them at village's community hall, which is still under construction. They collected donations and provided them food on humanitarian grounds, as well as for caste considerations.
These persecuted women feed on boiled corn and have little water or clothes. Yet, the hope that somebody would come and listen to them has not faded.
'Sympathy' from politicians
RJD strongman Pappu Yadav paid them a visit, and announced a compensation of Rs 5,000 each for the 80 affected families. He also tried to raise the issue in the Parliament. But, he could not turn it into a major political issue.
CPI (ML) Liberation leader Kavita Krishnan also met these women. However, she also failed in making their voices heard in the political corridors of Patna, despite her best attempts.
Lok Janshakti Party MP Chirag Paswan was also among the visitors. His father, Ramvilas Paswan, was nurtured as a major Dalit leader by the same district of Khagaria. Nevertheless, his visit was nothing more than a formality.
For the sake of votes
These women belong to the Tanti caste. This caste is the latest inclusion to the list of Scheduled Castes in Bihar, having been moved there from the Most Backward Classes category on 14 July. The step was clearly taken with an eye on their vote bank.
They tried to make their voice heard through a dharna at Jamalpur Bazar. More than 150 people congregated under the banner of Naujawan Sangharsh Sabha for the protest. Far from being heard, police slapped cases against the protesters. The fear of the administration ensured there was no such attempt again.
The same people they hoped would share their pain were busy in another game in their native village of Nayagaon. The administration went outside its way to install hand pumps, electricity connections and construct toilets in the deserted houses of Shiromani Tola.
"They spared neither 12-year-old girls, nor 60-year-old women. Their breasts were mauled," says victim Meera
Disbursing such sops after every incident of persecution has been the norm in Bihar for sometime now. The custom was followed in this case.
It is worth mentioning that Nayagaon is the native village of RN Singh, a JD(U) MP. He is a former minister of the state and counts among the influential leaders within the party. Yet, he turned a blind eye to the plight of his own village.
The trigger
If the air of Jamalpur was heavy with sorrow, it was fear that overwhelmed Nayagaon. There was hardly anyone willing to escort Catch to the village. Eventually Prithvi Tanti, a villager from Khagaria, accompanied us there. His in-laws live in Nayagaon.
Prithvi shared valuable insights about the happenings at Nayagaon on our way to the village.
According to him, a 20-year-old boy, Anand Tanti, loved a Bhumihar girl, Phulo, from the village.
They were neighbours and studied at the same school. They had eloped earlier, but came back due to family pressure.
Anand was married off forcibly, but he could never accept his spouse. His wife remarried after two years, when it became clear that Anand was not going to live with her.
Phulo, on the other hand, got married a year after Anand's marriage. But, she eloped with Anand from her in-laws' house in Begusarai.
The matter reached the courts. Several threats were issued. Some people from the Tanti community even went to jail.
The Bhumihars harassed the Tanti community on a daily basis. They threatened Tantis with dire consequences. Anand's family was forced to leave the village.
Eventually, Anand returned with Phulo on the day they had to a give statement in the Begusarai court.
The Bhumihars asked the Tantis to accompany them to the court and convince the couple to admit its mistake in court. However, that did not happen.
Phulo told the court that she had eloped of her own accord, and wants to spend her life with Anand.
This was enough to invite the wrath of the Bhumihars. They held meetings for the next few days. On 27 July, about 200-300 people attacked Tanti Tola at around 11am.
The ground reality
We reached Nayagaon before Prithvi's story was over. The scene there was one of frenzy.
Toilets were being constructed, holes being dug for hand-pumps, electricity wires laid out for power connections. The whole drill was at a locality where not a single soul was present.
There were only three policemen in the name of the security. They were themselves at a loss to explain whom they were protecting.
We chanced upon one Sulochana Devi in the village. She was with her young daughter Mausam Kumari. Her son, Bachkan Tanti, works as a labourer in Guwahati and returned after hearing the news of atrocities in his village.
"What have you come here for? There is nobody left. You will also come and go like the others," Sulochana laments, with tears in her eyes.
She recounts how Tanti Tola was attacked three times on that day.
First, the mob came for women and children. They were dragged out of their houses and brutally beaten. Some women were molested.
Also read- The Great Game in Bihar: how to read the Lalu-Nitish deal
Then, every house was searched. Those who had remained in their houses even after the beating were assaulted again. This led Tantis to flee the village.
"Not even the disabled ones were spared. They misbehaved with little girls in every possible way," Sulochana said with her throat choking.
Another villager, Lallan, recollects the horror of that day.
"We informed the police. It arrived while the attacks were still on. But, the attackers did not spare them either. Several policemen were severely beaten with sticks. They had to run for their lives. A journalist who arrived to cover the incident also got the same treatment. Somehow we fled to a place called Goriyasi, where villagers of Mandal Tola gave us shelter," he says.
The FIR lodged by the journalist corroborates Lallan's account of events.
Patna's reaction, or lack thereof
The biggest question is: why did such an atrocity go unnoticed in Patna, despite the fact that a powerful MLA of the ruling party hails from the same village?
The MLA, RN Singh, answers. "Pappu Yadav is only shedding crocodile tears. He should go to his own constituency of Purnia. Whatever has happened in my village has nothing to do with caste. Criminals have no caste. We believe in the politics of development," he says.
"Shiromani Tola has received four hand-pumps, 72 toilets and electricity. More development is about to come. We will take action against the perpetrators of this crime."
Pappu Yadav claims he will fight this case right up to the Supreme Court, as the state government is not willing to listen.
Suheli Mehta, Lok Janshakti Party MP from Khagaria, also vows to take forward the fight of Tantis.
Not the first instance
The Gaya district witnessed a Nayagaon-like incident some months ago.
A Dalit from the Pura village had decided to contest the Panchayat elections. Local musclemen took retribution by killing his brother, after he filed his nomination papers.
The Dalits of Pura were threatened to the extent that they had to flee their homes overnight. They took shelter in a small town called Tekari.
This incident took place on a day Prime Minister Narendra Modi was in town for a 'Parivartan Rally', to establish the then-Chief Minister, Jitan Ram Manjhi, as the most credible leader of Dalits. The incident was swept under the carpet.
A Dalit boy eloped with an upper-caste girl. In retaliation, Bhumihars raped Dalit women and chased them out
On the day we were in Khagaria, Modi was again roaring in Gaya. He was trying to touch a nerve with the Dalits while calling his opponents names.
Chief Minister Nitish Kumar was busy preparing for a counter in Patna. He collated data related to Dalits and dished out every possible argument to belie his friend-turned-foe, Manjhi.
Such political duels are a daily occurrence in Bihar politics nowadays. But, nobody cares to mention Nayagaon even once.
Silence is golden
This is not the first time that atrocities on Dalits have found no political resonance. The recent expose by Cobrapost on the Ranveer Sena is another case in point. It has given Nitish a golden chance to put many BJP stalwarts in dock. Nevertheless, he will most likely refrain from speaking on the issue.
BJP's links with the Ranveer Sena are an open secret. Its leaders, belonging to a particular caste, have openly hailed Ranveer Sena's chief Brahmeshwar Singh 'Mukhiyaji'. It has the perception of being an anti-Dalit party.
The same face came out in the open when it was at the forefront in opposing Manjhi's elevation as chief minister.
Later, political compulsions led the BJP to ally with Manjhi. Curiously, no party seems interested in exposing this facet of the BJP.
Nitish, who divided the Dalit community by playing the Mahadalit card, is an equal culprit in this criminal silence.
The state has witnessed several Dalit massacres like Mianpur, Bathani Tola, Laxmanpur Bathe and Nagri Bazar. Most of the perpetrators of these crimes walked scot-free during Nitish's regime. But he took little initiative.
The first thing Nitish did as chief minister was to dissolve the Ameerdas commission that was investigating the political links of the Ranveer Sena.
Justice Ameerdas claims the information which is now coming out bit by bit would have been exposed earlier. He had already completed his report when Nitish asked him to pack the bags.
Nitish is also accused of dumping the report of the Bandopadhyay committee, which was formed to give recommendations on land reforms. The implementation of this report would have favoured Dalits more than any other community. But, the chief minister did not want to annoy the upper caste landlords.
Nevertheless, more deafening is his silence over the repeated incidents of barbarism against Dalits. Last month, there was a controversy over a FIR lodged after two Dalit girls were raped in Sasaram. The police succeeded in hushing up the matter.
Sairam, a Dalit child, was burnt alive in a village in Bhojpur district some months ago. His only fault was that his goat stepped into the fields of a local strongman.
Six Dalit women and minor girls were gangraped in the Sikarhatta region of the same Bhojpur district.
All the Nitish government did was to give electricity and water connections to the affected families. Not a single leader from any party took the pain to visit the victims.
Dalit oppression a way of life
No political group, barring a few left parties, seems outraged. The terms 'Dalit' and 'Mahadalit' find frequent mention in Lalu Yadav's speeches these days. However, he cannot claim even a single leader of any stature from these communities in his party.
The JD(U) faces the same crisis after turning its back on all incidents of Dalit persecution. Nitish tried to make up for this by forming a 'Mahadalit' category. The step was ridiculed as he put all the Dalits in this category, except Paswans. They were perhaps punished for their loyalty to Ramvilas.
Manjhi appeared as a short interlude within the party. But, he too preferred the status quo.
He raised much hue and cry when a temple was washed after his visit. However, his voice was never as emphatic for the plight of poor Dalits.
Not much remains to be said about BJP leaders in this context, after the recent Cobrapost sting. It has laid bare the role of many BJP bigwigs in the evil deeds of the Ranveer Sena.
Yet the party is flaunting its NDA allies Paswan and Manjhi. It is also counting on the BSP to checkmate the Lalu-Nitish combine from the Dalit politics of the state.
The Nayagaon incident is just another chapter in the sordid saga of Dalit oppression in Bihar. Dalits have been forced to accept this painful fate.