Expats ranked different countries, here's how India fared
Do you have an expat working in your office? Chances are, you've worked with at least one expat in an Indian workspace, and can expect more expat colleagues in the future.
According to InterNations' annual survey Expat Insider 2016, India, while low on other indices like environment and safety, ranks fairly high when it comes to work. And what's remarkable is that this is a complete shift from 2015 when we ranked abysmally low.
And, while Taiwan beats every other country, with India only ranking in the middle of the pack as far as expat satisfaction goes, India's reviews are better than one would expect.
Also read - Saudi Arabia may tax expats to reduce reliance on oil revenues after fall in crude prices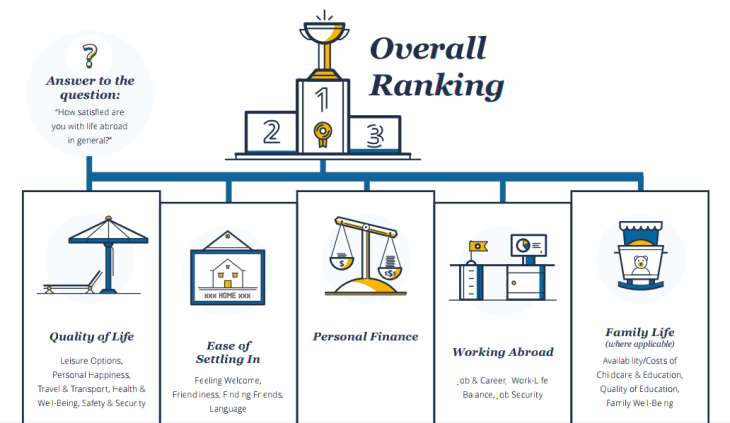 Source: Expat Insider 2016
The Expat Insider survey
For the survey, expats recorded their experiences based on 5 criteria:
1. Quality of life
2. Ease of settling in
3. Working abroad
4. Family life
5. Personal finance
"More than 14,000 respondents representing 174 nationalities and 191 countries or territories took part
and had their say on moving, living and working abroad," the report reads. Of this, 67 nations had enough responses to record and rank.
While India doesn't fair particularly high under most of the survey's indices, what's most interesting is that expat women feel a lot more positively towards India, as compared to their male counterparts. This is rather ironic as the media repeatedly projects India as hostile towards women.
1) Quality of life
In this category, India ranks a woeful 60 out of the 67 countries.
Within this category, expats were questioned on five other sub-categories that include: leisure options, where we ranked 59, personal happiness - 32, travel & transport - 53, health & well-being - 59 and safety & security - 56.
Barring personal happiness, India fairs rather poorly on the quality of life index. However, despite the low ranking in health, the saving grace is that expats find Indian health services affordable.
- 71% find Indian healthcare affordable, much higher than global average 55%
- However, 28% rate quality of environment poorly (global average is 4%). This effects the final ranking. In fact, India ranks 66 out of 67 when it comes to the environment, better only than China.
2) Ease of settling in
When it comes to adjusting to India, the country is in the bottom half of the group, coming in at rank 41.
Under this category, expats voted on friendliness - 34, finding friends - 37, language - 38, and feeling welcome - 59.
While language and making friends doesn't seem so hard for expats in India, they do not feel too welcome. So much for 'athithi devo bhava'.
Also read - India is racist. These African students in Bengaluru confirm
According to the report, only one third of the respondents (34%) said that it's easy to settle in India. That's much lower than the global average of 59%.
- 41% believe it's difficult to adjust to Indian culture. We're sure the beef ban doesn't help.
- Good news: Only 1 in 10 expats think Indians are unfriendly as opposed to global average of 17%.
- Bad news: Expats feel unsafe in India. 5 in 9 (56%) are okay with their personal safety, much lower than the global 77%.
- Only 1 in 9 expats (11%) feel peaceful in India (global average is 35%). Meditate elsewhere, perhaps?
3) Working abroad
India figures in the top half here, ranking at 31.
The sub-indices are: job & career - 22, Work-life balance - 37 and Job security - 32
There's a remarkable improvement here. What's even more remarkable is the degree of improvement under this index. According to the report, under the working abroad index, "India has climbed the ranking from last place in 2015 to 37th out of 67 countries in 2016."
Moreover, in the work-life balance sub category, India had gone from 63rd out of 64 countries in 2015 to 46th out of 67 countries in 2016. Expats also feel that their work hours have improved considerably in India. "The country rises from 60th out of 64 countries in 2015 to 30th in 2016," the report reads.
- 55% expats are satisfied with their career, which is the same as the global average
- One fourth feel the Indian economy is crashing, almost the same as the global pessimism of 24%
- However, India makes its expats work longer hours: 46.2 hours per week, as opposed to 44.6 global average

Source: Expat Insider 2016
4) Family life
Here India manages a respectable 29th. Under this index, India ranks 20 for cost of childcare & education, 11 for quality of education, 39 for availability of childcare & education and 41 for family well-being.
Also read - Govt must reconsider allowing Indian maids in Saudi Arabia
While the quality of education in India is held in high regard by expats, they also feel like it's an expensive affair. Three out of eight expat parents (38%) feel that their kids are being educated well, a notably higher percentage than the global average of 21%.
- 38% find it difficult to secure childcare
- 48% think education is costly
- However, 67% send their kids to international schools
- 33% send them to local private schools
- 0% send their kids to government run schools
5) Personal finance and cost of living
Here India ranks 9 and 15 respectively. India ranks high under these indices because of the obvious low cost of living that expats enjoy.
"Close to seven in ten of the respondents (68%) claim that their disposable household income is overall more than enough to cover everything they need for their daily life, which is a significantly higher percentage than the global average of 48%," the InterNations report reads.
In fact, a total of 73% expats rate Indian cost of living positively.
Men vs women
Beyond the five indices, here's a sub-category worth consideration. While the male vs female response doesn't differ much for most countries, India is one of the few that has extremely varied reactions.
For one, expat women are far more impressed with India than men. This obviously contradicts every news reports you've read.
"Women in the 2016 survey rank India 26th out of 57 countries, whereas men are much less impressed, leading to a ranking of 52 out of 62 countries," the report reads.
- In the working abroad index, India holds 17th rank for women and 36th for men
- Basically, only 46% men are satisfied with their work as compared with 76% women
- 74% expat women are financially stable. As for men, the number is 63%
- It is important to note that 37% of these working women do part-time, whereas only 5% men do part-time jobs
- Expat women, despite the high crime rate, also find India far more friendly than their male counterparts. 36% expat women think India is friendly, as opposed to 20% men.