[Exclusive] How Gau Raksha turned a petty criminal into Latehar's vigilante hangman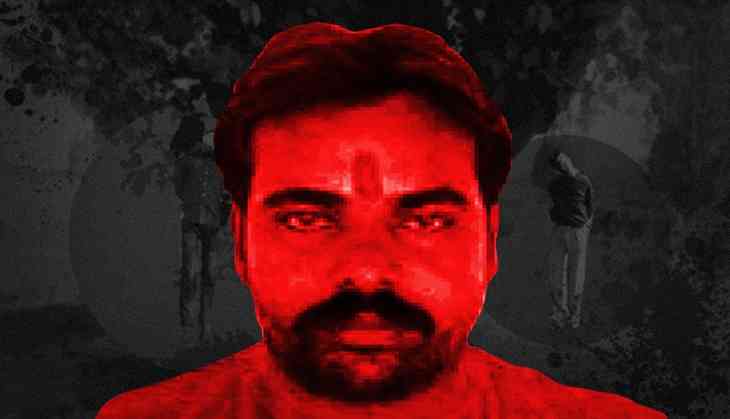 The confession
Catch has accessed the confession of Arun Sau, the main accused in the Latehar hangings of 18 March
Sau has confessed his involvement in the murder and also admitted that he is a Gau Rakshak
Sau has been involved in crime since 2004. He joined the cow protection campaign in 2012
More in the story
How Arun Sau\'s version differs from that of the other accused
Sau\'s transformation from a petty criminal to a right wing goon
What the people of Balumath have to say about Sau
On 18 March cattle trader Majloom Ansari (35) and a 12-year-old boy Imtiyaz Khan were found hanging from a tree in the Jhabar village of Jharkhand's Latehar district.
They were reportedly transporting oxen to a cattle fair when a group of assailants surrounded them. The assailants thrashed Majloom and Imtiyaz brutally, strangled them to death and hung their bodies from a tree.
The police have arrested 8 people in connection with the murders - Arun Sau, Sahdev Soni, Manoj Sau, Vishal Tiwari, Manoj Kumar Sahu, Mithilesh Prasad Sau alias Bunty, Pramod Kumar Sau and Avdhesh Sau - all of whom are said to be part of a team of Gau Rakshaks (cow protectors).
On 4 April, Catch carried a story containing the confessions of 3 of the accused - Manoj Sau, Pramod Sau and Mithilesh Prasad Sau alias Bunty.
Also read: [EXCLUSIVE] Latehar hangings: Chilling confessions of gau rakshaks
Besides recounting how the murders were carried out, the confessions clearly established that cow protection was indeed the motive behind the crime. The 3 confessions also indicated that Arun Sau, an alleged Bajrang Dal activist, was the mastermind behind the murders.
In their confessions, Pramod Sau and Manoj Sau also said that it was Arun Sau who strangled Majloom and Imtiyaz with a rope and killed them.
Catch now has in its possession, the confession given by Arun Sau to the police. Until the actual act of murdering Majloom and Imtiyaz, Arun Sau's confession matches that of the others. However, his version and that of another accused Sahdev Soni, differs from the version of others on one important aspect - who killed 12-year-old Imtiyaz?
Pramod Sau and Manoj Sau have said in their confessions that Arun Sau had strangled the boy to death. On the other hand Arun Sau claims that while he did hang Imtiyaz's body from the tree, it was Pramod Sau who strangled him to death. Sahdev Soni's version matches that of Arun Sau. The other 4 accused weren't present at the site of the murder as they had taken the "rescued" cattle to the jungle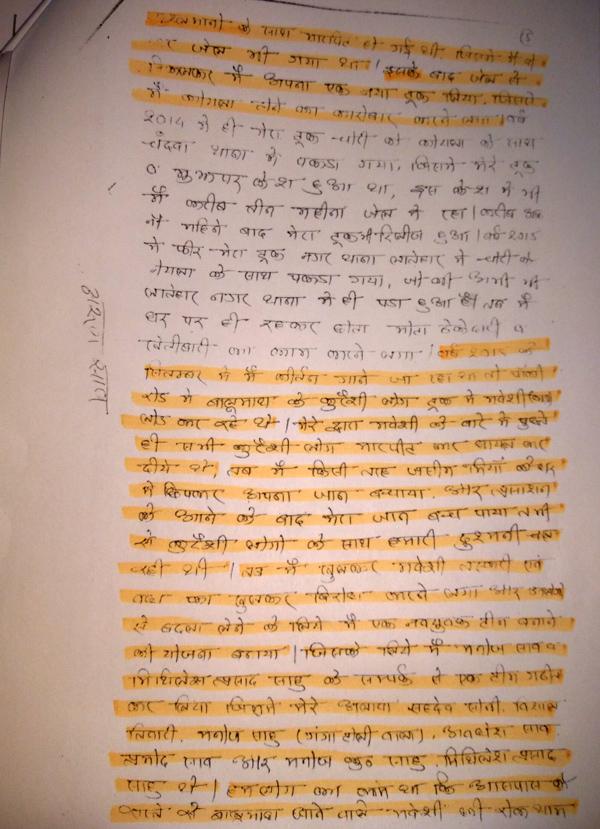 The confession
"On the morning of 18 March, I was sleeping at my home in Jhabar village in Balumath block (Latehar district). Somewhere between 3:30 am and 4 am, I got a call from Manoj Sau from his mobile (last digits 31) on my mobile (last digits 22). He told me that cattle are being transported from Jhabar to Balumath and that Avdhesh Sau is tracking the traders. He told me that all the team members have been told to come to the Jhabar main road. When I told him that I didn't have a vehicle, he said that he would pick me up from Chhat Talab.
I met Manoj Sau at Chhat Talab and we reached the Jhabar village main road in 10-15 minutes.
We saw that Sahdev Soni, Vishal Tiwari, Mithilesh Sau, Pramod Sau, Manoj Kumar Sahu and Avdhesh Sau were present there. (Mithilesh had picked up Sahdev Soni, whom he met on the way).
Avdhesh told all of us that the traders who are transporting the cattle, are a little distance ahead. Then we followed them and intercepted them at Devi Mandap in Jhabar. They were transporting 8 oxen.
Once we caught them, I told Mithilesh, Avdhesh, Vishal and Manoj Kumar Sahu to take the 8 oxen towards the jungle. They took them westwards towards the jungle and tied them to trees.
I took one of the traders and made him sit on Avdhesh Sau's motorcycle. Then I told Pramod Sau to sit behind holding the trader. Pramod held the trader and sat, I rode that motorcycle.
On the other motorcycle which belonged Manoj, we made the other trader sit and Sahdev Soni sat behind him.
We took them through the Kacchi Sadak and brought them to Khaprail Bar. We thrashed them with sticks. Then I began strangling the 30-32 year old trader (Majloom). When I felt that he was about to die, I told Sahdev Soni, Manoj Sau and Pramod Sau to keep an eye on them. Then I went to a nearby village and brought a rope that was used to tie cattle.
When I returned, I saw that the other trader was lying dead. 'Who killed this child?' I asked. Sahdev Soni told me that Pramod Sau had strangled him to death.
Then I tied the rope around the 30-32 year old trader's neck and strangled him to death. After that, I climbed the tree and pulled his body from above. I ordered Sahdev, Manoj and Pramod to push his body upwards. When they did that, it seemed as if the trader had hung himself from the tree.
In a similar manner, I tied the 10-12 year boy's neck with the rope and made the other 3 push his body upwards and tied him to the tree. It seemed as if he had hung himself as well.
Then I, Sahdev Soni, Manoj and Pramod came back to the main road. By that time the other 4 had returned after tying the cattle. Then I told them that we have killed the traders and hung them from the tree."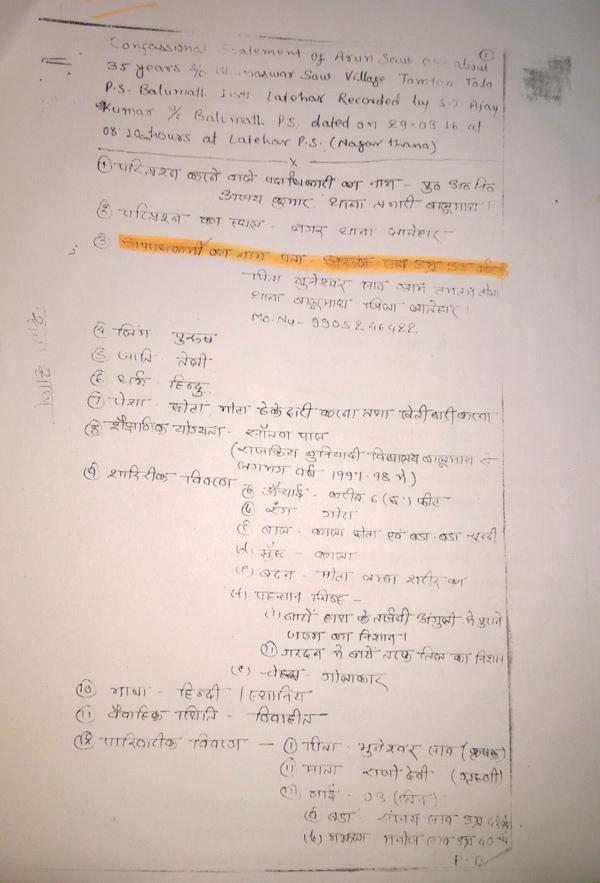 Arun Sau: petty criminal to Gau Rakshak
Now, irrespective of whether Arun Sau killed Imtiyaz or not, there seems no doubt that he was indeed the leader of the group. The story of the Latehar hangings is no doubt about the gruesome murder of Majloom and Imtiyaz. But it is also about Arun Sau and his journey from being a school dropout, to a petty criminal, an overzealous Gau Rakshak and, if the confessions are true, Latehar's vigilante hangman. His journey shows how right wing organisations make use of criminal elements like him.
Around 35 years of age, Sau lives in the Tamtam Tola locality in Balumath. By most accounts, he is not from a poor family.
According to Sau's confession, he dropped out of school in 1997, when he was in class 7. He began working as a helper in a truck transporting coal. After a year and a half, he started working as a driver for one Munna Gupta. Apparently it was during his association with Gupta that he first ventured into criminal activities.
"In 2004, I was caught under the Arms Act for an attempting a dacoity. I began living under the protection of Munna Gupta and began planning dacoities with him. I was arrested along with him in 2005," Sau recounts in his confession.
"Two months later, I was caught along with Siraj Miyaan of Palamau for illegally transporting coal. I remained in jail for 11 months," he adds.
There seems to have been a lull in Sau's criminal activities for the next few years, at least that is what his case history seems to indicate. This changed with a sudden spurt in 2012, when 2 cases were registered against him in Balumath.
Based on the sections he was charged under, the nature of his criminal activities seems to have changed in 7 years. In 2004 and 2005, he was charged under laws such as Section 399 (making preparations for committing dacoity), Section 400 (assembly for the purpose of dacoity) and Arms Act.
In 2012, the sections he was charged under indicated an entirely different nature of crime: Section 147 (rioting), 148 (rioting, armed with a deadly weapon), 149 (unlawful assembly with a common object), Section 341 (wrongful restraint), Section 323 (voluntarily causing hurt, Section 504 (intentional insult with intent to provoke breach of the peace) and Section 506 (criminal intimidation). This continued in 2013 when he was charged under similar sections, in addition to a case of criminal conspiracy as well.
The indicates that in these 7 years, Sau had changed from a petty thief and budding dacoit to a full-fledged goon. That too one with a clear Hindu right wing orientation. Sau is from the Teli community who are known to be traditional BJP supporters. Both Prime Minister Narendra Modi and Jharkhand Chief Minister Raghubar Das are from the same community.
In his confession, Sau admits becoming part of the campaign against cow slaughter in 2012, the same year his criminal activities revived. Much of the violence he got involved in was linked to cow protection.
"In 2012, a campaign to prevent slaughter and trade of cows and oxen was started in Balumath. I became part of it. Because of this, I had altercations with Muslims of Balumath and I had to go to jail twice," he says in his confession.
He is said to have become part of the Gau Raksha Samiti around this time.
This was also the period in which the cow protection campaign gained momentum in Balumath. An Uttarakhand based preacher Gopal ji Maharaj became particularly popular. In his discourses, Maharaj preaches cow worship and exhorts his followers to counter the slaughter and trade of cows.
Maharaj is known to have visited Balumath in 2014 and his functions were extremely well attended.
Also read: Latehar lynchings: Watch a cow-preacher's sermons that openly incite violence
In September 2015, Sau had a major confrontation with the cattle traders of Balumath. The cattle trade here is dominated by the Qureshi community. Interestingly, when the Qureshis thrashed Sau in this particular altercation, he was given refuge by a Muslim.
"Sometime in September 2015, I was going to sing kirtans when I saw that the Qureshi's of Balumath were loading cattle into a truck. I asked them what they were doing and they thrashed me. I took refuge at Jasim Miyan's house. I was saved only after the administration arrived. That was when my confrontation with the Qureshis began," Sau says in his confession.
For Sau, that particular altercation was a major turning point as it was then that he decided to form a crack team to take on cattle traders. The members of the team were the same people who were with him during the murder of Majloom and Imtiyaz.
"From that point on, I began openly opposing the trade and slaughter of cattle. I started a team for that purpose and inducted Manoj Sau, Mithlesh Prasad Sau, Sahdev Soni, Vishal Tiwari, Avdhesh Sau, Pramod Sau and Manoj Kumar Sahu. Our job was to stop and rescue the cattle that was being transported in and around Balumath," Sau recalls.
The Balumath police is quite open about its opinion of Sau.
"Arun Sau is a man with a criminal mindset. He has been named in several small and big incidents in the past. Five months ago, an FIR was registered against Sau and his associates for stopping a truck full of buffaloes. They forcibly took out cattle from the truck," says Ajay Kumar Singh, the officer in charge of Balumath Police Station.
Bajrang Dal links
According to locals in Balunath, Sau was not only part of the Gau Raksha Samiti, but also the Bajrang Dal.
"There is a famous Hanuman temple near the Balumath police station. The chowk adjoining the temple is a common meeting place for the local villagers. In the beginning of 2015, we saw a hoarding at the chowk proclaiming Arun Sau as the block president of the Bajrang Dal. It is unclear who assigned him this responsibility or what role he played in the organisation, but Sau gradually came to be known as a Bajrang Dal leader," says a local journalist working with a national news agency.
Many in Balumath have little doubt over Arun Sau's association with the Bajrang Dal as over the past year of so, he had made a name as an active leader of the outfit. However, Ujjwal, the present district in charge of the Bajrang Dal, was evasive when asked about Sau's affiliations.
"I joined the organisation only in October 2015. I am not sure whether Arun Sau is a Bajrang Dal member as I am still new to the district unit. He could have been a part of the last committee, but there is certainly no member by the name of Arun Sau in the present district committee," he told Catch over phone.
Interestingly, some prominent Gau Raksha activists, who are trying to distance themselves from Sau, present him as a Bajrang Dal member.
Suresh Ram, a local resident of Balumath, rears cows for livelihood. He owns 13 cows and works as the state in charge of the 'Gau Raksha Kranti Manch'.
When asked about Arun Sau's credentials, he says, "I was not close to Sau. However, I knew that he is a Bajrang Dal member. The people of the entire area are aware of this fact. There was even a hoarding of his name near the Hanuman Temple."
Suresh Ram denies his organisation's links to any of the accused. "We had not given any responsibility to these people. They probably acted out of their own will. It is a matter of investigation," he says.
But this claim is contested by a local journalist. "All the arrested men were associated with the 'Gau Raksha Kranti Manch'. In February, Arun Sau and the other accused had gone to Delhi to participate in a programme organised by Gopal ji Maharaj. The event was organised to demand the status of 'Rashtra Mata' (mother of the nation) to the cow," says the journalist on the condition of anonymity.
The journalist further recalls that a rally was organised in Balumath against cow slaughter a few months before the killings.
"Several slogans raised during the rally demanded hanging of those involved in the killing of cows. It is perhaps no coincidence that Majloom Ansari and Imtiyaz Khan were found hanging in a similar manner. Their hands and feet were tied and eyes covered as we see in the movies," he says.