Exclusive: BJP uses Delhi municipal schools to push Modi line on note ban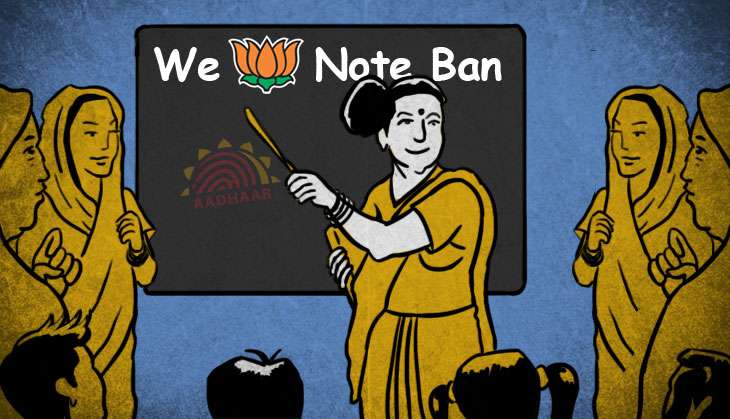 The Bharatiya Janata Party (BJP) seems to be using schools to "educate" parents about the virtues of Prime Minister Narendra Modi's demonetisation move.
On 24 November, the BJP-ruled North Delhi Municipal Corporation, which is part of the trifurcated Municipal Corporation of Delhi (MCD), issued a circular to all the schools under its jurisdiction, stating a point-wise agenda for a Parent-Teacher Meeting (PTM) to be held on Saturday, 26 November.
The circular has been issued in the name of Mamata Nagpal, chairperson of the education committee. Nagpal belongs to the BJP and represents the Shalimar Bagh ward in the North Delhi Municipal Corporation.
One of the directives in the circular was: "Not to panic due to demonetisation policy".
A visit to one of these primary schools on Saturday made it clear that demonetisation was the most pressing issue for these parents, though the circular mentioned other points too.
The circular had instructed the principals and teachers of all schools - the North Delhi MCD runs around 740 primary schools - to "educate all the parents" about these issues.
Catch visited a North Delhi Municipal Corporation run school in the Civil Lines zone where this "education" was being provided to those hit the worst by the note ban - daily wagers and informal-sector workers.
Inside a Class-3 classroom during the school's evening shift (1pm to 6.30pm) meant for boys, a woman teacher stood before around 40 schoolboys sitting on the floor and between 15 to 20 mothers clustered on one side of the room.
The "issues" for the PTM were listed out on the blackboard.
Around 1.30 pm, the teacher began her "class".
She began with explaining the importance of getting Aadhaar Cards for children and opening bank accounts. Then came the importance of educating the girl child, referring to the 'Beti Bachao, Beti Padhao' Abhiyan, followed by Swachht Bharat Abhiyan, and the need to curb pollution.
Finally, she broached the thorny subject of the note ban - the scrapping of Rs 500 and Rs 1000 notes, a sudden announcement made by Prime Minister Narendra Modi on 8 November.
The teacher seemed well-prepared for her part. "Yes, we are all facing problems right now due to the note ban... But we need to remember that this is good for all of us in the long run... Once 'black money' is eliminated, it will benefit all of us... It is just a matter of a few more days... Modi ji has done this for the country, for the larger good..."