Essar tapes: the incriminating conversations and the bigwigs involved
Catch Team
| Updated on: 10 February 2017, 1:49 IST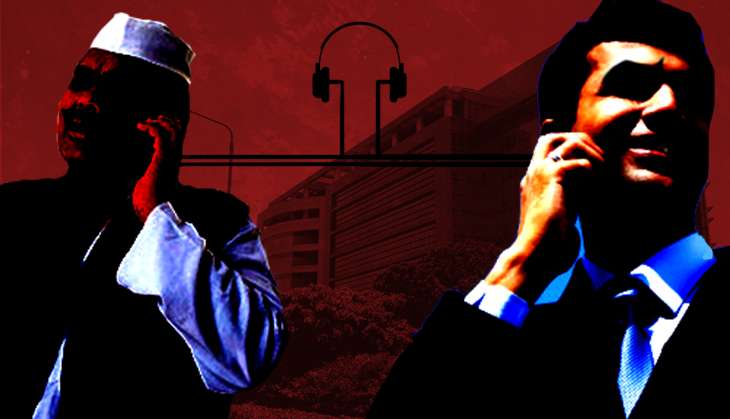 The letter
Lawyer Suren Uppal wrote a letter to the Prime Minister\'s Office, alleging that Essar allegedly tapped phones
The transcripts raise doubts on the conduct of politicians, bureaucrats and industrialists
More in the story
Who are the industry honchos and politicians allegedly involved in the conversations?
What the conversations show - a tangled web
Lawyer Suren Uppal's letter to the Prime Minister's Office has opened a Pandora's box. The list of transcripts, of phone calls alleged to be illegally tapped by Essar, which have been carried by some publications, raise serious doubts on the conduct of the politicians, bureaucrats and top industrialists.

Must read- Essar tapes: These five questions remain unanswered
Doubts have also been raised on the conduct of the higher judiciary. Here is what those transcripts say.
(Note: Catch cannot independently vouch for the authenticity of the transcripts or their content)
Mukesh Ambani and Satish Seth
Mukesh Ambani, chairman of Reliance Industries, is heard talking to Satish Seth, a then-top officer of Reliance Industries, and now a lieutenant of the younger Ambani brother, Anil, to "get letters written from 4-5 CMs, 8-10 MPs, and another 500 letters to mark their support in favour of Mr Pramod Mahajan's continuance as Telecom Minister".
Mahajan, during the term of the NDA government under Prime Minister Atal Bihari Vajpayee, was accused of favouring Reliance, by allowing full mobile services on a WLL license. In return, it was said that Reliance had transferred one crore shares to Mahajan's friend at Rs 1 each. Mahajan had then denied the allegations.
Parimal Nathwani and Satish Seth
Parimal Nathwani, who is serving his second term as an MP from Jharkhand, (in the last elections, it was the BJP who supported him), is heard discussing with Seth how Reliance has managed to dictate tariff plans to state-run BSNL, thereby bringing huge profits for Reliance.
It would be worthwhile to recall that Reliance's CDMA service, was involved in a bitter tariff war with other private players and BSNL. Nathwani is group president of Reliance Industries.
Mukesh Ambani and Satish Seth (Part 2)
In a conversation said to be between Mukesh Ambani and Seth, the richest Indian businessman is heard telling Seth to break the Cellular Operators Association of India (COAI). He tells Seth to pay Rs 100-200 crore to Rajeev Chandrasekhar from the rest of the cellular lobby.
Chandrasekhar, is now a Rajya Sabha MP, and won again in 2012 with the support of the BJP and the JD(S). He is also the founder of BPL Mobile, and served as president of COAI in 2002. There is a suggestion that Chandrasekhar be paid Rs 100-200 crore.
Mukesh Ambani and Shankar Adawal
In another transcript, Mukesh Ambani is in conversation with Shankar Adawal, a passionate astrologer, who now serves as the Regulatory Head of Reliance Jio, the group's 4G service, and has been with the group since 1997.
Ambani apparently tells Adawal how Reliance could save Rs 1,300 crore from being paid as cellular operator's licence fee, if the file could be removed from the Department of Telecom. And that the same was being done with the help of Ajay Singh and Ajoy Mehta, both of whom were serving in the Department of Telecom at that time.
Ajay Singh, the co-founder and current owner of SpiceJet, is considered close to top BJP leadership. He has served as Officer on Special Duty to Mahajan in the Information and Broadcasting Ministry, and later, in the Ministry of Telecom.
Mehta, an IAS officer of the Maharashtra cadre, is currently serving as chairman of Brihanmumbai Municipal Corporation.
Mukesh Ambani, Ajay Singh and Satish Seth
Two other conversations involving Ambani, Singh and Seth throw light on how Mahajan was allegedly avoiding requests from Airtel's Sunil Bharti Mittal, at the behest of Reliance Industries.
Mahajan's ministry was purposely delaying Airtel's requests for inter-connectivity with state run telecom operators.
Airtel was Reliance Telecom's adversary in the market.
Hetal Meswani and Satish Seth
The list of transcripts provided by the lawyer also has a conversation between Hetal Meswani, the Chairman of Reliance Industries investment and of holdings, and Seth, which allegedly has incriminating information on the KG Basin irregularities.
The Comptroller and Auditor General, in its reports, has pointed to a massive loss to the state exchequer in the KG Basin allotments.
Anil Ambani, Satish Seth and Harish Shah
Another conversation between Anil Ambani, the chairman of the Anil Dhirubhai Ambani Group, Seth and Harish Shah, another senior official of the Reliance Group, has them discussing how in the KG Basin, Reliance is guilty of escalating the cost to Rs 1,500 crore, when the cost borne out is just Rs 500 crore. And how, if there is an inquiry, 'Sabka band baj jayega' (roughly, everyone's goose will be cooked).
Anand Jain, Satish Seth and Mukesh Ambani
Multiple conversations between Anand Jain, who is referred to as the 'third son' of Dhirubhai Ambani, Seth, and the elder Ambani allegedly showing how unfair means were adopted to get a plot at Altamont road.
The conversation allegedly shows the involvement of former Maharashtra Chief Minister Ashok Chavan, Congress leader and former MP Rashid Alvi, and Gopinath Munde, the senior BJP leader and Maharashtra and Central government minister, who died in a car crash in Delhi.
The conversation allegedly shows how the prime property was bought at a rate that the industrialist wanted, and how they managed to save the stamp duty by getting favourable orders.
The elder Ambani's Rs 4,000 crore mansion, Antilia, was later built on this plot. It is said to be one of the most expensive homes in the world. The more than 4,000 square metre property in the Peddar Road neighbourhood of Mumbai was bought from the Waqf board for a mere Rs 21 crore in 2002.
A report by the board, tabled in the Maharashtra Assembly in 2015, had pointed to irregularities in the deal.
NK Singh and Mukesh Ambani
NK Singh, a member of the BJP, who earlier served as Principal Secretary to former PM Vajpayee, allegedly features in multiple conversations with Mukesh Ambani, discussing pre-budget policies of the government. The list claims that Ambani influenced annual budget decisions.
Singh has held important portfolios in the government including that of the finance secretary.
Satish Seth and Kirit Somaiya
The list features a conversation between Seth and BJP leader Kirit Somaiya. The list claims that Somaiya was asked to manage he SEBI proceedings in favour of Reliance, in the insider-trading case involving Larsen and Toubro.
Amar Singh and Akhilesh Pratap Singh
The list has a conversation between Samajwadi Party leader Amar Singh and Akhilesh Pratap Singh of the Samta Party, detailing how the Joint Parliamentary Committee in the Ketan Parekh scam and the Global Trust Bank fiasco was 'managed' to protect Reliance Petroleum.
The conversation allegedly has details of how money was paid to several politicians, including then-JPC chief Prakash Mani Tripathi, whose son was employed with Reliance, SS Ahluwalia of the BJP, Somaiya, Prem Chandra Gupta, MP and a close aide to Lalu Prasad Yadav, and NCP leader Praful Patel, the former Union Minister in the UPA government.
Mukesh Ambani and Ram Naik
There are conversations between Ambani and then Petroleum Minister Ram Naik, which show the current Governor of Uttar Pradesh 'conferring undue benefits' to Reliance.
The conversation also has details of how Reliance Oil was favoured in the disinvestement of state-owned BPCL and HPCL, and that a huge amount of money exchanged hands in the HPCL case.