Eknath Khadse breaks his silence, vows to finish all his opponents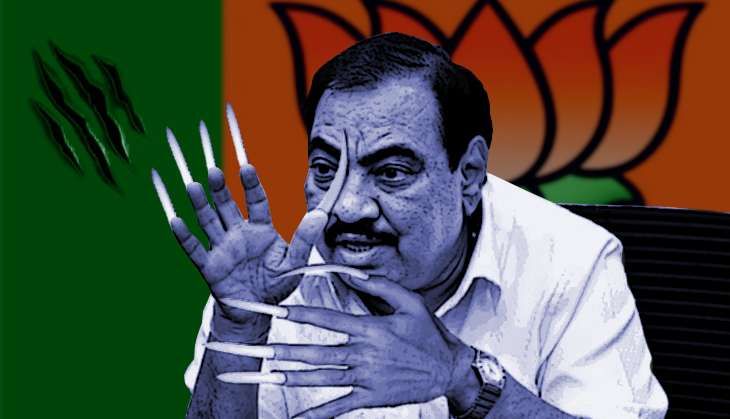 Eknath Khadse's resignation as Maharashtra's revenue minister earlier this month came as a relief for the Bharatiya Janata Party. He had become an embarrassment for the party following allegations that he was in touch with underword don Dawood Ibrahim, besides being accused of corruption.
However, after a fortnight of lying low, Khadse has returned to haunt the party. He has threatened that he won't go down so easily and would expose all those who ruined his political career.
Speaking at a meeting with party workers, Khadse gave vent to his feelings.
"No one can finish me. I will finish all my opponents," he threatened, sounding ominous.
Also read - Dawood Ibrahim link may sink BJP leader Eknath Khadse's career
"I have been through many ups and downs in life. It's time to fix the insiders who are damaging the party's image. If you want to save the party, first fix the traitors and then attack outsiders," he added.
This is for the first time that Khadse has spoken publically about his resignation and the circumstances that led to it. He also claimed that he was aware of who conspired against him.
"It is a deep rooted conspiracy. I am aware of those behind it. If everything is revealed, the party will be rattled to the core. I have been working for the party for four decades now. But this is the first time I am confused on how to start the speech. This is all because of the traitors in the party," he said.
Khadse said that the fortnight after resignation has exposed many colleagues in the party. "Now I know who is a friend and who is a foe. I have seen a video of a party MLA celebrating my resignation even while travelling in a train. Such people need to be shown their place. I will soon expose those who levelled baseless allegations against me," Khadse said.
He also said that it was a good idea to break the alliance with the Shiv Sena before the 2014 Assembly elections. He argued that BJP couldn't have won these many seats and led the government, had it contested in alliance with the Sena.
The resignation
Khadse had resigned on 4 June following allegations by the Aam Aadmi Party (AAP) that he has been in touch with Dawood. Khadse was already in trouble after his so called personal assistant Gajanan Patil was arrested by the Anti Corruption Bureau (ACB) for demanding a bribe of Rs 30 crore from an NGO for allotment of government land.
It was also alleged that his son-in-law owned and used a limousine, which was illegal in Maharashtra. Khadse found himself in more trouble when it was alleged that, using his powers as revenue minister, he helped his wife and son-in-law grab government land near Pune at miniscule price.
This was the first serious allegations against any minister of the Devendra Fadnavis government since it assumed power in 2014.
He tried all kinds of tricks to save his ministership but all his efforts proved futile and Khadse had to resign on 4 June. The BJP tried to earn brownie points by saying it is tough on corruption and that even its senior most leader in Maharashtra wasn't spared.
After Khadse resigned and packed off to Muktainagar, his home town in Jalgaon district, state and central BJP leaders thought it was the end of the matter.
But veteran journalist Kumar Ketkar had said that it would be interesting to see what Khadse says about his resignation in the near future. Speaking to Catch after Khadse's resignation, Ketkar had predicted that Khadse won't remain silent for too long. "And once he starts speaking his heart out, it will be the beginning of trouble for the BJP. Its just a matter of time before Khadse starts spilling the beans," Ketkar had said.
And sure enough, Khadse has started speaking. In fact he has gone a step further than what Ketkar had predicted. The journalist thought Khadse would speak off the record but the BJP leader chose to break his silence at a public meeting in his constituency.
More in Catch - Is BJP leader Eknath Khadse in touch with Dawood Ibrahim?
BJP calls charges against Eknath Khadse serious