ED notice to Karti Chidabaram over forex violations of Rs 2,262 crore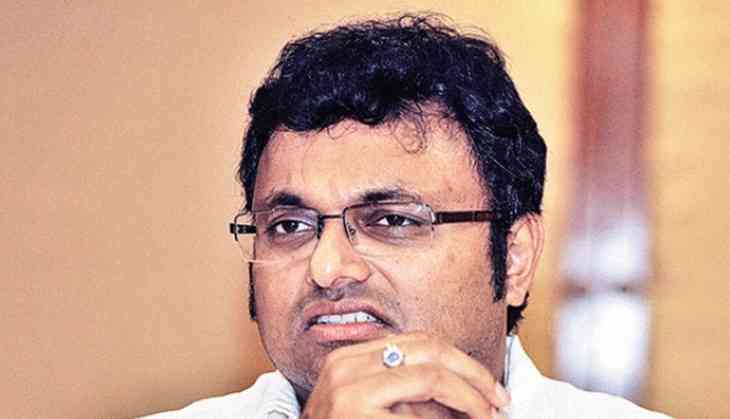 Karti Chidambaram, the tennis enthusiast and politician son of former Union Minister P Chidambaram, is in trouble once again.
The Enforcement Directorate (ED)has issued a show cause notice to him in connection with alleged forex violations amounting to around Rs 2245 crore. The notice pertains to flow of foreign funds into Vasan Health Care ltd, a chain of eye hospitals, popular in Southern India which grew exponentially during the term of the previous UPA government at the Centre.
Notices have also been issued to Vasan Health Care and it's promoters, the officials at Advantage Strategic Consulting, a company which the investigators believe is controlled by Karti Chidambaram.
Agency insiders claim that they suspect Advantage Strategic Consulting was used to route bribe money for some FIPB approvals which happened during Chidambaram's tenure. Both Karti and P Chidambaram have strongly denied these allegations since the investigations began into the FIPB approval in the Maxis case, under the stringent Prevention of Money Laundering Act.
Meanwhile, investigators say Vasan Health Care received investments from funds of Sequoia and Westbridge, based out of Mauritius, and from the investment arm of GIC Singapore. Apparently, inputs received by the agency point to suspected contraventions of Foreign Exchange Management Act.
On 18 April, 2016, ED landed up at the office of Sequoia Capital India Advisors Pvt Ltd. ED also searched the residence of Sequoia's managing director, VT Bharadwaj.
Sleuths also went to the office of WestBridge Capital India, another private equity firm with a footprint of more than $1.5 billion and the residence of its co-founder and managing director KP Balaraj.
"The overseas investors acquired shares of Vasan Health Care by acquiring compulsorily convertible preference shares directly from the company by investing a total amount of Rs 432 crore in different rounds of investments from February 2009 to November 2014," an ED official says adding that these shares were bought at a face value of Rs 100 each.
The official explained how the overseas investors instead of acquiring shares directly from the company which would have added more liquidity, chose to acquire it from the secondary market, that is from the existing share holders. This is where Karti comes into the picture.
The existing shareholders who sold their stake include AM Arun, the promoter of Vasan Health Care, AMA Associates, a partnership firm owned by Arun and his father-in-law Dwarkanathan and Advantage Strategic Consulting, the company officials say is controlled by Karti.
Two-thirds of Advantage Strategic Consulting, which is one of the firms being investigated in the Aircel Maxis case, was bought by another company called Ausbridge, five months after the deal with Sequoia. Karti had a 95% holding in Ausbridge until 2011, which was later transferred to his alleged close aide, Mohanan Rajesh. Advantage, according to recent reports, is now owned by Ausbridge (40%), CBN Reddy (another Karti aide) and two others, as Catch had reported earlier.
Meanwhile, the official explains how the sale happened in two tranches, first in end of 2010 when shares were sold at Rs 7,500 per share and second time in May 2012 when the shares were sold at Rs 5242 per share. "The total amount invested by these overseas investors which benefited the existing share holders is about Rs Rs 357.72 crore," according to the official.
Meanwhile, one of the investors from Sequoia group, who had invested in the first round in February 2009, sold their stake worth Rs 25 crore to an investment arm of GIC Singapore for a staggering Rs 177.7 crore in March 2012, a seven fold profit.
Meanwhile, ED official explained how Advantage Strategic got hold of Vasan shares. "Mrs Arun, who was allotted Rs.100 face value shares on Rs.100 premium, transferred 3 lakh shares to her father, Mr. Dwarakanathan, without receiving any consideration. Her husband Dr. Arun then immediately got 1.5 lakh shares transferred from Mr. Dwarakanathan's account to Advantage Strategic, which was till then never connected to Vasan's operations, for just Rs.50 lakh. The amount was paid over a year after share transfers," said the official.
The official explains that Arun while negotiating for the sale of his stake with overseas investors also ensured that the stake held by Advantage is also sold. "Advantage Strategic out of the 1,50,000 shares sold 30,000 to an investor from the Sequoia group for around Rs 22.5 crore," the official says adding that after receiving this money, Advnatage transferred the pending Rs 1 crore to Dwarkanathan.
Balaraj and Bharadwaj were both managing directors of Sequoia when it bought 30,000 shares in Vasan Healthcare from Advantage in October 2010 for Rs 7500 per share..
At the same time, another 1,19,333 shares of Vasan Healthcare were purchased by Sequoia Mauritius and WestBridge Mauritius, on the advice of Sequoia, from Dr AM Arun, the promoter of Vasan, again at the inflated price of Rs 7,500 per share.
"During the course of the investigation, it was found that a chartered accountancy firm, Suresh & Co., vide their letter dated 15 October, 2010, estimated the value of Vasan equity shares at just Rs 110," an official had told Catch earlier.
"Shares worth just Rs 1.64 crore were bought at the phenomenal price of Rs 112 crore." Lathe investments, another firm, had paid just Rs 710 for a Vasan share in 2012.
Between February 2009 and November 2010, Sequoia and WestBridge made investments totalling around Rs 212 crore in Vasan.
As Catch had reported earlier, this had led Investigators perplexed as to why such a huge investment was made even when the company showed low earnings.
Meanwhile, the total amount, according to the official, identified for alleged contraventions by Advantage Strategic consulting comes to about Rs 45 crore.