Dowry demands, mini-skirts & wild faith in the ungodly Radhe Maa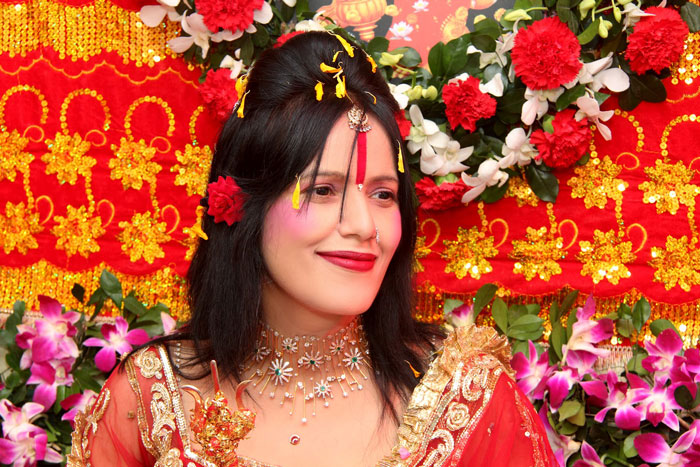 The genesis
Sukhwinder Kaur became Radhe Maa after joining a sect in Punjab
After gaining a following there she moved to Mumbai
She made it big there, thanks to the patronage of businessman Sanjeev Gupta
The following
Radhe Maa counts Gajendra Chauhan & Dolly Bindra among fans
Subhash Ghai has come out in her support
The controversies
Housewife alleges Radhe Maa forced her in-laws to extort dowry
Mumbai lawyer wants her booked under anti-superstition law
Photos of godwoman in mini skirt outraged many
When I was in Mumbai last, several large billboards on the Sion-Chembur stretch were sporting photoshopped images of a woman. The woman's features were hidden by a large splash of vermilion on her forehead, too many jewels and bridal makeup.
The woman, it turned out, was none other than Radhe Maa - the self-appointed 'godwoman' who was recently banned from visiting Nashik for the upcoming Kumbh Mela after she was booked in a dowry harassment case.
Under the patronage of the Gupta family of the MM Mithaiwala Group, 46-year-old Radhe Maa is a modern-day godwoman who has collected fame, wealth and an influential army of followers over a short period.
The credit for Radhe Maa's fame, apart from her unorthodox methods of blessing her devotees - dancing with them and letting them carry her in their arms - goes to Mumbai businessman Sanjeev Gupta.
He's the reason why it isn't unusual to see her face peering down from billboards. As the owner of Global Advertiser, a company that controls several prime location hoardings in the city, Gupta promotes Radhe Maa's 'divyadarshans' across the city.
What was far more unusual were the images that began to flood social media a few days ago - of her in a gaudy mini skirt - pictures put up by reality TV star Rahul Mahajan. In his tweets he wrote: "By calling this woman #RadheMaa we are disrespecting Radhe and Maa both".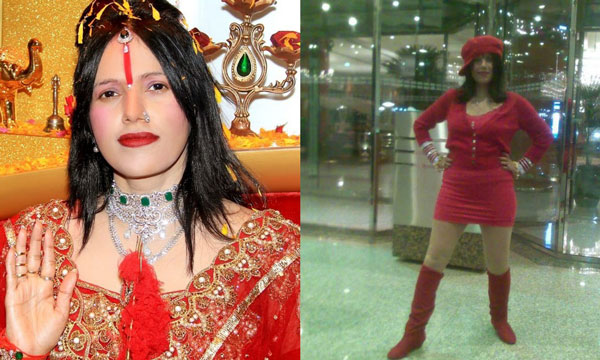 Being Radhe Maa
But who are her high profile and wealthy benefactors?
Among her veritable army of followers is actor Gajendra Chauhan - the recently appointed chairman of FTII whose appointment is being fiercely contested by students of the institute - Dolly Bindra of Big Boss fame and filmmaker Subhash Ghai.
Even the man of a thousand memes, Alok Nath, is rumoured to be in her inner circle.
And just like most godmen and spiritual gurus (Asaram Bapu and Gurmeet Ram Rahim Singh) in India, Radhe Maa is no stranger to controversy.
Accusing Radhe Maa of performing vulgar and obscene dance steps during satsangs, conducting shady discourses with her 'high-profile' followers, mental harassment, and cheating and fraud, Mumbai-based lawyer Falguni Brahmbhatt filed a case under the Maharashtra's anti-superstition law, which may put the godwoman behind bars.
Brahmbhatt said she plans to file a writ petition seeking court intervention as the police were yet to act. The police have sought legal opinion, a source in the department said.
Despite repeated attempts Catch could not contact Radhe Maa's spokesperson Sanjeev Gupta, who also owns several of Mumbai's billboards - a medium that has contributed greatly to the godwoman's popularity.
Radhe Maa stands accused of performing vulgar dance steps during satsang, harassment, cheating and fraud
The spiritual guru also faces dowry charges by Mumbai-based housewife Nikki Gupta, for allegedly forcing the family of her husband Nakul Gupta - followers of the godwoman - to extort more dowry. According to police sources, Radhe Maa is absconding and is reportedly planning to flee abroad.
A Marathi news channel, however, claimed she travelled from Aurangabad to Nanded to seek blessings from a gurudwara. Kshitij Mehta, Nikki Gupta's lawyer, said he would approach the court to monitor the investigations if the police failed to act.
If all this wasn't exciting enough already, the images released by BJP leader Pramod Mahajan's son only served to stoke the fire. The picture of her in mini-skirts and another of her lounging on a sofa in a shocking pink dress with her legs up on the arm rest is proof of the shocking chicanery that has come to surround modern day Indian spiritual gurus; a travesty of the ascetic traditions India could justifiably be proud of.
It's probably useful to point out that it's not the mini skirt per se, nor indeed the shock of the pink, that is necessary objectionable. It is the colossal hypocrisy.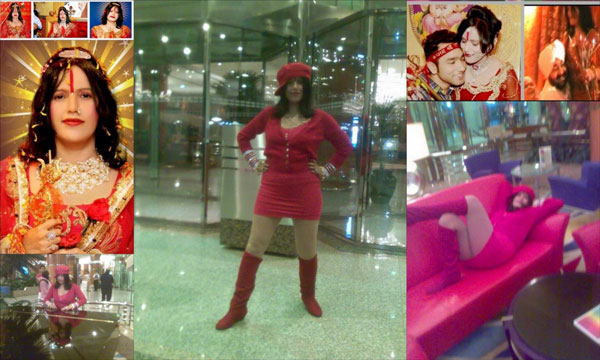 Incredibly though, after the controversy broke, Subhash Ghai took to Facebook to establish that Radhe Maa is a multi-faceted, normal woman who's a grandmother by day and a spiritual ideologue by night.
"We also came to know while meeting her that she is a normal, sensitive married woman with two sons doing well n grand children n leads a normal social life as independent woman n in her Devi roop she loves bhajans n dances at times on those tracks in front of devotees and want devotees to treat her like a child (sic)," he wrote on his page.
His knee jerk defence is again a deep-dive insight into the bewildering faith Indians seem to invest in the most unsavoury and intellectually starved icons.
Will the real Radhe Maa please stand up?
But, let's rewind a little.
The details about the rise of Radhe Maa are sketchy at best. Born Sukhwinder Kaur, she was born in 1969 in Gurdasapur district of Punjab.
Her transformation into Radhe Maa reportedly began in her early 20s when her husband Mohan Singh left for the Gulf in search of money and she joined the local Paramhans Dera to fill her day. (Some reports list BJP Member of Parliament Mohan Singh as her husband, which is false).
For her fan following among trishul-flaunting, jagrata-loving crorepatis, she holds many 'Mata ki chowkis'
At 23, a "reputed saint" gave her the name Radhe Maa - as she claims on her blog. One version of the stories, which surround her claims, is that her spiritual side, which had to be kept aside while her husband was around, "woke up" after his departure.
Another version says that she was often found lost in thought by her parents after her husband left and it was at the behest of her father that she was taken to a 'guru' who showed her the path she should follow.
Some sources say she had to once tender an apology after a Hindu group objected to her claims of being an incarnation of Goddess Durga.
Where karma holds sway
Radhe Maa quickly gained fame in Punjab and, eventually, in Mumbai, where she now stays.
Her constant refrain on her blog and Facebook page, where she is called Param Shradhey Shri Radhe Maa, is to urge "devotees to purify their mind, speech and action through bhakti". Further, she teaches that the "universe is a fair place where the law of karma holds sway".
Her satsangs, Facebook pages and meetings involve the invocation of the popular Hindu deities - particularly Shiva and Parvati.
For her fan following among jagrata-loving, trishul-flaunting crorepatis, she holds many jagratas (all-night prayer meetings) and 'Mata ki chowkis'.
The framework of her meets is quite similar to how the International Society for Krishna Consciousness conducts theirs: followers or bhakts dance in a trance along with Radhe Maa. She's reportedly very physically affectionate - very free with hugs and kisses - and is carried in the arms of her devotees.
According to her followers, her persona is very clearly that of a homely woman and of a 'Devi' (goddess).
Further, during the bhajans, she acquires her child-like nature, and dances with her devotees and is referred to as 'Gudiya-devi' (girl-goddess).