'Don't make me an emblem on a shirt': Irom Sharmila's fast turns 15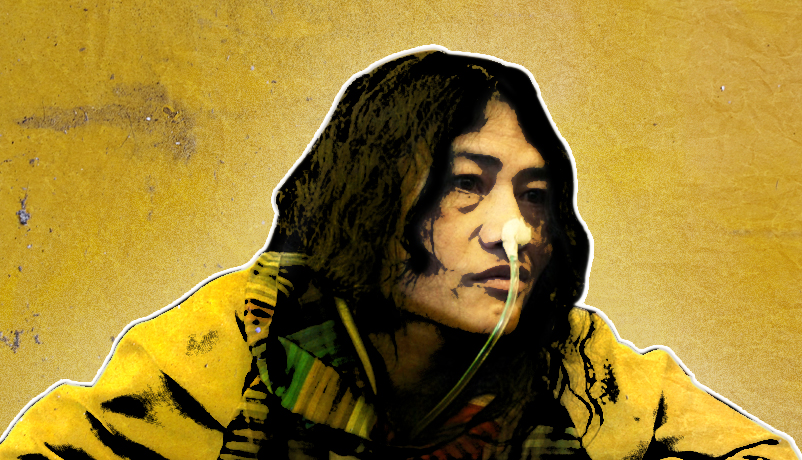 The protest
Irom Sharmila began a fast against the Armed Forces Special Powers Act on 2 November 2000Her comrades commemorated the 15-year anniversary of the fast in Delhi on Sunday and Monday
The heroine
According to fellow activist Babloo Loitongbam, Sharmila hates being the icon of \'Repeal AFSPA\'He says she just wants to lead a normal life, but is protesting like any ordinary person would
More in the story
Sharmila was scared of dying. What made her change her mind and continue the fast?What the State fails to understand about her protest
Just like Che Guevara became the icon of the anti-capitalist resistance, Irom Sharmila's face is now on the shirt of every 'Repeal AFSPA' (Armed Forces Special Powers Act) protestor in India.
But those who've been in touch with her over the 15 years of her fast and house arrest say that's precisely what she didn't want to be reduced to.
'She was scared of dying'
Sharmila's fellow protestors say that she gets furious on seeing herself being made into an extraordinary figure or a well-designed emblem that people brandish at protest marches.
"She has been made into this extraordinary figure of resistance over time. Irom is an ordinary person who's protesting like anyone else would. She wants to eat good food, wants to have a romance, a normal life, like anyone else. Only when people understand this will they really appreciate her and get the strength to do something similar," says Babloo Loitongbam, a human rights activist from Manipur.
This Sunday and Monday, Babloo, along with some other 'Repeal AFSPA' protestors, held a two-day commemoration of Sharmila's fast unto death, which began on 2 November 2000. They held a seminar and a hunger strike.
According to Babloo, Sharmila often says if she knew she'd have to continue her fast for 15 years, she probably wouldn't even have begun.
"She was quite scared of dying. But the huge public support she received in 2004 was a watershed. It changed everything," he says.
Not enthusiastic
Babloo, with whom Sharmila had joined the protest initially, gave details about his recent meeting with her.
Meeting Sharmila in itself is becoming a challenge, after a recent Home Ministry circular. It has put in a new condition, according to which, anyone wishing to meet an undertrial has to notify the home department one month in advance and submit a deposit of Rs 1 lakh. This can be forfeited if the authorities feel the applicant doesn't stick to the brief.
"We managed to meet her and told her about the commemoration ceremony that we were planning in Delhi. She wasn't very enthusiastic. She said that unless some known political or social figures join our movement against AFSPA, we wouldn't make much progress," he says.
Despite her lukewarm response, many of her colleagues went ahead with the commemoration.
To live or not to live
Sharmila has been practically behind bars, under the police's medical supervision, for most of her fast. Ritually, every 15 days, she's produced before the local magistrate, who asks her whether she's changed her mind about fasting unto death. When she replies in the negative, Sharmila is sentenced to jail for trying to kill herself.
Her protest and the State's reaction to it is actually full of paradoxes. Sharmila's protest is to live a life free from the army's control. However, she's regularly punished for trying to kill herself.
"They don't get it. Irom wants to live. She's protesting because she wants to live a better life," said Neingulo Krome, secretary general of the Naga Peoples' Movement for Human Rights.
Krome thinks he's witnessing the final days of the AFSPA. Things have changed quite a lot, he says, from the time when people like him had joined the movement.
"There is a lot of public support now, as you can see, that comes not only from the people who've lived and experienced life under AFSPA, but also from people living elsewhere in the country. It gives us hope. Political parties, which represent aspirations of the local people, are now publicly talking about repealing it when they come to power," he says.
A new generation
It isn't just Sharmila's battle-hardened old comrades who still care about the military's unbridled powers in their region. Several student leaders also showed up at the commemoration.
Chinglen Khumukcham is a young student leader and convenor of the North East Forum for International Solidarity (NEFIS), who has been involved in mobilising young crowds against the AFSPA.
But does the young generation feel as strongly about the issue as the previous generation, who saw the worst of it? Isn't it a priority for the young ones to search for better prospects?
"For young people like me, a better life means both economic prosperity and freedom from the AFSPA. They aren't mutually exclusive. We take pride in moving forward in our march against this draconian act, and feel great support when our heroes like Sharmila get recognised by people who don't belong to the region where she and I come from," Khumukcham says.
Whether their voices have reached inside the corridors of power and made an impact remains to be seen. For now, Sharmila remains under lockdown, but her face graces the shirts of more and more protestors.