Theatre of the Absurd: why the NSA talks were bound to fail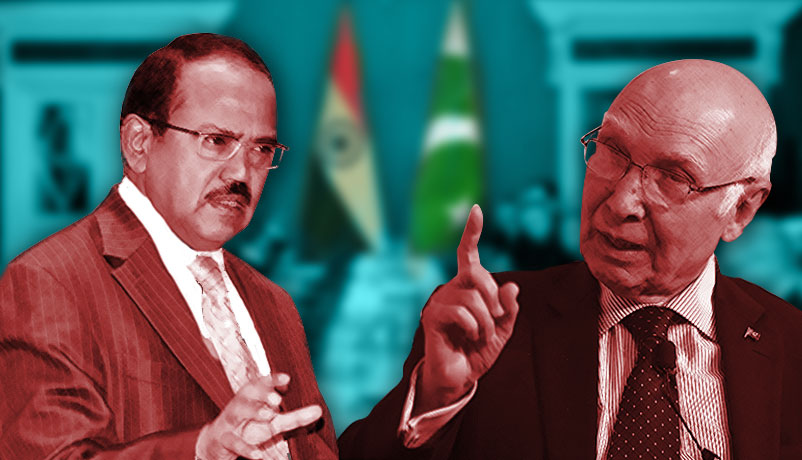 The debacle
The talks between the National Security Advisers of India and Pakistan has been called off
The run-up to the meeting had become a theatre of the absurd
Instead of diplomacy, there was a public war of words, egged on by an overly-nationalistic media
Diplomacy cannot be dictated by newsrooms
The mistakes
The first mistake: Modi govt cancelling foreign secretary level talks last year
The second: the Modi govt set ill thought out redlines it could not enforce
The third: the Hurriyat had become sidelined in Kashmir. It has been given a new lease of life by making them the deal-breaker
The miscalculations
Pakistan has always spoken to the Hurriyat. India should have treated it as a non-issue
Pakistan, on its part, is also following a deeply ruinous Kashmir policy. Has moved away from the \'Kashmir disengagement policy\' set by Musharraf
The implications
India and Pakistan needed to find a common goal in fighting terror. This has become unlikely in the near future
Is a precarious time with the regime change in Afghanistan and possible return of the Taliban
Kashmir was limping towards a fragile peace. Danger of a regressive security narrative dominating it again
A defined ceasefire agreement was necessary. It will now not be drafted in a hurry
The cancellation of talks between the two National Security Advisers (NSA) of India and Pakistan was an almost foregone conclusion. It was written into the script. Over the last few days, the run-up to the NSA meeting has been reminiscent of the Theatre of the Absurd.
The two governments were engaged in an eminently avoidable war of words and nerves, egged on by a high-voltage media campaign, spearheaded by overly nationalistic media houses on both sides.
While the decision taken by the two Prime Ministers in Ufa to initiate discussions on terrorism at the highest levels was both pragmatic and laudable, the 23 August meeting between Ajit Doval and Sartaj Aziz was unlikely to achieve anything substantive.
The problem was not with the format of the talks, but with the intent, atmospherics and ill-advised use of media in communicating with each other. Didn't the two foreign offices/PMOs have good old telephones to communicate with each other?
In short, diplomacy is traditionally a sophisticated process of mutually beneficial engagement. It was destined not to be successful this time, thanks to such impassioned circumstances.
The conduct of diplomacy requires a great deal of flexibility. In the media age, one has to be even more tactful and sophisticated.
The mistakes
The current Indo-Pak fiasco is not an isolated incident. It is the result of several foreign policy mistakes committed by New Delhi and Islamabad in the past one year.
The first crucial mistake was committed by the Narendra Modi government in August last year. It publicly conveyed to Pakistan that secretary level talks would be called off if their High Commissioner in New Delhi meets Kashmiri separatists.
This was conveyed just hours before the High Commissioner and the separatists were supposed to meet. The timing and the manner in which this was conveyed to the Pakistani side revealed that it was not a well-thought out strategic move. Rather, it was done to suit BJP's political and electoral calculations.
Recall that this was done at a time when the Jammu and Kashmir elections were approaching and the BJP was hoping to consolidate the Hindu votes in Jammu.
From a diplomatic point of view, it is self-defeating to publicly convey redlines to your adversaries if such redlines could potentially limit your options.
This is exactly what is happening to New Delhi's so-called Kashmir redline to Pakistan.
By articulating a catch-all "either (talk to us) or (talk to the Hurriyat Conference)" redline to Pakistan, New Delhi has shot itself in the foot.
If the redline were to be confined to the talks on Kashmir alone, New Delhi may have been able to pull it off since it is not too keen to talk to Pakistan about Kashmir.
Sensitive diplomatic engagements should be carried out in a dignified manner, away from the media glare
Moreover, by publicly drawling such a redline, New Delhi has also denied any honorable exit route to Islamabad from its traditional Kashmir policy.
While it is true that Pakistan's Kashmir policy is deeply flawed and ruinous for itself, there is no way India can 'force' Pakistan out of the Kashmir equation. Pakistan needs to be given an honorable exit route out of its deeply-entrenched position on Kashmir.
At Ufa, Prime Minister Sharif overplayed his hand by agreeing to have an NSA level dialogue with India on the terrorism question, with no insistence on putting Kashmir on the agenda. This naturally angered the Pakistan Army.
Secondly, since the inauguration of the Modi government in India in May last year, Pakistan has been upping the ante on Kashmir in various international forums. It has ended up getting caught in a self-created Kashmir trap, clearly negating the 'Kashmir disengagement policy' put in place by President Pervez Musharraf.
Hurriyat the only beneficiary
The only beneficiary of this high-tension diplomatic standoff is the Srinagar-based All Party Hurriyat Conference, a moderate dissident conglomerate, that was steadily losing its political steam for sometime now.
The Modi government has managed to bring back to the centrestage a political formation that was fast disappearing from Kashmir's political scene.
Moreover, what can possibly go wrong with India's position on Kashmir or its national security if an occasional Pakistani official meets with the Kashmiri separatists? After all, Pakistan has been doing it for a very long time.
Unfortunately, India's has shown inability to deal with terrorism in a result-oriented manner
The Modi government has brought the Hurriyat centrestage when it was fast disappearing from Kashmir's political scene.
Remember, despite all its Kashmir diplomacy, Pakistan was losing its Kashmir case, normatively and materially. It is also important to make a distinction between the Hurriyat Conference and terrorists.
Terrorists have to be dealt with sternly. But the Hurriyat is the institutional expression of a political sentiment. It has been willing to discuss all options with the government of India and has not been demanding a separate state.
The fruit of missteps
So what does this high-stakes diplomatic drama being played out between India and Pakistan mean for Indo-Pak conflict resolution and our ability to address serious national security challenges? Let us take a moment and reflect on the larger strategic implications of these events. To my mind, there are three significant implications.
First, even as terrorism is a major threat to India's national security and South Asia's regional stability, there is unlikely to be any meeting of minds between the two countries on this issue in the immediate future.
Unfortunately, India has shown an inability to deal with terrorism in a result-oriented manner. This is crucial at a time when there is a major geopolitical transformation underway in Afghanistan, with the possibility of the Taliban returning to prominence in Kabul. Moreover, the imminent threat of the Islamic State can only be ignored at our own peril.
Two, there is unlikely to be any productive discussion on the ongoing ceasefire violations along the Line of Control and the International Border in J&K.
This is despite the urgent need to draft a proper ceasefire agreement given that the current ceasefire agreement is an oral one, without any standard operating procedures built into it.
While New Delhi and Islamabad engage in an unnecessary display of hypernationalism, innocent civilians, and soldiers on both sides of the border continue to get killed, day after day.
Three, and most important, the real casualty is Kashmir's fragile peace. Kashmir, over the past decade, was limping back to normalcy thanks to New Delhi's half-hearted willingness to look at the Kashmir issue politically.
But there surely was a change of narrative about Kashmir in New Delhi which is not only missing now but could soon be replaced by a regressive security narrative.
What next?
The most important lesson that the two sides should learn from the botched up meeting of the NSAs, is that Indo-Pak diplomacy should not be dictated by Indian and Pakistani newsrooms. Diplomatic engagements on sensitive issues should be carried out in a quiet and dignified manner, away from the media glare.
In doing so, the two governments should seriously think about reviving the back-channel engagement that was put in place by the previous governments.
Anecdotal evidence tells us that backchannel initiatives managed to not only test the waters before proposing major initiatives on contentious issues such as Kashmir but also in successfully consulting various non-official stakeholders on important issues.