Does the Logistics Exchange Agreement help the US more than India?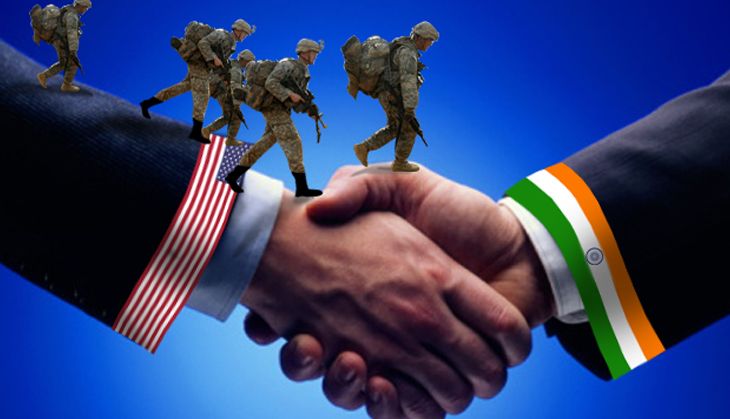 The deal
Defence Minister Manohar Parrikar & US Defense Secretary Ashton Carter announced that India & US have decided to share military logisitics
The 2 countries may sign a Logistics Exchange Memorandum of Agreement by June
Both countries will be able to use military bases to facilitate, repair, re-fuelling and other contingencies
More in the story
Is the agreement in India\'s interests?
What is the Opposition\'s take?
What do foreign policy experts say?
Ten years after former US president George W Bush and former Prime Minister Manmohan Singh agreed on signing it, the Logistics Support Agreement may finally become reality. Albeit in a different avatar. Visiting US Defense Secretary Ashton Carter and Union Defence Minister Manohar Parrikar announced that the two government have finally agreed in-principle to share military logistics. The broad framework has been worked out, however, it is not ready for signing. 
Also read - Obama hyphenates India & Pakistan. Why this is bad news for India
"Secretary Carter and I agreed in principle to conclude a Logistics Exchange Memorandum of Agreement (LEMOA) in the coming months," Parrikar said. "The draft of LEMOA will be ready in a month, if not weeks." It is understood that the agreement may be ready by June this year for signing.
The agreement which aims to bolster military ties, will pave way for both countries to use military bases to facilitate, repair, re-fuelling and other contingencies. Both Parrikar and Carter clarified that the agreement does not entail the presence of US armed forces on Indian bases. 
According to Parrikar, the pact will be helpful in situations of humanitarian crises like the recent one in Nepal. The talks also hinted that the Indian government can decide such an assistance on a case to case basis. The pact will have provisions of support, supplies and services on a reimbursable basis. However, some operation details are yet to be agreed upon. 
"This agreement makes it more routine for us to operate logistically. There are issues to be resolved. We will have to see how the agreement works," Carter, who was on a three-day visit to India, said.
Opposition raises concerns
The agreement was put in deep-freeze during the days of the UPA government owing to stiff opposition from Left parties. The latter had said that this would pave way for the presence of American troops on Indian basis. 
Even after the recent announcement, the CPI(M) has reportedly called it a dangerous step and said that it will entail the presence of US military personnel on Indian bases. 
A similar concern was shared by the Congress, which too has criticised the development. "Though, America is India's strategic partner and there is an on-going defence co-operation but we have strong reservations and concerns over this development," senior spokesperson Anand Sharma told the media. Sharma says that the party has  strong reservations and concerns on both the Logistic Support Agreement - LSA as well as CISMOA, another pending bilateral issue which the US has been pressing for. 
"The CISMOA would take into its embrace the complete communication network of the Indian Armed Forces, its Radar, its Signals including that of the Air Force and the Indian Navy which can jeopardise our operational preparedness and strategies," he said. 
Sharma also hinted that the government is not revealing the important ramifications this agreement may have and that it will automatically entail the presence of US personnel on Indian bases.
"When you have such an agreement put in place, it will also require, though the government may deny, the presence of support personnel for maintenance and repair in your military bases i.e. in India's military bases and that will further be taking a step towards a formal military alliance," the Congress spokesperson pointed out while adding that it may invite opposition and serious concerns of India's strategic partners that is Russia and even China. 
Concerned about increasing Chinese aggression especially in the India Ocean, the Narendra Modi government sees this agreement as an important step to consolidate the Indian presence.
What does it mean for India?
"I am certainly not very excited about it," former National Security Advisor MK Narayanan said while adding he is yet to see the details. Others like former Deputy National Security Advisor Leela Ponappa welcomed the move, albeit with caution. 
"We have been talking about it for over 10 years now. Some degree of mutual support is good but we have to make sure our interests are taken care of, " she told Catch. 
Former Foreign Secretary Kanwal Sibal says the LEMOA is less sensitive of the three agreements that the US has been pressing India for long, which are necessary for transfer of high-end military technology and strengthening of military ties. 
He also stressed that it should have adequate safeguards in terms of the US military operations which India doesn't support like the ones currently in West Asia. India has steered clear of the mess in West Asia where a large number of Western security forces are deployed in. 
"It is a logical step in the growing relationship between both the countries and it has enormous benefits for both sides," says Vice Admiral KK Nayyar, who served as the Vice Chief of Navy and currently heads the National Maritime Foundation. He says the move will have important benefits for the Indian vessels where the country doesn't have a presence.
Former Diplomat and JD(U) leader Pavan Varma says that one has to really see what the 'logistics' indicate since those details are yet to be seen. "In the past also India and the US has had joint military exercises. We have to see how further have we gone and what are the finer details," he told Catch. 
"Since a number of US ships and aircraft operate in the Indian Ocean and very little of the Indian military operates away from our coasts, it will be mostly the US that uses Indian facilities," commentator Mohan Guruswamy pointed out in a post. 
"This will not be a bad thing for Indian commercial interests and we could develop a profitable industrial base catering to US military needs like Coca Cola, toilet rolls to servicing and repairing of marine and aircraft engines," he wrote.
China's guarded reaction
Meanwhile, the Chinese have been guarded in that reaction. "We have noted relevant reports on US Defence Secretary Ash Carter's visit to India," the Chinese Foreign Ministry spokesman Lu Kang told media.
"India is also an influential country in the world, and India has been upholding independent diplomatic policy. India will make up its diplomatic policies based on its own interests," he said while adding that Indian defence minister will be visiting China soon. While the dates of Parrikar's visit have not been finalised yet, the Chinese may take up this issue during his visit.
 "It is not right for a country of our size to worry about what the Chinese think of our bilateral relationship with another country," Nayyar says. "The Chinese have a much closer ties with the US," he adds.
"Why should we bother about the Chinese? Do they bother about us like when they blocked India's request at the UN for action against terrorist Masood Azhar," Sibal asks. "The bigger issue with this development is not China but US military operations in West Asia," he says.
More in Catch - Barack Obama seeks reduction of nuclear arsenal in India and Pakistan 
PM Modi announces key security initiatives at Nuclear Security Summit before heading to Saudi Arabia 
PM Modi reaches Washington to participate in fourth nuclear security summit