Does Nagrota attack prove that India's aggressive stance against Pakistan is not working?
Catch Team
| Updated on: 10 February 2017, 1:39 IST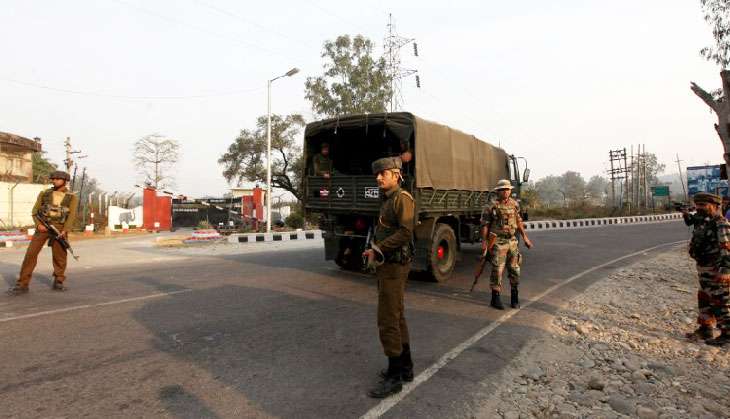 The attack on the Army camp in Nagrota which killed three Army men is one more in the long list of hard proof that the new tit-for-tat policy towards Pakistan isn't yielding the desired results.
Instead, the troubled Line of Control (LoC) may be only giving Pakistan military an opportunity to push more militants into J&K and bolster an otherwise depleted militancy which is now subsisting on the local recruits.
This is apparent from a conspicuous increase in the infiltration over the previous years. This year, there has been a three-fold increase in infiltration into Kashmir.
According to the information provided recently to Rajya Sabha by the Minister of State for Home Hansraj Ahir, 105 militants have infiltrated into Kashmir in the first nine months of 2016 against just 33 in 2015. There have been 121 infiltration attempts in the period.
Such attempts have since only gone up further. A security estimate puts the number of militants in Valley at 300 as against 100 or thereabouts over the past five years.
Unrest in the Valley
In the last week, the Army foiled two successive infiltration attempts by militants along the LoC in Gulmarg and Nowgam sectors in the Kashmir Valley.
The infiltration has complemented the local recruitment, which has seen a spike during the current upsurge.
According to estimates of J&K Police, around 60-70 youth went missing in Kashmir in the first 100 days of the turmoil, the highest such number in such a short period since the early nineties.
Police say that most of them, if not all, may have joined the militants, a fact also confirmed by the new militant videos on social media which have shown some new faces.
In fact, thirteen militants are said to have joined in Baramulla, a district that has seen little local militancy in the recent years. This is already leading to a visible rise in the violence.
As against 174 fatalities in 2015 -
113 militants
41 security personnel
20 civilians
J&K has witnessed 233 killings so far this year -
148 militants
74 security personnel
11 civilians
Similarly, according to Uppsala Conflict Data Programme, the estimated fatalities due to cross-border shelling are showing to be on a steady rise. From only one in 2008 and 2009, it has risen to -
2010 - 20
2011 - 4
2012 - 6
2013 - 20
2014 - 43
2015 - 29
On-ground issues
But it is the impact of the increased infiltration on-ground in Kashmir that is deeply worrying the security establishments there.
"As compared to the local militants, foreigners are well-trained, tough and battle-hardened. This is why, almost all fidayeen attacks, which cause more security fatalities, are carried out by them," said a police officer.
"More influx of such jihadis can dramatically alter the ground situation in the state, as attacks like Nagrota prove".
Besides, strengthening militancy in Kashmir is seen as the "least costly option" for Pakistan and also "less provocative" as a response to India's aggressive military posture.
"Violence in Kashmir is now globally seen as a routine affair. A fidayeen attack or two in a month with less than 10 fatality figures supplemented by smaller attacks elsewhere makes little difference," said the police officer.
"And for the same reason, the violence in J&K is least likely to become a cause for a major conflict between the two countries. But in the process, Kashmir will be completely destabilised yet again."
On 26 November, in response to the killing of the three Pakistani soldiers along the LoC, Pakistani defence minister Khawaja Asif threatened India by saying that they would kill three of its soldiers for every Pakistani soldier neutralised.
The warning was preceded and followed up with a sudden spike in militant attacks in Kashmir.
On 25 November, in two successive militancy related incidents, three security personnel and two militants were killed. Two militants and an army man were killed in a brief encounter in Naidkhai area of Hajin in North Kashmir's Bandipora district. Two cops were killed and one injured in a militant attack in South Kashmir's Kulgam district.
A day earlier, militants had also attacked a police station in Handwara area of Kupwara district. The attack was successfully repulsed and didn't lead to any loss of life.
All talk?
But has a sustained and a meaningful dialogue helped lower the violence? It has and the fact is attested to by the productive 2002-2007 engagement which had purportedly almost pulled off a Kashmir solution had the then Pakistan president Pervez Musharraf not lost the power.
The talks achieved a ceasefire agreement in 2003 which progressively brought down infiltration from 1,504 in 2002 to 118 in 2015, according to the data provided by South Asia Terrorism Portal.
Similarly, there was a progressive decrease in the fatalities - from 3,022 killings of the security personnel, militants and civilians in 2003 to just 174 in 2015.
Edited by Jhinuk Sen