Dialogue and 'Insaniyat' the key to peace in Kashmir, stresses Citizens Group report
Catch Team
| First published: 8 January 2017, 17:12 IST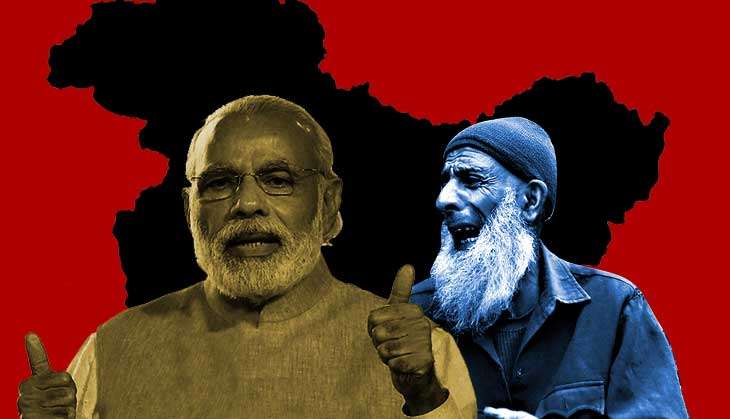 While the Kashmir Valley appears to be calm for now after months of curfew, it could very well be a lull before the storm.
That is what it the new report of the Concerned Citizens Group led by senior BJP leader and former Union Minister Yashwant Sinha, which had made two visits to the Valley, points at.
The report states that such a storm could only be avoided if the government initiates a dialogue with all sections of the Kashmiri society, including the separatists. It stresses on the fact that a political solution is needed.
Need for political settlement
"Almost every Kashmiri we met said that there was a need for a one time political settlement and that unless the basic political issue was resolved, death and destruction would continue to visit the Valley with increasing frequency," the report reads.
Also read - Sections of the media have done a lot of damage in Kashmir: Yashwant Sinha
The report mentions a strange apprehension among some sections of the Kashmiri youth that something big is yet to come in the Valley.
"What happened in 2008 and 2010 was of moderate intensity. The 2016 events were of a higher magnitude. What happens next will be of a much higher intensity if the Indian state does not take the right steps (to contain the situation). What will happen in 2017 or 2018 will be of catastrophic proportions," predicts one civil society activist from Shopian in the report.
Alienation and anger
In the latest report based on the second visit, the team, which just did not confine itself to capital Srinagar but went to other towns like Baramulla, Anantnag and Shopian and interacted with a wide array of groups and individuals including politicians, civil society activists, journalists, traders, sections of the minority groups like Sikhs and Shias and students et al, paints a grim picture of alienation and anger - especially among the youth against the Central and the state government.
"The best thing for which we are thankful is that your use of weapons, including pellet guns has killed the fear in us. We now celebrate the martyrdom," the report quotes one youngster as saying.
People have also lost faith in the delegations that visit the Valley, including those belonging to the civil society. However, some of them even made easily implementable suggestions that could change this scenario of alienation and violence. Like "involving youngsters in dialogue with intellectuals from India; and two, starting a youth exchange programme for Kashmiri students (in the late teens and early 20s) to go and study in other parts of India for 2 to 5 years."
The report notes the widespread feeling among sections of the Kashmiri society that the issue cannot be dealt with financial packages or looking at the Kashmir situation just from a national security perspective - but the issue needs to be dealt with former prime minister AB Vajpayee's approach of 'Insaniyat'.
Framing solutions
The delegation of eminent citizens led by Yashwant Sinha and comprising of former bureaucrat Wajahat Habibullah, former Air Marshal Kapil Kak, senior journalist Bharat Bhushan and Sushobha Barve, the executive programme director at Centre for Dialogue and Reconciliation, has recommended a few immediate steps which the government should take to stem the tide of violence and alienation.
That the human rights situation needs to be improved, that there is an urgent need to start a multi-dimensional dialogue between Indian government and the Kashmiri leaders and separately between India and Pakistan and that there is a need to increase the civil society engagement with all sections of the Kashmiri society.
The report notes how sections of the society especially minority groups like the Sikhs and Shia Muslims have a different set of issues with the state government which need to be settled.
Important recommendations for the state and the Centre:
Improve the human rights situation in Kashmir & encourage more humane attitude by the security forces with the public
The state government already has proposals regarding police reforms of Committees set up by MHA. These may be considered soon.
The need to resuscitate democratic linkages between the government and the citizenry. For example, all the Commissioners of the J&K State Information Commission have retired and have not yet been replaced.
Urgent psychological counseling to be provided to minors being released from detentions. We suggest that a plan for counseling is put in place for this; based on the experience of similar efforts in 2010.
Allow assemblies/meetings of people for holding discussions on subjects that are of concern to the common Kashmiris and for free expression of ideas and views.
Interface between civil society groups and district civil and police officials for confidence building should be initiated
Government agencies designed to promote tourism, industry and agriculture production move to disinvestment and promotion of private investment through design of suitable projects and finance.
The agenda of alliance of the BJP-PDP Coalition Government commits to a dialogue with all the stakeholders including the Hurriyats. We recommend that such a multi-dimensional dialogue is initiated at the earliest. As for an India-Pakistan dialogue, it is contingent upon several other issues.
The full text:
Report by Concerned Citizens Group's second visit to Kashmir December 2016
As a follow-up of its first visit (October 25-27, 2016), the group of concerned citizens decided to visit the outlying areas of the Kashmir Valley, especially South Kashmir, to listen to the people there and their problems.
Once again, the Centre for Dialogue and Reconciliation played a role in facilitating the second visit of the group and arranged the meetings in Budgam, Shopian, Anantnag and Baramulla.
Although former Union minister, Mr Manish Tewari was also scheduled to join the group during its second visit, he was unable to do so because of last minute hitches relating to his legal work outside India.
In the event, the visiting group consisted of the following:
1. Yashwant Sinha (Former External Affairs Minister )
2. Wajahat Habibullah (Former Chief Information Commissioner and former Chairman of National Minorities Commission)
3. Air Vice Marshal (Retd) Kapil Kak
4. Bharat Bhushan (Editor, Catch News)
5. Sushobha Barve (Executive Program Director of Centre for Dialogue and Reconciliation - CDR)
Once again, all members paid their own expenses and no financial help was accepted from any institution or government body to ensure the integrity of the group.
The group visited Budgam, Shopian, Anantnag and Baramullah towns. The following interactions were held in the various areas visited:
In the district towns the group had large meetings with the local civil society groups, and held separate meetings with the civil and police officials as well. Apart from the district visits the group also met scores of individuals, senior journalists, young professionals and other civil society organizations in Srinagar, representatives of the minority Shia and Sikh Communities and the GOC 15 Corps. The group also had meetings with political leaders - notably, Engineer Rashid, Mr. Saifuddin Soz and Dr Farooq Abdullah along with several leaders from his party, the National Conference.
BASIC FINDINGS:
Kashmiris believe that there is a "crisis of acknowledgement" of the Kashmir problem with the Indian state. They feel that India refuses to recognize that Kashmir is a political problem and, therefore, requires a political solution.
Almost every Kashmiri we met said that there was a need for a one time political settlement and that unless the basic political issue was resolved, death and destruction would continue to visit the Valley with increasing frequency.
Kashmiris claim that they have lost faith in India because India has failed them. Now the trust-deficit is widening. Some Kashmiris believe that the Indian State looks at Kashmir only within the framework of national security.
They all hark back to the Vajpayee proposal of resolving the Kashmir issue "within the ambit of humanity" as something that had offered a ray of hope. However, they do not believe that the present dispensation in Delhi is interested in that approach.
The most important findings of visiting the militancy affected rural areas of the Kashmir Valley are the following:
I. ANGER AGAINST INDIA:
The anger in the rural areas is palpably greater than in Srinagar and raw. A persistent sense of discrimination against the Kashmiris pervades the minds of the vocal sections of the population.
They point out that neither the President nor the Prime Minister of India had participated in the last rites and burial of former Chief Minister Mufti Mohammad Sayeed, while both had rushed to Chennai when Jayalalitha passed away. They contrasted the way two gold medal winning sportspersons - P V Sindhu and young Tajmul Islam - were felicitated on their return from abroad.
There is a near complete lack of faith in anything that the Government of India says or promises because of a history of broken commitments. Even among those who say that they see a future with India, there is anger that India has not done enough to keep the Kashmiris with it.
Kashmiris see the visits of emissaries of GoI and civil society groups as farcical exercises and part of a diversionary tactic to handle disturbances in Kashmir. Because of the record of the Indian State, there is skepticism about even non-governmental initiatives.
People even object to the language used to describe the situation in Kashmir - "unrest" they say is the wrong term to use as Kashmir has never been at rest since 1947, "peace and normalcy" are the most abused words in the state as no one knows what they are meant to signify, and while the government talks of "anger and alienation" of the Kashmiris, those are not the issues that need to be addressed - the problem is political and cries out for a political solution. Or, so the Kashmiris claim repeatedly.
India, many believe, is deliberately pretending to be ignorant of the aspirations of the Kashmiri people. Most Kashmiris claim that their protests are neither 'sponsored' by anyone nor are their youngsters being paid to come out in the streets.
The policies of India to deal with sporadic bursts of protests and anger in Kashmir were described as "time-buying techniques" which have only worsened the situation.
There is anger against RSS Chief Mohan Bhagwat coming to Jammu and claiming that India was a "Hindu Rashtra". "If Modi cannot protect or react to the killing of Akhlaq (accused of eating beef), an Indian Muslim, then what can Kashmiri Muslims expect from him?" asked a Kashmiri caustically. The reaction of the BJP leadership to what is being described as the positive call of the Hurriyat to resuscitate tourism in Kashmir is also a sore point with the people.
There is a strong sense of discrimination. Many examples are cited. However, this discrimination is cited across the board with an allegation of discrimination against Kashmiris even in routine administration like the issue of passports.
II. DESPAIR AND LACK OF FEAR AMONG YOUNGSTERS
There is an increasing lack of fear in the youngsters - or so they claim - in confronting the security forces. Today, they claim, they take death in their stride. "The best thing for which we are thankful is that your use of weapons, including pellet guns has killed the fear in us. We now celebrate the martyrdom," one youngster said.
Some amongst the youngsters say that they do not want to talk to India - hatred towards India has grown.
They claim that they have lost all faith in the various delegations and groups that visit Kashmir. Indian civil society remembers Kashmiris only after prolonged protests, one of them quipped. Others said that those from Indian civil society organizations who come to Kashmir quickly get discredited as quite often despite their best intentions nothing good comes of their efforts. "This time we picked up stones, the next time around it can be much worse," one of them said.
The vocabulary of the youth has also changed, as has their psychological attitude towards India. They talk of curfew, hartals, martyrdom and Burhan (Wani).
Other youngsters, however, say that since 68 per cent of Kashmir's population comprises youth, India should talk them. However, they suggest that before that, the pellet victims and youngsters in jail should be released, or their anger will continue to grow. They want platforms to be created for Kashmiri youth to express themselves and suggest that a beginning could be made by allowing the formation of students' unions which are currently banned.
Some of them said that there is nobody who looks after the welfare of youth living in far-flung and rural areas - there are no skill development institutions to take care of their educational or vocational needs. There are some Industrial Training Institutes (ITIs) but they say that "they only distribute degrees and don't impart skills." They emphasized the need for setting up of many more skill development institutes in Kashmir and actively directing the setting up of BPO centres in the Valley.
There are no cinema halls, no stadiums for sports or any other sports infrastructure for them to use. There are no libraries that they can go to even in areas like Baramulla. School and college infrastructure belongs to the 1970s and has not been upgraded since. The youngsters say that they often feel like prisoners unable to lead a normal life. Perhaps it is not surprising therefore that there is a high incidence of mental disorders amongst the youngsters in Kashmir. The incidence of hypertension is also high amongst teens.
Some youngsters made two suggestions which are easily implementable -one, of involving youngsters in dialogue with intellectuals from India; and two, starting a youth exchange programme for Kashmiri students (in the late teens and early 20s) to go and study in other parts of India for 2 to 5 years. These two measures, they suggest, have the potential of changing the perspective of the youngsters about India.
If the youth sees no future for itself and no one deals with the psychological tensions and disorders many of them suffer from because of the prevailing situation in the Valley, further despair is bound to set in.
Because of a society beset with violence, the youth are particularly afflicted with the ailment of PTSD (Post-Traumatic Stress Disorder), its treatment is now a well-established psychiatric discipline widely used across the world in post conflict. The issue of psychological trauma was raised in separate conversations with youth groups in the districts and needs to be addressed.
What is clear, however, is that there is a deep sense of anger and betrayal against India among the youngsters. Most do not see much of a future for themselves if the Kashmir situation does not settle down. Those arrested for stone-pelting and jailed with adult criminals for lack of juvenile homes are likely to come out as hardened radicals once they are released.
Business activity with a number of bright young men and women investing in unique stores, restaurants, medical centres and schools has come to a standstill. But even in times of normalcy business by youth get little encouragement. Among participants in the conversations were young persons who had returned from promising careers in the rest of India (Bengaluru was specifically mentioned) and abroad with bright ideas to contribute to business revival in Kashmir, which would generate employment, but were frustrated by bureaucratic procedures ladled with corruption.
III. WORSE YET TO COME
People believe that the present lull in stone-pelting and street protests will not last for long. They say that stone pelting is the result of not allowing any assembly of people. People ask, "How do Kashmiris voice their feelings, vent their anger or grievances?" As of now, the strike calendar has become fortnightly and complete hartal or closure is limited to only two days in a week. Children are going to school on the days when there is no hartal and private transport is functioning normally most of the time. It is as if, realizing the hardships being faced by the people, the Hurriyat leaders have decided not to enforce the hartal with full vigour.
However, there is a strange apprehension among the Kashmiris that something untoward is going to happen once spring sets in. What happens in the period after April 2017 is expected to be much higher in magnitude and intensity.
"What happened in 2008 and 2010 was of moderate intensity. The 2016 events were of a higher magnitude. What happens next will be of a much higher intensity if the Indian state does not take the right steps (to contain the situation). What will happen in 2017 or 2018 will be of catastrophic proportions," one civil society activist in Shopian predicted.
The kind of fear of "something big" happening after April 2017 is similar, people point out, to the apprehension before Eid last year that something major would happen after the festival. And it did, beginning with the killing of a young militant Burhan Wani, and the five months of violence that ensued.
IV PROCESS OF FINDING A SOLUTION
The state level political parties are seen to have a purely utilitarian function. They have very little to do with the mainstream sentiment in Kashmiri society, it was claimed.
They are seen as instruments for getting civic and other facilities. Otherwise they enjoy little credibility as far as representing the political sentiments of the people is concerned.
Kashmiris do not believe that the local parties in the State can resolve the political issue of Kashmir. They point out that this complex issue has to be addressed by all the stakeholders - India, Pakistan, and Kashmiris of the entire erstwhile kingdom of Jammu and Kashmir. Unless the three stakeholders address the issue, they believe, it cannot be resolved.
There is also a belief that for the sake of peace, all three stakeholders will have to give up their rigid stands and show flexibility. And if no flexibility is shown, the Kashmiris will continue to suffer.
However, they also think that it is India which will have to show the political will to address the political issue of Kashmir - the initiative has to be from India as the largest country in the region and it must be able to show boldness in addressing the issue.
India, they point out, has many challenges despite being the most powerful economy of South Asia. These challenges come from its neighbourhood, its nuclear competition with Pakistan and from Kashmir which could become a flashpoint between India and Pakistan.
"As the most powerful country of South Asia, it is India's bounden duty to resolve the issues with Pakistan and its other neighbours. We believe that this would also include resolving the Kashmir issue," one Kashmiri civil society activist said.
"Don't let this wound become cancerous," another warned.
There are some Kashmiris who recognize that a section of the Pakistan establishment thrives on disturbances in Kashmir. Equally, they point out, Kashmir is used as an electoral issue by political parties in India. The media in India has converted Kashmir into 'a TRP issue', some of them said.
One Kashmiri intellectual said, "Perhaps I don't want to be with Pakistan or even be Independent. Perhaps I want to be with India. But what is the Indian government's policy of dealing with public agitations in Haryana and in Kashmir? How do I defend India when we see no pellet guns being used in one case but being fired indiscriminately in the other? How do I tell people why no commission of inquiry had been set up even after nearly a hundred people have died in firing by the security forces and many have been blinded? At least a message should go around that Kashmiris are treated on a par with citizens elsewhere in India."
Despite all this, many, however, still believe that the present government in Delhi is in a position to pick up the issue boldly because it does not face much parliamentary opposition. It can address both Pakistan as well as the Kashmiris with relative ease.
However, they believe that India will have to stop 'pretending' that it does not know what the problem in Kashmir is - it must recognize the ideological as well as the spontaneous nature of the anger that permeates the Kashmiri mind.
If India is seeking only a 'temporary peace' then that can be achieved by revoking laws like the Armed Forces Special Powers Act (AFSPA) and the Public Safety Act (PSA). That will certainly lead to the emotional tempo cooling down but Kashmiris point out, "Do not mistake that for a permanent solution."
People we talked to suggested that there can be no permanent solution to the Kashmir issue unless Pakistan and the leadership of the All Party Hurriyat Conference is involved in a dialogue.
There are some, however, who say that it was no point talking to the Hurriyat leaders as they are nothing but a creation of the militants. Therefore, a solution will come only by talking to the militants. It was even suggested that if a real dialogue has to take place, it must begin with a Track-II process with Syed Salahuddin.
"Talking to Syed Ali Shah Geelani or the others here will not help. People are with the Hurriyat because it represents the militant sentiment. The day the Hurriyat leaders stop representing this sentiment, they will be changed. So talk to the people who are responsible for most of the violence here, even if that means engaging even Hafiz Saeed unofficially. After all, our kids are going to his door," a Kashmiri politician known for his radical views suggested.
Kashmiris are unequivocal in their criticism of those in the government who claim that Pakistan would be divided into ten parts or those who distort the statement of Hurriyat leaders to suggest that instead of inviting tourists they wanted to invite terrorists. They feel that such statements and their being played up in Indian media do more harm than good - as this aggravates the situation on the ground.
Three things, it was suggested, needed to be done immediately:
Improve the human rights situation in Kashmir
A multi-dimensional dialogue for settling the Kashmir issue should be started between India and Kashmiri leaders and between India and Pakistan.
Institutionalize the process of interaction between civil society groups from the rest of India and the Kashmiris by involving more opinion makers and concerned citizens.
It was also suggested that India should not oppose the China Pakistan Economic Corridor as CPEC is seen by Kashmiris as revival of the Silk Route of yore. In fact, India should participate in it so that the Kashmiris can benefit from it.
Overall, the dominant feeling one came across was that no amount of financial packages will help resolve the political issue of Kashmir. The overwhelming feeling was that the only context within which the Kashmir issue can be settled is the one laid out by former Prime Minister Atal Bihari Vajpayee - of resolving the Kashmir tangle "within the ambit of humanity (insaniyatkedayaremein)".
This alone, Kashmiri intellectuals pointed out, would allow all stakeholders to forget geography, history and past positions to deal with Kashmiris as human beings and the problems they face. "We can meet you more than half way, if you decide to resolve the Kashmir issue within the ambit of 'insaniyat'," one of them said speaking for everyone in the room.
***
PROBLEMS OF MINORITIES:
While the problems of the Kashmiri Pandits were highlighted in the earlier report of the group, other minority groups in the Valley had also expressed the desire to talk to the group of concerned citizens. This time around, it was decided to visit the Sikh and Shia minority group leaders in the Kashmir valley to listen to their problems. While their suggestions pertaining to the Kashmir problem were similar to that of others, they had some community specific issues which they wanted highlighted.
Sikhs:
Sikhs are a "micro-minority" in the Kashmir Valley distributed over six districts.
1. The Sikhs see themselves on the verge of extinction from the Kashmir Valley. Their youth, although educated, is unable to get jobs locally and has preferred to move out to the rest of India.