Rotting fish, wilting flowers: Demonetisation has hit Ghazipur mandi hard
After the government decision to demonetise Rs 1000 and Rs 500 notes, at the fish mandi in Ghazipur, in the Capital, business is floundering.
Rows of boxes full of fish lie strewn as the sellers scout for customers. Some merchants fear that the business may come to nought in the next couple of weeks.
"The business has come down to 40% of what it used to be on a normal day," says Zahid Khan, a fish merchant and commission agent.
The entire wholesale market which caters to the Capital is mostly deserted as people complain of no business, and that how even getting essential food items have become difficult without cash as the daily wagers narrate their new routine of spending hours in the queues at the banks.
While most people still hope that demonetisation would be able to weed out the black money from the coffers of the rich, a majority of them see it as a badly executed decision, which has made life tough for the common man.
Trickle down effect
According to Khan, the crisis is not just hurting prosperous businessmen like him, but is having a cascading effect on the entire workforce in the market, which makes a living out of selling fish.
Khan's Haryana Fish Centre received the last supply on 11 November. "I have asked the suppliers to not send anything," Khan told this reporter, as he sat sipping tea in his shop which overlooks the gargantuan landfill.
"We have no cash, how do we buy or sell stuff, or even pay our workers?" he asks.
Abdul Qayoom, a porter pitched in, "Why have they done this? What is the rationale? I used to earn Rs 500, now it has come down to Rs 100-Rs 200," Qayoom asks.
"Even that is not being given to us because the traders have no cash," he rues.
Out of the more than 500 porters, a majority have gone back to their native places after the government's demonetisation decision. Most of these workers are surviving on credit at the moment.
However, others like Saleem, who processes fish, say that the government's move is only affecting the poor. "There is no work. Kirana stores are refusing to sell essential commodities on credit."
Desperate times
"You can see there is no work," Khan explained pointing to the ice boxes full of fish which have not been sold in the last couple of day.
"If things remain like they are right now, the Mandi will have to shut down soon and Delhi will have no supply of fish," says Musharraf Ali Khan, another fish merchant.
"In the next fifteen days the crisis may get out of hand. Delhi consumes 25-30 tonne of fish every day," adds Musharraf.
"If the supply chain gets disrupted how are the small retailers going to get their wares who come to us from all over the Capital?" he asks while explaining how every truck-full of supply from other states like Gujarat or Maharashtra costs Rs 50,000 to Rs 60,000.
"Since we don't have cash, the government should have given us the option of bank transfers to pay the suppliers," he says.
The banks, according to these merchants are not allowing third-party transfers without an authorisation letter. "Isn't it difficult to get an authorisation letter from someone who is sitting in some other state?" Khan asks. "Moreover, there is a Rs 10,000 withdrawal limit, to make things worse."
Cash crunch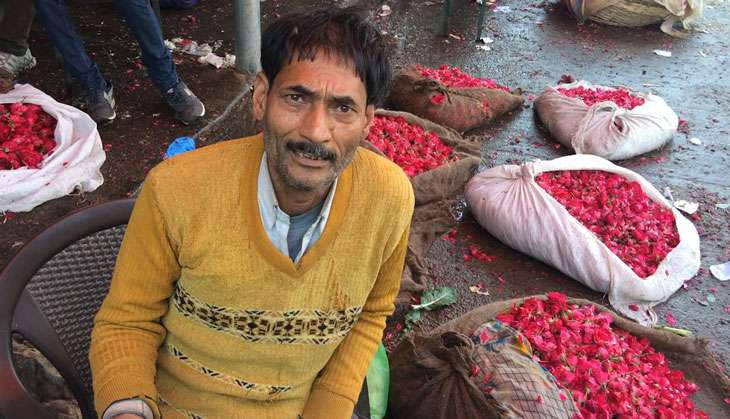 Sadiq Naqvi/Catch News
More than the authorisation letter, it is the nature of this business which has made things worse for those dealing in the supply of fish. A chartered accountant who has several clients from the sector explained how the sector where most people are out of the income tax net, would mostly deal in cash.
"If you look at their current account entries you would find that there are mostly cash transactions," he explained adding how taking cash out of the system means that this sector will take a lot of time to come back to normalcy.
Meanwhile, in the neighbouring wholesale flower market, where the marriage season means brisk business, the shops have baskets full of flowers but few customers.
The rates at which the flowers sell have come down drastically instead of going up, like it would have usually happen during this time of the year.
"I am selling these roses for Rs 50 a kg which I bought only yesterday for Rs 150 a kilogram," says Ram Kumar Saini. "Customers do not have cash. What do I do if not sell them at a loss," he says while pointing out how no change in the market is another hurdle.
"I buy some 2 quintals of these flowers, but I am only able to sell barely 50 kiilograms," Saini rues.
"The rose buds which would sell for Rs 250 a kilogram are fetching barely Rs 100 a kilogram," says Chhote Lal, another flower merchant.
"The farm houses in places like Chhatarpur are not buying the flowers," says Lal adding how a lot of flowers he buys are going waste since nobody is buying.
"The decision to demonetise sounds good," says Kishan, another flower merchant, "But my business has gone down by 75%." Kishan sells marigold, and other assorted flowers.
"How is this a good decision? It is not only the Rs 500 and Rs 1000 notes whose fake versions are floating in the market," Parveen, who makes garlands of flowers she sells to the local vendors, says showcasing a fake Rs 10 coin.
"The other day I had to spend hours in front of a bank with 60 people ahead of me and still could not get change," she says.
"How does one do business without change when nobody has any money?" Parveen asks adding how the other day she was forced to give a Rs 500 note for buying stuff worth Rs 400.
"The shopkeeper would not give it otherwise."
Edited by Jhinuk Sen