Delhi police suspends constable for allegedly vandalizing carts of roadside vegetable vendors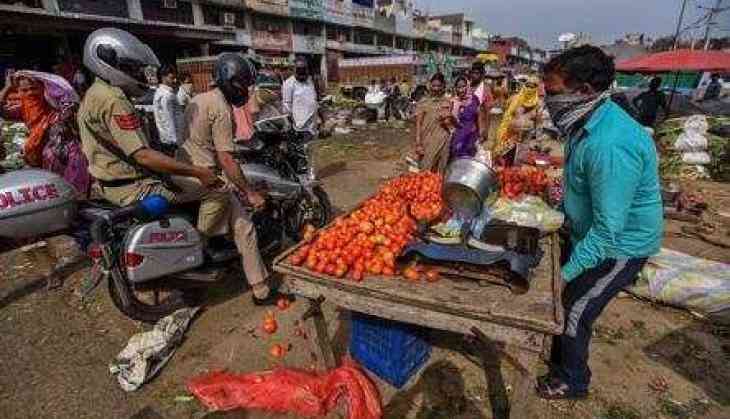 The Delhi police today suspended a police constable for reportedly vandalizing pushcarts of vegetable vendor in Delhi's Nehru Nagar in the midst of the 21 days nation wide lockdown. The action against constable Rajbir was taken after a video of him turning over at least three vegetable pushcarts was widely shared on the internet.
As stated by the police, constable Rajbir, who is posted at Ranjit Nagar police station, was out in the area when he asked the vendors to leave the area. Following an argument about whether they were permitted to sell vegetables in the thick of the lockdown, he vandalised their pushcarts and intimidated then, said police.
The clip that was extensively shared on the internet displays Rajbir, who is whitout his uniform, armed with a lathi. He is also seen covering his face with a mask. The clip displays him walking up to one of vendor and overturning his pushcart on the road. The policeman then walked up two other cart and is seen overturning those too. Many others are also seen in the clip, but no one intervenes.
Deputy Commissioner of Police Sanjay Bhatia stated the matter was brought to their notice and immediate action was ensured to send across a message that such acts will not be accepted. "Constable Rajbir of police station Ranjit Nagar has been suspended for his misconduct, all others have been sensitised in this regard," the DCP said.
Ahead of the 21 days lockdown the centre had explained that suppliers and sellers of groceries, vegetables, milk, medicines have been categorised as essential service, hence, stores holding these will remain open.
Also Read: Rahul Gandhi eulogises government's relief package to soften impact of coronavirus
Also Read: Coronavirus: Finance Minister's top announcements in relief package