Delhi HC reserving judgement on Kanaihya bail raises troubling questions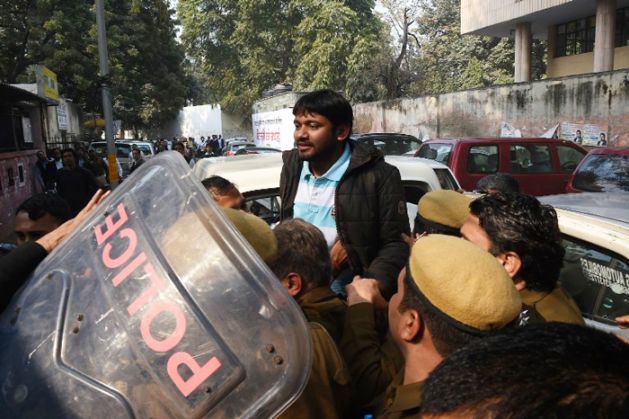 "Do you know what sedition is?"
"When your men were present at the spot in mufti (plainclothes), why did you have to wait for a television channel's video footage?"
These are two prominent questions that the Delhi High Court's Justice Pratibha Rani posed to the police in the course of JNUSU president Kanhaiya Kumar's bail hearing.
One may assume from these questions that the court is set to grant bail to Kanhaiya, and hold the police liable for persecuting him. Whether the court does so or not will only be known on 2 March, when it's slated to deliver judgement.
Read- #JNURow: legal scholar Liang champions the right to be seditious
However, it's not that straightforward. Let's peel off the layers and scrutinise what happened during the 29 February hearing, especially the judge's action of reserving judgement. There are some problematic questions that pop up.
First, let's get one thing clear - judges' observations during hearings do not always and necessarily make their way into rulings. Therefore, it's incorrect to assume that the court is likely to rule in Kanhaiya's favour.
But the main question is: was the court right in reserving judgement in a bail matter?
Bail delayed is bail denied
The old adage goes 'justice delayed is justice denied'. A similar one applies to bail, too.
Justice Rani's reserving the judgement means that Kanhaiya spends two more days in jail. Were there any legally sustainable reasons for it? Did the court provide any?
The answer in both cases is no. And that's the crux of the problem, because the fundamental right to personal liberty is an integral part of the fundamental right to life, as guaranteed by Article 21 of the Constitution.
Judges' observations during hearing do not always and necessarily make their way into rulings.
Even if finally released on bail, even a couple of days' legally-unjustified custody would amount to a violation of this personal right.
No judicial decision can be legitimate unless it provides adequate reasons, and it's here that Justice Rani's decision is found wanting.
Self- contradiction
As things stand now, the courts are not bound by any timeframe to deliver judgements which are reserved. Worse, as per the Supreme Court's ruling in the case of Lokesh Batra (an RTI activist) on 16 February last year, an individual has no legal right to even seek information on reserved judgements - when, and in what type of case(s) they were reserved.
This goes against the apex court's own ruling. In 2001, in the case of 'Anil Rai v. State of Bihar', the court had ruled that unreasonable delay in delivering judgements shakes litigants' faith in the justice delivery system.
Also read- #PatialaHouseViolence: SC team's report damns Delhi Police
In so far as Kanhaiya's bail case is concerned, the question is - what would amount to 'unreasonable delay'?
Till date, the Supreme Court - the highest and final arbiter of legal interpretation - is yet to consider this question in the context of bail cases. Justice Rani's reserving judgement makes it imperative for the apex court to do so, and without delay.
Edited by Shreyas Sharma
More in Catch:
#PatialaHouseViolence: SC demands answers from lawyers, cops, Centre
Let's come to the point. Will the Budget revive the economy?
These insane numbers show how influential the Oscars are around the world