Defying drought; Barmer farmers richer by Rs 9 million due to cumin production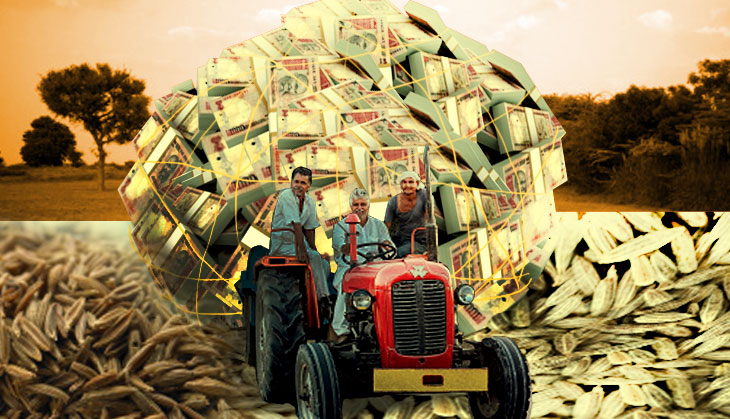 Located amidst the Thar Desert in the western part of Rajasthan, Barmer district has never been known for lush green fields.
There was a time when local farmers could think of growing few other crops than millet (bajra). They would toil during the entire rainy season for the bajra produce and yet their fate was decided by the rain gods.
Read- Drought: Centre showers funds on Swachh Bharat, starves drinking water
With an annual average rainfall of not more than 277 mm, people were forced to migrate to areas near the Looni river with their livestock during every summer. A large number of people would also go to Gujarat in search of greener pastures.
There are folktales about the famine in the decade of the 1940s when people survived by cooking the bark of Khejri trees.
Despite being India's fifth largest district, Barmer remains one of the country's most backward regions. It is also one of the twelve districts of Rajasthan that currently receive funds from the Backward Regions Grant Fund (BRGF) programme.
Defying the drought
However, farmers of Barmer seem to be turning around the situation in recent years by focusing on rabi cash crops.
Defying the current drought that plagues many parts of the country, the region has recorded cumin seed (jeera) production worth over Rs 9 billion during the present season.
It was cultivated in around 1.32 lakh hectares of land resulting in a yield of 56,325 metric tons of cumin seeds - 19,596 metric tons more than the previous year.
Also read- Drought Diary: Gujarat govt in denial; wheat crop fails in Uttar Pradesh
The trend of cumin seed cultivation has picked up in Barmer since the last five-six years. The production peaked during the 2011-12 when 89,349 metric tons of cumin seeds were sold by the farmers.
The figures have consistently gone up, except in 2014-15, when production came down to just 36,729 metric tons.
"The cumin seed production is proving to be a boon for farmers in Barmer. Some of the farmers possess hundreds of bighas of land. They are able to earn around Rs 8-10 lakh during every season. They will benefit more if a jira market is opened in the area," says Ishwar Singh Rathore, a farmer in Kotda area.
Local market to come up soon
Rathore's plea for a local jeera ('zeera' in Urdu) market is echoed by most other farmers of the Barmer district. Currently, most of the crop is reaching the Unjha market in the neighboring state of Gujarat.
This results in an additional cost of about Rs 110 per quintal for farmers. In addition, they lose precious time and money in the transportation process. Many villagers complain that the money that could have been earned by the local laborers is going into the pockets of their counterparts in Gujarat.
But the demand has not gone unheard in the power corridors of Jaipur. Last month, the state agriculture minister assured the Vidhan Sabha that the task to build a separate cumin seed market in Barmer would be undertaken soon. It is likely to cost them around Rs 11 crore. The land for this purpose has already been reserved in the local agriculture market.
The demand
The cumin is one of the most common spices in the Indian cuisine. India accounts for around 70 per cent of global cumin seed production and consumes 90 per cent of that. However, few people know that it is also used in Northern Africa and Latin America for cooking purposes.
There is an increasing demand for cumin seeds around the world due to its medicinal uses. The spice has been known for treating heatstrokes. It also acts as a protective agent against memory loss and the damaging effects of stress on the body. Furthermore, cumin seeds are also handy in digestive disorders, swellings, and chronic fever.
Read more- #DroughtDiary: Chhattisgarh forgets to repair canals, drought relief in Ahmednagar
Several recent studies have revealed that cumin seeds can also be beneficial for more serious diseases like diabetes, asthma, and heart-related problems.
Therefore, there is little surprise that jeera produced in Barmer is earning valuable foreign currency in exports and the profitability is likely to increase in the coming years.
"The cumin produced in Barmer is organic in nature. It is being exported in large quantities to several countries, including China and Japan. Most of the crop grown in Gudanal and Siwana is reaching the international markets. Many companies are now buying the cumin crop in fields even before harvesting,: says Gajendra Singh Rajpurohit, a cumin farmer in Gudanal region.
Favorable climatic conditions
The optimum temperature for a good cumin crop should be between 4-20 degree Celsius. It is found in most parts of Barmer during winter months. Also, there is little chance of the crop being ruined by frost.
However, the monsoon is erratic in the arid region of Barmer and groundwater is often saline. Also, digging into the sand is a difficult task and the loose soil can cave in at any time. This makes ponds and wells a lesser viable option in this region.
Locals have found a solution in linking traditional knowledge with modern resources. Most villages have dug up fresh water reservoirs locally known as 'Beris' in recent years. These reservoirs resemble wells from outside, but tap water trapped in layers of soil much above the deeper, brackish aquifers that wells touch.
The 74-kilometres long Narmada Canal has also helped change the destiny of Barmer farmers. It irrigates over 233 villages of Jalore and Barmer districts spread over an area of 1,477 square kilometers.
The water from the canal is delivered to farmer groups via Water Users Associations (WUA) for better usage. These associations are not only responsible for the operation and maintenance of field water canals, they also encourage innovative micro-irrigation systems like drip and sprinklers.
Other cash crops
Better irrigation facilities have enabled the farmers of Barmer to grow other cash crops. Isabgol or Psyllium seed husk was cultivated in 1,07,313 hectares of land this season. It has made local farmers richer by around Rs 5.25 billion.
Besides, the district has also recorded wheat production worth Rs 45 crore and Rayada rice of approximately Rs 6 crore. Other profitable crops like Barley, Gram, Taramira, Methi or Fennel Seeds are also finding favor among the farmers. Several cultivators near the canal area are also opting for vegetable crops.
Edited by Sahil Bhalla
More in Catch:
Why is J&K police still holding the Handwara girl in custody?
A letter from 'Gau Mata' to Rajasthan students, Holy Cow!
Nepal: India's emasculated responses have emboldened KP Oli
SC upholds diesel ban but gives breathing space to BPO industry