Death track: why 18 people die in rail accidents every month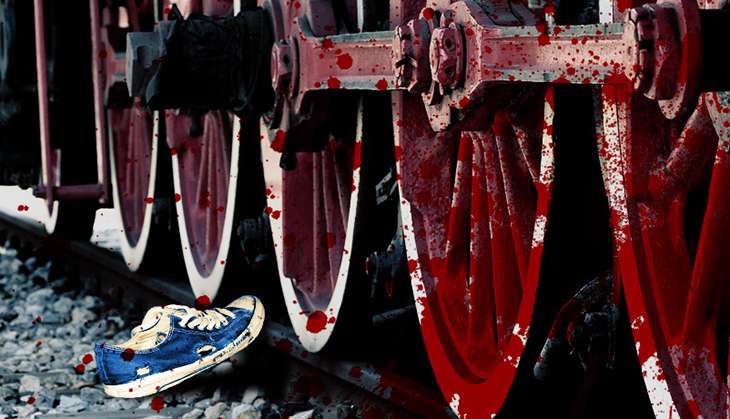 Early Sunday morning 147 people died when Indore-Patna Express derailed near Pokhraya in the Jhansi-Kanpur section of the North Central Railway Division. As many as 14 coaches of the Patna-bound train derailed due to track mismanagement.
This is the biggest railway accident since the 2010 Gyaneshwari Express derailment in West Midnapore, in Bengal which killed 148 people. It is alleged that the death toll may rise as may of the injured are in a critical condition.
The accident is only the latest in a series of such tragedies over the past few years. So common are rail accidents, in fact, that they barely attract attention unless a lot of people die.
On an average, 16 accidents take place every month, 18 people are killed and the railways loses Rs 4 crore.
Indeed, in sheer numbers, India's railway safety is frighteningly shoddy.
The number of people who travel on nearly 13,000 passenger trains across the country every day
The railways are quite overburdened: each kilometre caters to 19,133 people
Railway accidents between 2003 and 2013, according to a parliamentary report
This translates to an average of 16 accidents a month over 10 years
853 of these accidents occurred due to errors by the railway staff
Major causes of accident: collision, derailment, level crossing accident, fire
The number of level crossing accidents in the last 10 years.
Accidents due to derailment numbered 1,077
"There were 14,896 unmanned and 17,839 manned railway crossings as of 2011. These crossings contributed to 40% of railway accidents and 30% of fatalities," the parliamentary report states
People killed in railway accidents in the last 10 years
This translates to an average of 18 deaths every month
In the same time, 4,269 were injured in rail accidents, or 35 per month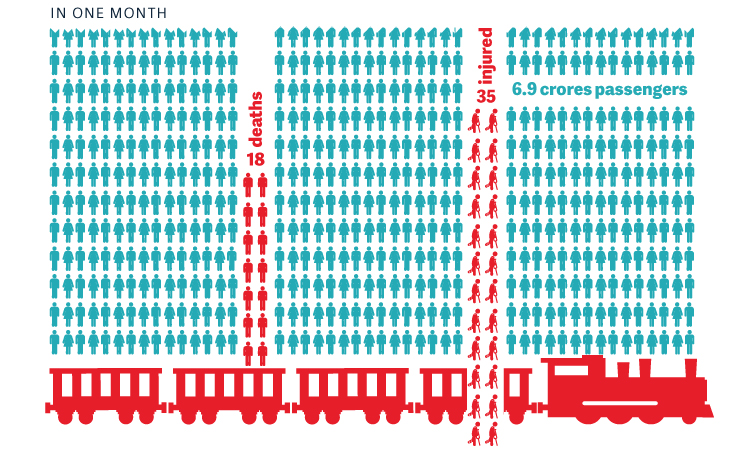 rupees
The cost of damage to the railways due to accidents between 2002-03 and 2011-12
The railways paid Rs 534 crore as compensation to victims of these accidents
And due to these accidents, 5 man days were lost per month. In all, 19,338 hours were lost in 10 years
rupees
The money that the railways plans to invest between 2015 and 2019
However, only around 15% of this sum, about Rs 1,27,000 crore, is earmarked for safety measures such as track renewal, bridge repair
The number of safety staff positions lying vacant until 2013. Also vacant were 17,000 positions of locomotive pilots
The railways currently employs around 13.62 lakh people
Since 1991, number of trains has increased fourfold while their speed has nearly doubled
Most Route Relay Interlocking systems, a safety mechanism to prevent collision, are past their shelf life, which is 16 lakh operations or 20 years
A few weeks ago, Railways Minister Suresh Prabhu told the media that common Indians can get the best train facilities but they will have to pay for them.
Well, they are already paying a huge price for even shoddy services - their lives.