Dammed or damned? How Chhattisgarh's industry is destroying its rivers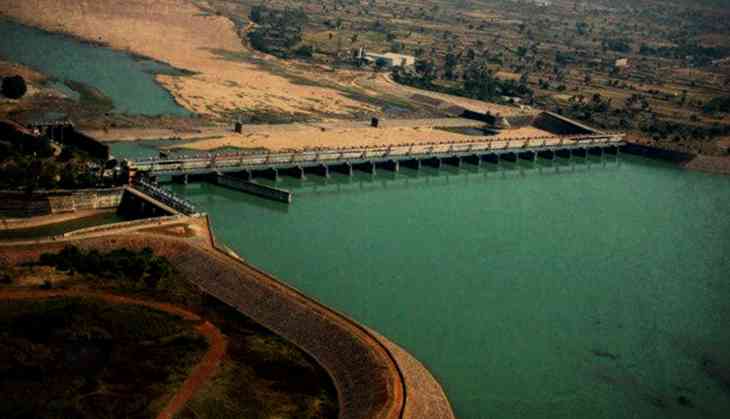 Not too far in the past, small dams or barrages were erected across a river to irrigate farm lands. But now, the reason has changed – benefitting industry is the sole reason that virtually every river in Chhattisgarh is being dammed.
There are 21 barrages across the state's largest river, Mahanadi. Of these, the Shivrinarayan, Basantpur, Mirauni, Saradih and Kalma barrages in the Janjgir-Champa district and the Samoda barrage in Raipur have been made for the purpose of supplying water to the industry.
Similarly, there are 22 barrages and dams across the second largest river, Kharun, also devoted to supplying water to industry.
When Chhattisgarh was part of undivided Madhya Pradesh, a businessman had captured the Shivnath river – known as the lifeline of Durg district; this river has not been freed yet.
Water experts believe that the dams and barrages have affected the natural flow of rivers. A dam every two-three kilometres across each river has jeopardised their existence. According to experts, ruining the nature of rivers is a sign of great danger.
Till now, water scarcity and the consequent public outcry only occur during the summer months. But if steps are not taken immediately, the situation could become devastating in the coming years.
How rivers dry up
About a decade ago, rivers ran dry only in the months of December and January. But now, rivers like the Mahanadi, Shivnath, Kelau, Jonk, Madh and several others have begun to go dry in November.
The Indravati, considered the lifeline of Bastar, and the Ib, which flows through the hills of Jashpur, hold quite a bit of water till April. But after that, they also begin to dry up.
Water scientist Akhilesh Verma says till check dams are built on the streams and rivulets that form the origins of these rivers, they won't stop drying up. Verma adds: "Till we allow water to stand under ground, the natural flow of the rivers will continue to be in danger."
Dangers of drawing groundwater
India's water policy forbids drawing water from any resource more than can be used for charging it. But a survey conducted by the Raipur branch of the Central Ground Water Board (CGWB) has revealed that in 18 Tehsils of Chhattisgarh, water resources are being exploited.
According to the CGWB, the state receives about 1,200-1,300 mm rainfall every year, but only about 10% of it goes towards recharging groundwater.
The unchecked use of water in construction projects has also reduced the amount of water available in rivers.
Private companies exploiting resources
The policy set by the CGWB for supplying water to industry clearly states that there will be no ownership, right or management of a private institution over any water body. But this policy is being openly flouted.
There are private tubewells across every river, while some industries themselves have spent some money to build small dams.
About 17 kilometres away from Raipur, four private companies have established a tubewell in River Kharun. Villagers have made several complaints at different levels about being unable to meet their daily requirements of water, as it is being exploited by the private industry. However, their voices have gone completely unheard. Because of the huge pumps installed by the factories, groundwater has become so polluted that there are small particles of iron in the water issuing out of village hand pumps.
A private company from Raigarh is consuming enormous quantities of water from the Kelo river. Another company that was using Kelo water faced a huge public outcry, so it dug a huge borewell beside the river and now claims that it isn't using river water.
Alok Shukla, head of the Chhattisgarh Bachao Andolan, alleges that when it comes to giving water to farmers, the matter is postponed sine die by sending it to the Water Utilisation Committee and other such bodies. But when it comes to giving water to industy, all rules and regulations are set aside.
He says there are more than 146 industries on the banks of Chhattisgarh's rivers, which draw 2,507.55 million cubic metres of water through barrages and dams. And all with the government's blessing.
Power surplus, rivers destroyed
In an attempt to make Chhattisgarh a surplus power state, its rivers have been pushed to the brink.
There are 39 coal mines in the state and 16 power plants, while many more are in the pipeline.
Rajesh Tripathi, a social worker with the Jan Chetana Manch, says an electricity company is exploiting not just huge quantities of groundwater in the Taraimal and Tamnar areas of Raigarh, but also water from the Kurkut river, which has led to a dangerous situation. Dirty water flowing out of the electricity generation stations has not only led to a pollution crisis, but last year, 1,156 hand pumps went dry, while 54 villages in Tamnar block had to make do without water.
Open mining on the upper catchment area of the Minimata reservoir has affected the groundwater level. Consequently, the river Hansdev has also suffered. According to a study by the Forum for Policy Dialogue on Water Conflicts in India, the electricity-generating plants, at the same water level, pollutes and affects the flow of water in the Hansdev river.
Former state water resources minister Ramchandra Singh says dams made across Chhattisgarh's rivers go against the established practices of dam construction. Instead of leaving 75% of the dam open, only 25% is left open, with the result that silt deposits at the dam, and water flow is affected.
The backwaters of the dam should be two kilometres away, but this rule is also flouted.
It is unfortunate that for a state endowed with rivers like the Mahanadi, Songanga and Indravati, there is no master plan for their use and development.