Currency ban: Chandni Chowk's bullion traders hit by raid after raid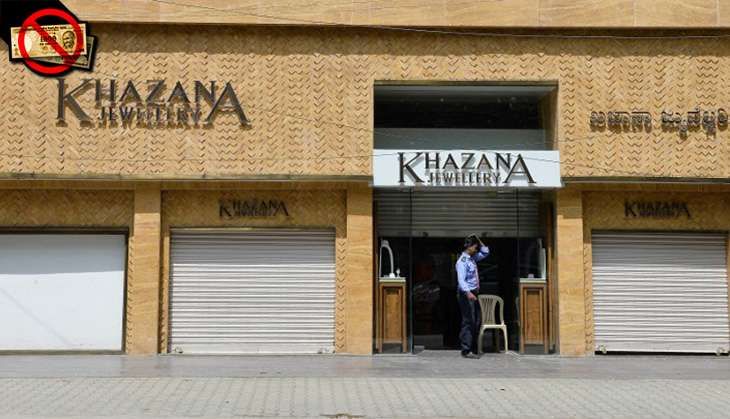 In the dingy, dark lane of Kucha Mahajani, in Chandni Chowk, which houses the city's major bullion traders, fear is palpable.
The market has remained mostly shut since 9 November. A white gypsy with armed plainclothes men is seen outside the lane. Another raid has just ended, say a few bystanders, some of whom work in the many establishments inside.
Also read - A faulty plan exposed: Demonetisation move sees 5 rounds of changes in a week
"They were Directorate of Revenue Intelligence personnel," one of them points out, explaining how raids by agencies including DRI, Income Tax and VAT officials, have become routine since 8 November when Prime Minister Narendra Modi announced that high denomination notes of Rs 1000 and Rs 500 stand demonetised from midnight.
Payback time
The traders fear that gold trade may be the next big target of the government.
The night of 8 November and the day after saw brisk business for these big traders, according to insiders. "That night people bought gold for as much as Rs 70,000 per karat, when the price of gold was just about Rs 30,000," according to a worker, who requested anonymity.
Kucha Mahajani is infamous for hawala traders. In the past, enforcement agencies, including the Enforcement Directorate (ED), have carried out raids and found traders indulging in hawala and smuggling of precious metals including gold and silver.
"The news that traders here were engaging in such illegal activities is what has spelled doom for this market," says the worker. "It alerted the agencies leading to the crackdown."
People in hushed voices were heard talking about one trader being picked up in today's raid. This reporter was not able to confirm this. No trader was willing to share any information on the raids. "It's payback time," a paanwallah intervened, alleging the traders have been making a lot of money through illegitimate means.
A silver bullet
Sadiq Naqvi/Catch News
A few hundred metres away, Dariba Kalan, another narrow lane which is usually brimming with people out to buy jewellery, is mostly deserted. The shops are shut or have their shutters half open.
"There has been no business since 8 November," says Akhil, who runs a jewellery store. "We have no cash to do transactions," he explained.
"There are so many people on the road looking for cash. What if there is some disturbance? Who will save our shops and jewellery?" asks Mantu, who runs a silverware shop.
The traders mostly do business in cash, often without proper bills. That was the nature of this trade, which the government is now targeting. And that is also the primary reason why the traders are wary of opening shops.
The move to demonetise high currency notes has also threatened the internal credit system of the market as several small traders who picked up items on credit have said that they will pay using the old currency. This has led to some tension.
Painted as villains
The market association, which has almost 250 members, have been meeting daily after raids led to panic, taking stock of the situation. "The authorities have been coming here regularly," says Akhil.
"All of us in the jewellery business have been painted as the biggest offenders," a trader rues. "Does anybody care about who are those people who are buying gold at more than double the rate after the demonetisation move? The jewellers sold it a premium because there were customers."
The market association, in its 17 November meeting, decided that the shops would open from 18 November onwards. But in case of any raid, all the traders have been advised to assemble to lend support. "We need to be there for each other," a trader was heard telling his colleague. The WhatsApp group of the market association is being used to share information in real time. "We need to be careful about our books," he added.
A cap on gold
Meanwhile, with several messages on social media floating about how the government may cap the amount of gold, an individual can hold, the traders in the market are fearing for the worst. "The IT department has hired more than 40,000 people this year alone. Plus the government has been trying to streamline the processes to check transaction. This means more scrutiny," a jeweller says.
"Expect some big decisions on 25 November," another one points out while adding how the government's demonitisation move has affected some 4,000 people who are directly involved in the trade in this market alone. "Our books are as good as seized. We have no buffer for bad times," Tarun Gupta, who heads the market association, said, adding how this would also mean that there is no scope for any innovation.
Interestingly, while there is anger against the move, the traders are wary of criticising the government openly. "Look at this message. Section 144 has been imposed on WhatsApp," one pointed, flashing a forwarded message on his phone which suggested that any anti-government message will invite action.
"Narendra Modi remains our hriday samrat," he gave a caveat in the beginning, as he pointed out, how demonitisation and the way it is being implemented has crippled the traders.
"Black money is just a smoke screen. We traders are the real target," the jeweller says. "A couple of days back it was Gurpurab. Gurudwara Sheeshganj would be decorated with lots of flowers. This year there were a very few. This is just one example," he explained, before highlighting how it would be very difficult to start the wheels of the economy again.
Edited by Aleesha Matharu
More in Catch - Faced by an apathetic govt, rural India bears the brunt of demonetisation
Exams, ATMs and long queues: Students hit hard post demonetisation