Cricket nationalism: don't subject Indian Muslims to a humiliating test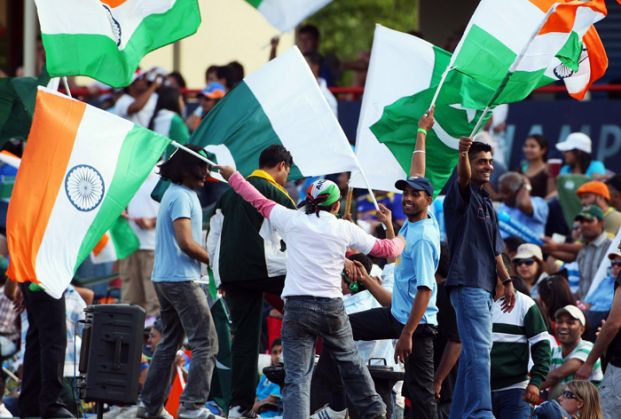 The incident
Police summoned two Muslim students of Bangalore University and made them execute bonds of \'good behaviour\'
The youth had circulated \'Pakistan Zindabad\' messages on WhatsApp ahead of the Indo-Pak World Twenty20 game
The trend
The complaint in the above case was filed by a local VHP leader
This is not an isolated incident - every time an Indo-Pak game rolls around, Hindu nationalists like to test Indian Muslims\' loyalty
More in the story
How cricket, and sport in general, evolved as a political tool
How Hindu nationalists are actually aping the British, whom they love to hate
"Cricket is nationalism by any other means", wrote Gideon Haigh, the sports historian.
At a time when the people of India are embroiled in a fractious debate on the idea of 'nationalism', Haigh's words ring truer than ever before.
Things came to a head during the India-Pakistan ICC World Twenty20 match last week. Two second year B.Com students at Bangalore University, Safwan and Abdul Rasheed, were summoned by the police and made to execute bonds of 'good behaviour' as provided under Section 107 of the Indian Penal Code.
Read: Who will blink? It's India's streak vs Pakistan's perfect record at Eden
Their alleged offence was that they circulated WhatsApp messages of "Jai Pakistan" and "Pakistan Zindabad".
The complainant in the case was Krishna Prasad, the Puttur taluka head of the Vishwa Hindu Parishad, the vanguard of extreme Hindu nationalism.
Would the cops have acted with such alacrity if the two students had Hindu names?
A question of loyalty
This wasn't an isolated incident. Cricket is being increasingly used as a measure to test the loyalty quotient of India's Muslims.
In March last year, while India and Pakistan went head-to-head in a 50-over World Cup match in Adelaide, 67 students in Meerut were booked for sedition. All of them were Muslims, and chanted pro-Pakistan slogans.
Cops summoned two Muslim students for circulating pro-Pak messages ahead of the Indo-Pak WT20 clash
Back in 2003, the Kolkata Police's topmost echelons had devised ways of preventing the city's Muslims from supporting Pakistan in a cricket match.
In Gujarat's Ahmedabad, a city infamous for its history of communal violence, Muslims were attacked after India won a cricket match against Pakistan.
A tool for persecution
There's no dearth of people who wax eloquent on how cricket promotes peace between India and Pakistan. But scratch beneath the surface of these liberal pieties, and the vicious communal underpinnings of the sport come to the fore.
In 1968, Avery Brundage, the then-president of the International Olympic Committee, declared that "sports transcends politics".
Also read- India 11-0 Pak: Eden and Kohli make the pilgrimage worth it for a die-hard fan
Cricket may not be an Olympic sport, but Brundage's words ring hollow when contrasted with those of Shapoorjee Sorabjee, India's first cricket historian.
"To expect all political differences to disappear or available self-interests to be foregone on the institution of cricket relations is to live in a fool's paradise," Sorabjee had said way back in 1897, a little after the foundations of cricket were laid in India by the British in Bombay.
Sorabjee's words resonate in present times, when a sport which was supposed to be a "gentleman's game" is increasingly being used as a tool for persecution.
Colonial hangover
The proponents of jingoism and militant Hindu nationalism keep harping on a binary - that an Indian Muslim either desists from supporting Pakistan, or is branded a 'traitor' and pilloried.
But in doing so, this horde of 'nationalists' only ends up catering to the politics of its erstwhile colonial masters.
Historian Emily Crick, in a 2007 paper titled 'Cricket and Indian National Consciousness', cites political historian Ashis Nandy, who says that the Bombay Triangular/Quadrangular/Pentangular cricket tournament, was stopped in 1945 because many Indian nationalists protested against the promotion of 'British values'.
Hindu nationalists want an Indian Muslim to desist from supporting Pak, or be branded a 'traitor'
The British are infamous for their policy of 'divide and rule', playing off one community against another and creating politically expedient communal divides based on religious lines. The names of the teams in the Pentangular cricket tournament were 'Hindus', 'Muslims', 'Parsees', 'Europeans' and 'The Rest'.
In the 1990s too, Britain's Conservative Party created a race ruckus when its chairperson, Lord Norman Tebbit, called for a loyalty test for Asian immigrants. If the immigrants didn't support the English cricket team and fervently wave the Union Jack, he called for them to be driven out of the country.
Hindu nationalists have created such an atmosphere that during India-Pakistan cricket matches, policemen have to be deployed in Muslim-dominated pockets of India's cities and town. Little do these nationalists realise how they are aping their colonial masters.
Read more- Save your breath, dear cricket commentators: a handy list of things you needn't tell us
Today's Hindu nationalists and their devotees, who insist upon xenophobic and Islamophobic ideas and policies, have close resemblance to those of Britain's Conservative Party - and closer still to vicious anti-Indians like the UKIP's Nigel Farage.
And there lies the irony: they may think they're championing India's cause by subjecting Muslims to a humiliating test, but they end up treading the same path charted by those they love to hate.
(The views expressed here are personal and do not necessarily reflect those of the organisation)
Edited by Shreyas Sharma
More in Catch:
IG Kalluri's reign of terror: there's hardly a place left for truth in Bastar
These photos of tulips in bloom in Kashmir should inspire you to make a visit
#UP2017: Won't ally with SP, but open to going with Mayawati, says Rahul
Batman v Superman: Dawn of Drama and Incoherence