Controversial Barkati removed as Shahi Imam of Kolkata's Tipu Sultan Mosque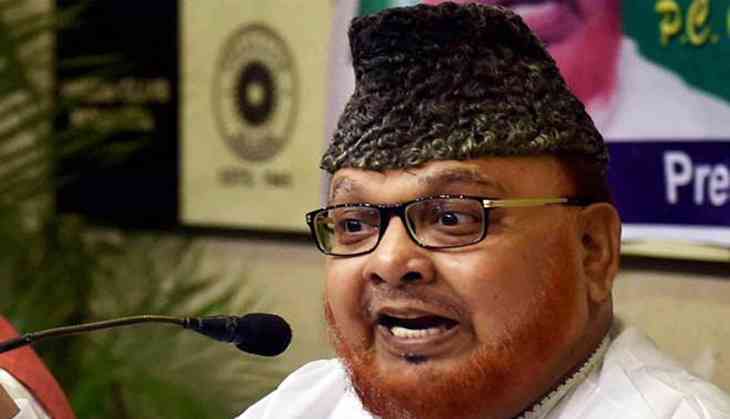 The post of Shahi Imam of the 175-year-old Tipu Sultan Mosque in Kolkata has been at the centre of many political controversies. Now, it is all set to become the subject of a court battle.
On Wednesday, 17 May, the Wakf Estate of Prince Gholam Mohammad, which runs the mosque, removed Noorur Rahman Barkati, the incumbent Imam, from his post. But Barkati has refused to oblige, saying he will fight tooth and nail against this decision.
Claims and counter-claims
At a press conference on Wednesday, trust members said they had sent a notice to Barkati terminating his service as Imam, and asking him to vacate the office and his lodging within 7-10 days.
"What he is doing is not conducive to the post of Imam, and it is also against national interest. He is our employee, and we sent two notices to him in February, asking him to explain his actions and statements. He did not respond. We again sent a show cause notice, telling him that if he did not respond to earlier notices, it would be construed as his admission of the charges. And since he did not respond to that notice also on Wednesday, we sent a notice of dismissal," said Arif Ahmed, chairman of the trust .
Ahmed said the Imam was a paid employee of the mosque, and that it was not a hereditary post, as claimed by him.
"He sent an application for the post of Imam and that application is still with us. He is an employee of the trust, which was set up by the Calcutta High Court. From today, he is no longer Imam, and has no other option but to vacate the post. If he does not vacate his post, we will go to court," Ahmed said.
However the Imam put up a dogged a resistance.
"The existing trust was set up 10-12 years back. They have got no right to remove me as Imam. I have been serving as Imam for the last 30 years. So I am going to stick around, and if necessary, I will consult legal experts. I will speak with Chief Minister Mamata Banerjee regarding this issue," Barkati told Catch.
Close to the CM
Imam Barkati, who is considered close to the Chief Minister, has for long been in the political limelight. He has often attended political meetings and rallies with Banerjee, extending his support to her.
He is a severe critic of the Bharatiya Janata Party, and about a month back, he even issued a fatwa that if some one shaved off Prime Minister Narendra Modi's beard and hair, he would award him Rs 5 lakh.
He also issued a fatwa to pelt stones at state BJP president Dilip Ghosh, urging his followers to kick him out of the state.
The red beacon controversy
A recent controversy involving the Imam led to severe embarrassment for the state government, and, some have alleged, even his removal.
This was Barkati's persistent refusal to remove red beacon from his car.
Firhad Hakim, the minister in charge of urban development, even went to meet Barkati and urge him to remove the beacon and obey the new Central law.
But on the other hand, Siddiqullah Chowdhury, the minister in charge of library services, called Barkati an RSS agent, and an ultimate enemy of Islam.
Political analyst and Jadavpur University professor Imankalyan Lahiri says: "It seems like Mamata has used a carrot-and-stick policy with respect to the Imam. On one hand, she sent Hakim to convince Imam Barkati to remove the red beacon, as it is against the law of the land. On the other hand, she sent Siddiqullah to hold a press conference by defaming him, as he refused to remove the red beacon."