#ConfusedPakPolicy or masterstroke: why were Hurriyat leaders detained and released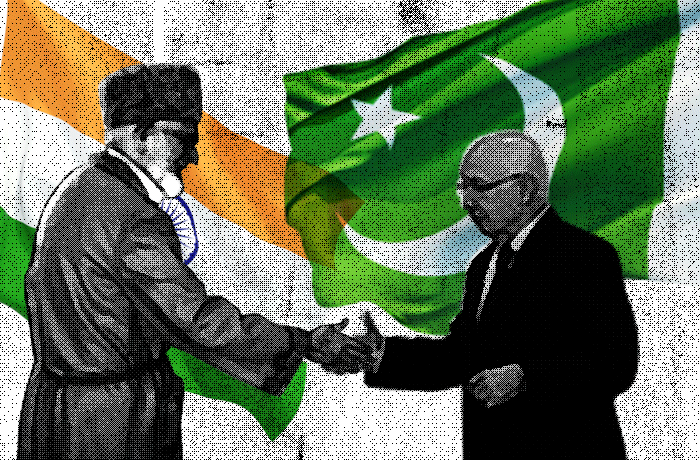 The flashpoint
Pakistan invited Hurriyat leaders to NSA Sartaj Aziz\'s reception
India responded by detaining the separatist leadership in Kashmir
Most were released in a couple of hours. Was this an act of confusion or a show of strength?
The reasons
Sources in the government say this was India\'s way of showing Pakistan what it could do if provoked
Separatist veteran Syed Ali Shah Geelani\'s decision not to come on 23 August goes in India\'s favour
The invitation to separatists was only the latest in a series of provocation from Pakistan in the run-up to the talks
Pakistan threw Indian diplomacy a challenge by inviting Hurriyat leaders to a reception for its National security Advisor in New Delhi. This was on the eve of his meeting with his Indian counterpart.
India retaliated by briefly detaining the separatist leadership on Thursday.
Many have accused the government of being confused in its Pakistan policy. But highly placed sources in the government say that this was a calculated show of strength against what was a clear provocation by Pakistan.
While the Hurriyat leaders are not under detention at the moment, it is only a matter of time before restrictions are again placed on their movement if they decide to visit the Pakistan NSA in Delhi.
Sequence of events
On Thursday morning, a police cordon was briefly placed outside the residences of all Hurriyat leaders including Mirwaiz Umar Farooq, Maulana Mohammad Abbas Ansari, Mohammad Ashraf Sehrai, Shabir Ahmad Shah, Yasin Malik and Ayaz Akbar. The cordon was lifted in a couple of hours.
Apart from Syed Ali Shah Geelani, restrictions on movements of all others were lifted in a couple of hours.
"It was the government's way of telling the Pakistanis that this is what we can do if you provoke us by holding meetings with the separatists," said the source.
Apparently, there is no substance to rumours that the separatists were arrested on orders of Chief Minister Mufti Mohammad Sayeed and released on orders of his daughter Mehbooba Mufti.
Syed Ali Shah Geelani's decision to not come on 23 August is a minor diplomatic advantage for India
A senior bureaucrat in Jammu and Kashmir, who did not wish to be named, said "They [J&K government] can do nothing on their own. Detentions don't happen in Kashmir without Delhi's explicit orders. Hurriyat leaders get arrested only during elections, agitations when the state leadership fears losing ground."
Ayaz Akbar Geelani, spokesman of the hardline faction of Hurriyat, said that despite police restrictions the Hurriyat was unanimous on its decision to go. He dismissed reports that an 'understanding' had been reached between Geelani and Indian government on the Pakistan NSA invitation issue.
"We have accepted the invitation and there are no doubts about it. While all others leaders are attending the reception on 23 August, Geelani sahab will arrive in Delhi a day later because he has an urgent engagement in Kashmir," he said.
"The police has never stopped Geelani sahab from going to Delhi, they will hopefully not stop us this time as well," he added.
The 'urgent engagement' is the foundation day celebration of his party Tehreek Hurriyat. It was supposed to be on 7 August but it was deferred to 23 August because of the tension that grips Kashmir in the run-up to India's Independence Day.
Geelani's decision to not come on 23 August will be a minor diplomatic advantage for India, as the government is unlikely to object to Hurriyat leaders meeting Pakistan NSA Sartaj Aziz after the talks.
Atmosphere around NSA level talks
It is not just the Gurdaspur terror incident, shelling by Pakistan has increased to alarming levels in the run up to the NSA level talks. Several political observers admit that the atmosphere around the talks is grim.
"It is true that the atmosphere is not particularly happy. But I don't think Pakistan calling Hurriyat is a provocation similar to Guradaspur or cross border shelling. I think Pakistan is just probing here," said Rakesh Sood, former Indian diplomat to Afghanistan, France and Nepal.
He added that India was doing the right thing by not calling the talks off as the terror issue has addressed.
"There are multiple constituencies which will be scrutinising the case India makes at the NSA level talks. India should be seen to be talking to the world against terrorism. This depends on how well India makes its case," said Sood.
Sood doesn't have very high expectations from the talks. "As the Pakistan government is not firmly in control of situation right now, our expectations from this dialogue, which is really part of a bigger process, should be modest," he said.
On the other hand former R&AW chief, AS Dulat, who spent more than a decade in Kashmir as its IB chief says he's quite optimistic about the talks because of Ajit Doval.
"I don't know Sartaj Aziz but I know Ajit Doval. He's a perfectionist. He wouldn't like to start this high level, important round of meetings on the wrong foot. If it is the question of Pakistan's NSA meeting Hurriyat, India could find a way around by letting the two meet after NSA level talks."
Charges and counter-charges
Some of the arguments and counterarguments at the NSA level talks are already known, unless Pakistan springs a surprise by bringing Kashmir up first.
India is likely to confront Pakistan on terror attacks in Gurdaspur, Udhampur as well as the recent instances of cross border shelling. India may also put forward a list of 65 people it wants extradited from Pakistan, which includes Dawood Ibrahim.
India will express its disappointment at the bail given to 26/11 attack accused Zaki-ur-Rehman Lakhvi.
In response, Pakistan will cite how the Indian government didn't oppose the bail plea of Samjhauta blasts accused Swami Aseemanand.
To counter India's charges, Pakistan will mention terror strikes in Balochistan and FATA.
India will also raise the issue of Islamabad not acting on the Letters Rogatory (a formal request from a court to a foreign court for judicial assistance) sent in connection with the Mumbai terror attack case.
According to sources, India also has a list of Pakistani terrorists killed in encounters in India, who were openly called out as members of Jamaat-ud-Dawa and whose funeral processions were carried out in Pakistan and reported in Pakistani dailies.