Communal riot erupts in Ranchi, but is it aimed at Bihar?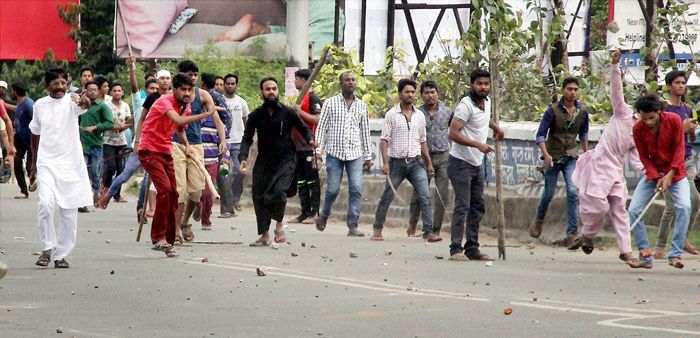 Communal violence erupted in Ranchi, Jharkhand, after pieces of flesh were found near a religious place in Doranda-Hinu Saturday morning.
The police immediately imposed Section 144 and arrested as many as 77 people for "fomenting trouble".
Chief Minister Raghubar Das visited the violence-hit areas later in the day and appealed for calm.
The prompt action ensured that the city was clam by evening, though tense.
Some observers claimed that the violence could have been incited "to raise the political temperature in neighbouring" Bihar. The state is going to polls soon, they argued, and the communal flare up in Ranchi could be employed to polarise voters before the crucial first phase on 12 October.
The communal flare up in Ranchi could be used to polarise voters in Bihar, says Mahendra Suman
"The events in Ranchi are bound to affect the Bihar polls. It can consolidate Hindu votes in favour of the BJP. The party is known to use such tactics before elections," said Mahendra Suman, a noted political analyst.
DM Diwakar, director of the A N Sinha Institute of Social Studies, Patna, disagrees, however.
"People are well aware of such ploys. No party is likely to gain much from such actions. Lalu Prasad and his allies have already cautioned people against such designs. This incident will not have any impact on the election in Bihar," he said.
A senior Bihar-based journalist pointed out that Ranchi and its adjoining areas have seen a spurt in communal tension over the past few months. He, however, said its impact on the Bihar polls would be little, if any.
A large number of people from Bihar work in Ranchi and its surrounding areas and many of them go home to vote. "The BJP may try to cash in on the incident to consolidate the Hindu voters among these workers," the journalist said.