Civil society gets Oppn to back MASUKA, the draft law against lynching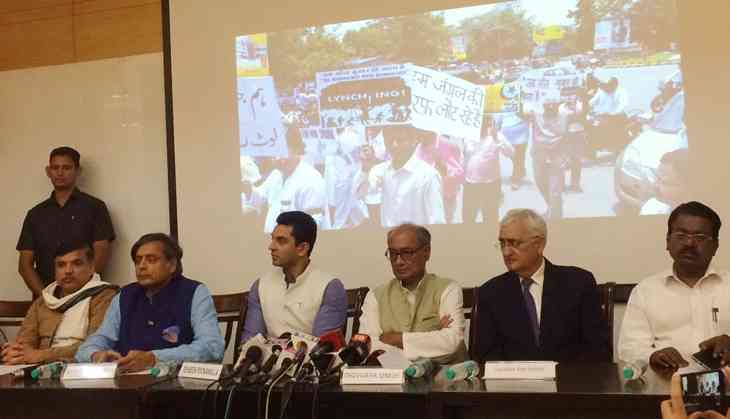 Considering how political parties have failed to corner the government over widespread incidents of lynching and mob violence, the civil society has taken the lead in trying to curb this menace. It has put pressure on the government to bring in a legislation that could deter vigilantes from carrying out such heinous and barbaric acts.
The killing of 15-year-old Junaid from Haryana led to members of civil society organising the #NotInMyName campaign, which succeeded in getting the government's attention. Many believe that Prime Minister Narendra Modi's recent message condemning the lynchings was a result of this concerted campaign, which had people from all walks of life join hands to register their protests across several cities in India.
The organisers of the campaign were not affiliated to any political party, and the response from the public was spontaneous. Similarly, the core members of the National Campaign against Mob Lynching (NCAML), who thought of the idea of bringing in the Manav Suraksha Kanoon (MASUKA) to combat lynchings, claim it to be a consequence of repeated discussions with the civil society and young minds on how to tackle this widespread menace.
The draft law of MASUKA, which was unveiled on 7 July, recommended that mob lynching being made a non-bailable offence, apart from attracting life imprisonment. Holding senior government officers responsible for failing to act on cases of lynching, the law also seeks compulsory suspension of the concerned officials.
Opposition leaders endorse MASUKA
In their efforts to get the Opposition on board for pushing MASUKA in Parliament, NCAML members organised a meeting of senior leaders and representatives of eight Opposition parties, wherein these parties supported and endorsed the law.
Among those present included Congress leaders Digvijaya Singh, Shashi Tharoor, and Salman Khurshid, RJD's Manoj Jha, CPI(M) leader MB Rajesh, DMK's TML Elangovan, AAP's Sanjay Singh, JD(U)'s Pavan Varma and representatives of the SP and the BSP.
RJD's Jha highlighted how the political class has lost touch with the masses, forcing civil society to intervene and bring about changes that can deter such mindless violence and killings. "This idea was not the idea of the political parties and has come from civil society, and that tells you how politics is changing. We are together here on an issue not because we thought it should be raised. I have been critiquing my own political party and the political class for losing touch with the masses. Nehru had talked about mass contact programmes, and all political parties have lost it," said Jha.
Meanwhile, Tharoor pointed out how MASUKA was part of the broader effort to motivate civil society, while cutting across political differences, to raise the issues that matter in our society and focus the attention on legal remedies to solve the problem.
"The government has failed to tackle this issue, and I hope that the Prime Minister and Home Minister will take up the elements of this law. They should either adopt it themselves or come up with their own law based on their principles, so that we can fill the lacuna," said Tharoor.
Elangovan said incidents of lynchings were a phenomenon confined to BJP-ruled states, which implicitly suggested that the government was supporting those who were part of the mob. "When there is no law, these people take law in their hands, which reflects in how lynchings have become a practice. Therefore, I support this law," he said.
Digvijaya Singh, who held the Rashtriya Swayamsevak Sangh's ideology responsible for the increase in such incidents, added: "Mob lynchings have increased since this government assumed power. 'Lynching' and 'mob' have not been defined in the CrPC, and they should be. We did raise it in Parliament, but the Central government put the onus on states, claiming how law and order is a state subject."
MB Rajesh, Sanjay Singh and Pavan Verma also supported and endorsed MASUKA, and claimed that it should be passed as soon as possible.
Onus on Centre or states?
The core committee that drafted MASUKA insisted that the government should bring the law in Parliament, and start a discussion on the need for such legislation. It went on to claim that if the government doesn't pay heed to its demands, MPs will take it up as a Private Member's Bill in the next session of Parliament.
Meanwhile, the core committee is also planning to reach out to different states, including those ruled by the BJP, and convince them to adopt this law. According to core committee members, many parties have shown great interest in implementing such a law.
But it remains to be seen whether this law will ever see the light of the day, considering how, in the Rajya Sabha, the government put the onus on states, saying law-and-order was a state subject.
In those circumstances, it remains to be seen how MASUKA's core committee will respond.