Chinks in the armour? This Muharram didn't go peacefully in Bengal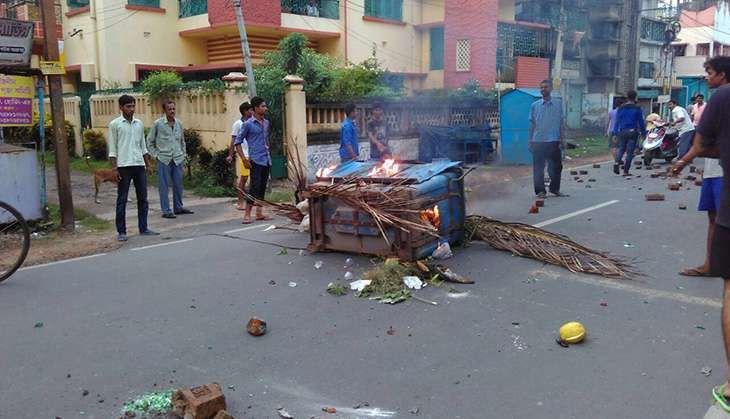 On Wednesday, the day of Muharram processions, sporadic incidents of clashes between two communities were reported in many areas of West Bengal.
Tensions mounted at Chandannagar and Bhadreswar in Hooghly district, Mayureshwar in Birbhum, Mongolkote in Burdwan, and in Howrah, after some stone-pelting incidents took place during the processions. Meanwhile, a crude bomb went off at Naihati in the North 24 Parganas, injuring five people
Official sources have confirmed most of these incidents, but insist that the situation is now peaceful.
Hooghly's Superintendent of Police, Praveen Tripathi, said: "The situation is peaceful in the area and we are investigating the matter."
Remnants of Wednesday's violence between two communities. (Photo: Sulagna Sengupta/Catch News)
However, at least in the neighbouring cities of Chandannagar and Bhadreswar in Hooghly, residents say they are frightened to venture out of their homes after Wednesday's incidents.
Most of the shops in Urdi Bazaar and Laxmigunj areas in Chandannagar, and in the Telinipara and Raja Bazaar areas of Bhadreswar, remained closed on Thursday.
Sujit Pramanik, who resides in Telinipara with his wife and two children, told Catch: "Since the morning, all shops have been closed. We are frightened to go outside."
Shops in many areas of the Hooghly district remained closed on Thursday. (Photo: Sulagna Sengupta/Catch News)
How it unfolded
Things came to a head because the Durga Puja idol immersion processions and Muharram processions were proceeding simultaneously along routes pre-specified by the administration. Things were progressing peacefully till some miscreants starting pelting stones on members of the other community in Chandannagar and Bhadreswar.
The situation got aggravated to such a degree in these areas that a huge contingent of police had to be rushed to the spots to control the mob. The administration imposed Section 144 of the Indian Penal Code to restore peace and instil confidence among the people of both communities.
In Birbhum and Burdwan, meanwhile, the local populace itself controlled the situation from getting out of hand.
Senior officials of the state government said they had advised the local administration of Hooghly to set up an inquiry into the incidents and submit a report to the state Home department.
CPI(M)'s question to Mamata
Meanwhile, senior CPI(M) leader Surjya Kanta Mishra questioned Chief Minister Mamata Banerjee about the reasons for these incidents of disharmony in the state.
Mishra tweeted: "The 34 years of Left Front government ensured communal harmony. No tolerance was followed for the criminals trying to disrupt harmony. Why ru failing madam CM?"
Edited by Shreyas Sharma
More in Catch
Calcutta HC Durga Puja order: your honour, what exactly is minority appeasement?
Fortress Kolkata: drones and 12,000 cops to watch over city this Durga Puja
Mamata's Muslim appeasement is coming back to haunt her