Chhattisgarh Maoist strike: CRPF loses 26 men at spot where 76 died earlier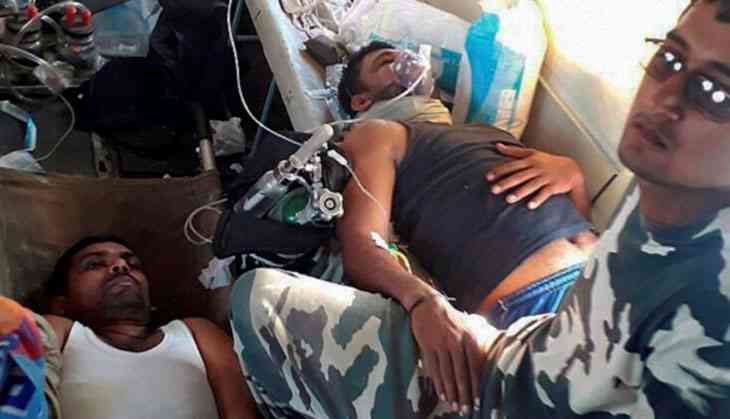 An injured CRPF jawan being brought to Raipur for treatment on Monday follwing a Maoist attack at Burkapal near Chintagufa in Bastar. (PTI)
The soil of Sukma, dominated by Maoist extremism, in Bastar turned red again when extremists allegedly killed 26 jawans of the Central Reserve Police Force (CRPF) at the Burkapal area under the Chintagufa police station.
Six more were griveously injured. Allegedly Maoists Monday noon attacked a CRPF contingent who were responsible for the security of a team constructing roads.
After the incident the company commander and six jawans went missing, but CRPF Spokesman Prashant Kumar denied anybody was missing.
The attack once again points at the failure of the state intelligence apparatus. It also leads to the question: what was the role of the anti-Maoist force that former inspector-general SRP Kalluri created from among surrendered ultras?
Kalluri had inducted such former militants into the police force. They would guide security forces in combing operations.
DM Awasthi, special director-general of police for anti-Maoist operations, said the police were examining all aspects of the incident.
The place where Monday's clash played out has been known as a Maoist stronghold. The area is so inaccessible that helicopters are used there to even provide ration to camps there.
On Monday, two teams of about 50 jawans each of CRPF's 74th Battalion left the Burkapal camp for Chintagufa, DIG Sundarraj said. Barely had they moved 2 km after Mukram when the rebels detonated an improvised device (ID) and then opened indiscriminate fire, sources said.
Makaram is the area where Maoists killed 76 soldiers in April 2010. On March 11, 2017, too 12 jawans were killed and a UBGL was stolen.
The Maoists were already seen
The Dornapal-Jagargunda road is now shabby – the Maoists have demolished bridges on this route to protect their stronghold. It has been their policy: bad roads prevet security forces from entering an area.
At present, there are CRPF camps at Burkapal, Chintagufa and Chintalnar. They have been helping in constuction of roads.
Monday's ambush was during a routine CRPF patrol. The Maoists had been following the activities of the jawans for a few days.
The State Military Commission of the Maoists reportedly prepared the blueprint for the attack, which was led by Hidma, commander of Battalion No.1. Paparao, the secretary of Jagargunda Area Committee, was also reportedly involved. The method of attack indicates the strike was planned and well-rehearsed.
Translated and edited by Joyjeet Das