Chhattisgarh govt pats Bastar IG Kalluri on back despite NHRC summons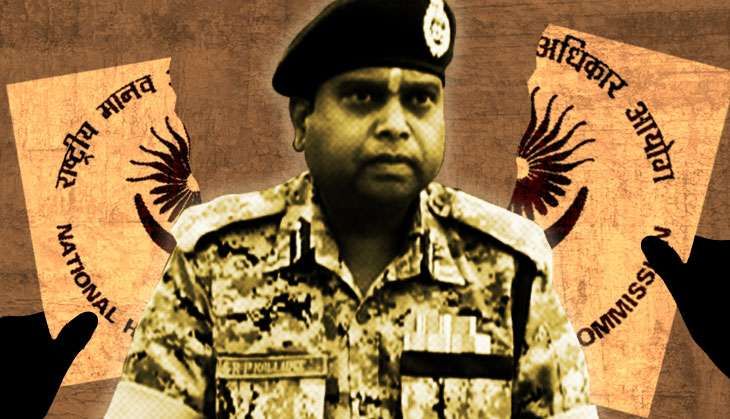 The Chhattisgarh government may be facing criticism from all quarters for registering a murder case against Delhi University Professor Nandini Sundar and four others, but it hasn't stopped the Raman Singh government from patting the controversial Bastar IG Shiv Prasad Kalluri on his back.
This is despite the fact that the National Human Rights Commission (NHRC) has issued summons to the state chief secretary Vivek Dhand and Kalluri in this case.
Defending Kalluri
The Congress has aggressively raised the issue in the ongoing winter session of the state assembly. Accusing the Bastar police of persecuting innocent women, state party chief Bhupesh Baghel demanded Kalluri's arrest on 18 November.
Also read - Watch: Nandini Sundar talks about the unique nature of violence in Bastar
But state home minister Ramsevak Paikra defended Kalluri, saying he was responsible for freeing the Sarguja region from Naxals.
While speaking on the issue in the assembly, Baghel alleged that crime against women was on the rise in Chhattisgarh. Citing the example of Bastar, he claimed the protectors had turned into the assailants in that region.
According to Baghel, the man accused of killing innocent tribals like Madkam Hidme and Meena Khalkho was roaming with impunity in khaki.
Replying to Baghel's demand of strict action on such tainted police officers, Paikra assured justice for Hidme and Khalkho's families.
A vengeful pattern
Kalluri has been notorious for allegedly settling scores with human rights activists by registering fake cases against them.
Taking strong notice of the issue, the NHRC has written a letter to the state government asking the chief secretary Vivek Dhand and Kalluri to appear before it. The Commission has asked the two officers to submit a reply in person by 30 November.
The Bastar police are accused of threatening Nandini Sundar, JNU Professor Archana Prasad, CPI(M) leader Sanjay Parate, left activist Vineet Tiwari, social activist Manju Kawasi and others with arrests.
Meanwhile, senior security advisor in union home ministry K Vijay Kumar has claimed that the government was trying to start a peace dialogue with the Naxals after the Supreme Court order to the government. Kumar refused to divulge further details, citing security concerns.
He maintained that it was the duty of the police to make 'a conducive atmosphere' for public security instead of counting the dead. Kumar further stated that police had no personal animosity towards the insurgents.
Kalluri, on his part, has been accusing the media of presenting a false picture of the ground situation in Bastar.
Translated by Deepak Sharma and edited by Aleesha Matharu
More in Catch - Give 4 weeks notice to DU Prof, and others before initiating proceedings: SC to Chhattisgarh govt
DU prof Nandini Sundar booked for murder in Bastar: what is Kalluri cooking?