By painting gods and goddesses, here's how a group of artists are saving Bihar's trees
CK Manoj
| Updated on: 7 December 2017, 23:31 IST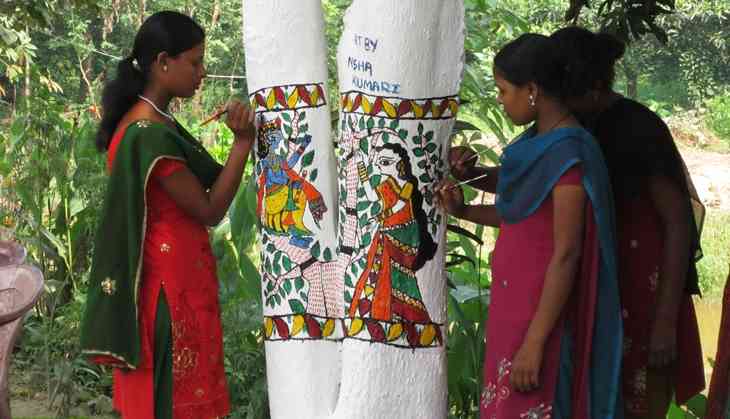 Since Bihar was bifurcated in 2000, its forest cover has rapidly thinning. In an effort to change this reality, an unusual campaign by a group of artists has helped save thousands of roadside trees from being felled by villagers.
Their strategy? The group of artists have painted hundreds of trees and leaves with images depicting various tales from Hindu epics or of deities in Madhubani, a northern district some 170 km from Patna.
The results have been stupendous. The lurking fear that chopping the trees which have the images of gods could incur the wrath of the deities has turned groups of tree-cutters away.
Previously, the sight of the villagers ruthlessly chopping trees to use them as fuel wood, for commercial gain or to cremate bodies was common. Whenever there is a death in the family, it's not long after that a tree meets the same fate.
In Hindu mythology, over 350 kg of wood, especially mango wood is used to cremate a body. This means a full-grown tree has to be almost fully chopped to meet the demand. Now people are using more unconventional methods to cremate bodies, such as using cow dung cakes for cremation and electric crematoriums even though wood still remains in demand for villagers who are more conservative.
"Previously, the sight of villagers armed with axes and saws chopping trees was common in our area, but now they have nearly stopped after we launched the campaign. Now people come here to captures the scenes on their cameras and take selfies with trees. This is the change we have brought with just paint and brushes," said Shasthi Nath Jha, the brainchild behind the campaign.
Jha who runs Gram Vikas Parishad (GVP), an NGO, said it pained him to see so many trees felled. "I tried to convince people that it is not good for environment, but they refused to listen to us. Subsequently, I roped in the local artists from Mithila school of painting and got the tree painted with images of god and goddess," he explains.
Madhubani painting, also known as Mithila painting, is a style practised in the north-eastern region of Bihar and fingers, twigs, brushes, nib-pens and even matchsticks are used. Eye-catching natural colours form the pain used to make the geometrical patters. There are paintings for each occasion and festivals such as birth, marriage, the sacred thread ceremony, Durga puja and Holi.
Five years after the campaign was launched, the idea is working wonders. The roadside trees which would always remain the first target of the woodcutters now stand tall, wearing lovely coats of paints and attracting tourists.
Artists say they have been using only natural colours and not chemical paints. This has not only added to the beauty of trees, but has also helped keep ants away.
The idea has also provided employments to dozens of artists who are paid for their works. "We pay an average of Rs 500 to each artist per day. Thus while they get money for their art, their effort helps save the environment," said Jha.
The environment-conscious common masses are happy with the campaign. "Although Hindus already worship trees, but they stopped cutting them once we painted the trunks," Siya Devi, one of the artists associated with the campaign, told the local media.