Bengal EC resigns. Catch first hand accounts of TMC violence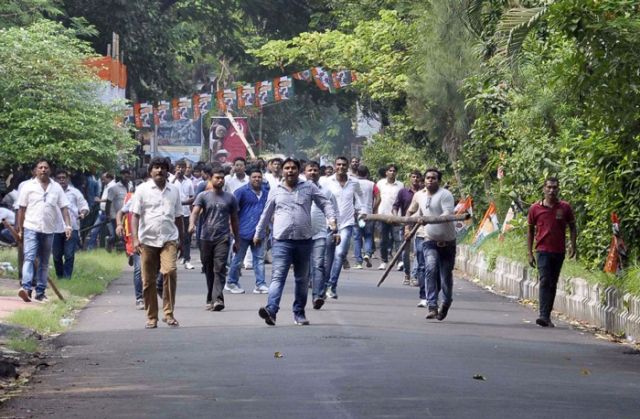 The trend
West Bengal has been a hotbed of electoral violence for decades
This time, 22 reporters and scores of innocent civilians bore the brunt of violence in Salt Lake
The victims
Aritrik Bhattacharya, a TV reporter, was beaten up for asking questions outside a polling booth
PK Sen and his son Suman were thrashed separately for trying to protect others
More in the story
Victims describe how TMC goons made things happen
The real reason behind the violence, and the importance of this municipal election
West Bengal has a history of electoral violence. Like certain other parts of the country, killings, bombings and booth capturing have dotted the landscape whenever elections have rolled around.
Looking at the state's electoral history, one may even say unfair poll engineering is an art that has been mastered in Bengal.
Election day means party workers jam the lines at polling booths, in order to make you so tired that you go back home. When you return later, you would mostly find that the vote has been cast on your behalf.
If such tactics do not work, there are always notorious criminals on stand by to threaten you, bomb the vicinity of the polling station, or even lock you inside your home.
However, the municipal elections in Salt Lake, Kolkata, on 3 October, possibly surpassed all previously recorded electoral violence in sheer brutality. Around 22 reporters and many innocent civilians with no political affiliation got brutally beaten up by Trinamool Congress (TMC) goons.
And yes, photographic evidence in the regional media shows that these goons were guided by TMC MLAs, who are not even voters or residents of Salt Lake.
This has resulted in the unprecedented resignation of the state's election commissioner, Sushanta Ranjan Upadhyay. After the violence, he had put off counting indefinitely on Sunday, 4 October. He met the governor this afternoon and quit the job.
Upmarket locality
Bidhannagar, or Salt Lake City, is a planned satellite township on the eastern side of Kolkata. It is an information technology hub, and also the place which the socio-economic elite of the city call home.
On Saturday, 3 October, polling was held for 41 wards of the municipality across 400-plus polling booths.
According to various estimates, 3,000-5,000 people had gathered from various parts of Bengal, with the sole purpose of spreading terror in these booths.
Getting rid of the media
Aritrik Bhattacharya, 30, has been reporting for the ABP Ananda channel for the last three years. On the day of the election, he was at a polling booth at the Administrative Training Institute, ward number 33.
He now has two fractures in his nose and blood clots on his chin, waist and forehead, due to the severe beating he received from goons, who hit him with bamboo sticks.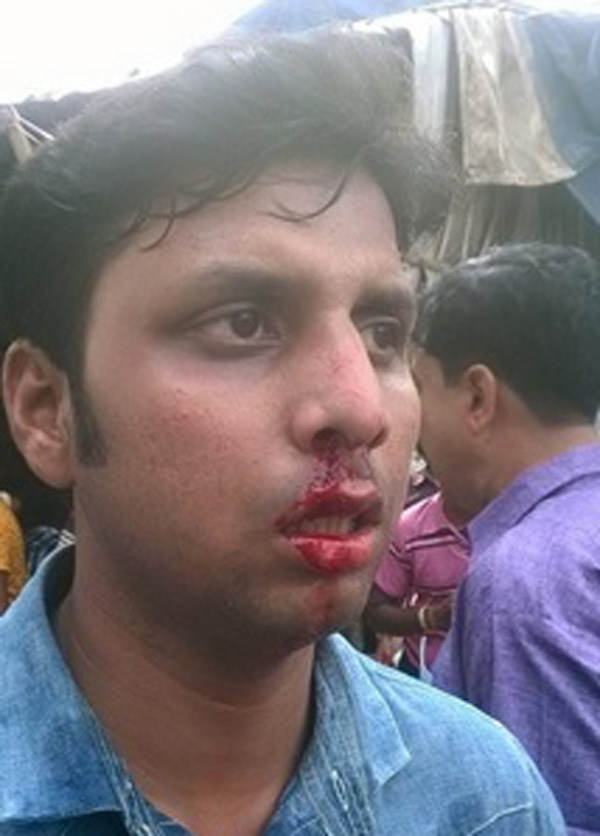 "When I reached the polling booth in the morning, I saw 50-60 people within 10-15 metres of the polling booth, which is illegal. Outside, there were autorickshaws without number plates. Voter ID cards were being distributed from these autos to lots of women," Bhattacharya said.
He asked these women a barrage of questions, like where were their cards or where they stayed.
The women, whose faces were covered, gave evasive replies like 'we are waiting for our friends'. Some even gave non-existent addresses.
As Bhattacharya chased them with questions, they fled the spot while abusing and threatening him. Policemen were present throughout, but only as silent spectators.
This happened between 11am and 1pm, while the polling percentage in Salt Lake was a measly 2%.
"After around an hour, I visited the booth again with my cameraman. Suddenly, one person snatched our camera and started running. I chased him. After a few metres, some more people gathered and one person hit me on my face. I fell down and then was surrounded and beaten up," Bhattacharya recounted.
The cops continued to be bystanders.
He was eventually rescued by locals and fellow reporters, taken to a colleague's house for first aid, and finally admitted to a hospital.
After Bhattacharya, many other reporters were also beaten up. By afternoon, Salt Lake was almost free from the media glare. Subsequently, between 1-3 pm, the polling percentage shot up from 2% to 22%.
TMC MLA Sujit Bose was clearly seen on TV leading hoards of people and instructing the police that the 'media is crossing limits and must be thrown out'.
He later went to visit Bhattacharya at the hospital. What's worse, he also said 'it was really unfortunate' and that he would have prevented the incident if he were present.
Payback for protesting and protecting others
Suman Sen, a 31-year-old professional who resides in Salt Lake, woke up on Saturday and saw hundreds of youth in his neighbourhood, all outsiders.
"It seemed like a fairground, only without the fun," Suman said.
Next came news informing him that his 70-year-old father Priti Kumar Sen was getting beaten up at the polling booth. He rushed to the spot with two of his friends.
At a park nearby, he came face to face with a mob. Seizing the opportunity, his friend started taking pictures of the mob to showcase the presence of outsiders.
The mob unleashed its fury upon his friends while Suman tried to save them. "I am not a trained street-fighter. The result was inevitable," he said.
Resident Suman Sen reveals why he was beaten up: "For trying to save my friends from a mob"
At the polling booth, Suman's father got beaten up and his mother got heckled. Their fault? They had tried to protest.
The polling line they were standing at was not moving an inch, but they could hear sounds of EVM buttons being pressed. Sen Sr tried to make enquiries, which gave courage to the CPI(M) polling agent to protest as well.
As a result, the polling agent was thrashed and, when Priti Kumar tried to protect him, he was thrown to the floor and kicked on the chest repeatedly.
"Our house was under surveillance throughout the day. I have never seen such violence during elections in Salt Lake," said Suman.
Failure of Citizens' Forum
Gautam Deb, the firebrand CPI(M) district secretary of North 24 Parganas and also a resident of Salt Lake, had sensed that there would be violence. He tried to organise local leaders of his own party, the BJP, the Congress and local residents under one umbrella called the Citizens' Forum.
Their aim was to prevent any untoward incident and facilitate voters to cast their vote peacefully. In Siliguri, this model was tried in the recent past and was successful.
However, in Salt Lake, it was a total failure. The battle between peaceful residents lacking brawn and thousands of youth and criminals was a foregone conclusion.
Deb's son, Saptarshi, was at the receiving end of the TMC's might two nights before the election.
"We had organised residents of FC block, aged between 17-70. We used to be awake at night, trying to be alert and see if any outsiders were coming into Salt Lake. Two nights before the elections, we saw around 12-15 people on five motorbikes tearing down flags and banners of all parties apart from TMC," Saptarshi said.
"When we protested, they stopped, picked up construction pipes, and started beating us again. We were outnumbered, beaten up, but still managed to confiscate two motorbikes."
While they were being assaulted, a police van passed by without stopping, alleges Saptarshi.
Reasons for this violence
Salt Lake municipality has recently been clubbed with Rajarhat and New Town, the areas closest to the Kolkata airport, and touted as Kolkata's answer to Mumbai's Bandra-Kurla Complex.
All these areas are known for the recent construction boom. Rising land prices and the existence of fisheries make the whole area very lucrative.
Lately, there has been major infighting among different TMC groups for controlling the biggest share of the pie in the construction business.
Real estate syndicates have been a menace traditionally in this region, and trace their roots to the era when the Left was in power.
But in the recent past, murders and organised vandalism have become daily occurrences.
Speculation is rife that with the recent inclusion of this area in the smart city list by the Union government, the financial stakes are too high to be let go easily.
However, the likes of Saptarshi, who has faced the brunt of the TMC in the form of false cases and attacks, says it is just a show of strength. He says the TMC wants to showcase the mayhem it is capable of before the grand finale, the 2016 assembly elections.
Isaac Asimov once wrote that it is the incompetent who takes refuge in violence. On the basis of the events of 3 October, it seems the TMC lacks the political will to fulfill its promise of 2011 - that change, not revenge, is what Bengal needs.