Aurangabad: Locomotive pilot tried to stop after spotting workers on track but train didn't stop, inquiry ordered in case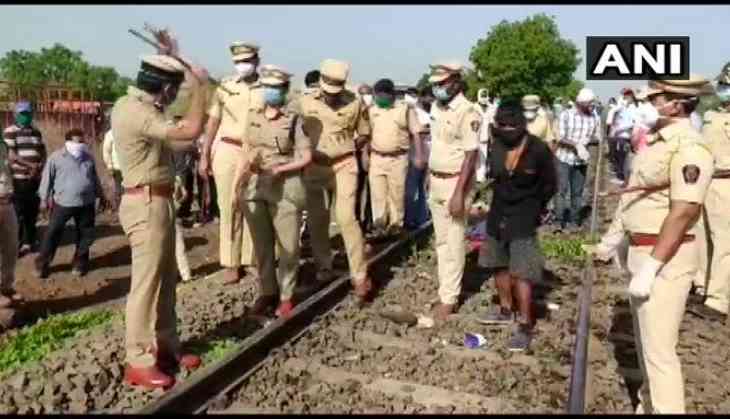 Aurangabad-Jalna Railway Track
An investigation has been laid down in the incident of the death of 16 migrant labours after being run over by a goods train in Aurangabad in Maharashtra on Friday, the Railway has stated.
Furthermore, it stated that the locomotive pilot of the train tried to stop the train after becoming aware of the labours on the track. But, the train didn't come to a halt and trampled the workers.
"During early hours today after seeing some labourers on track, loco pilot of goods train tried to stop the train but eventually hit them between Badnapur and Karmad stations in Parbhani-Manmad section. Injureds have been taken to Aurangabad Civil Hospital. Inquiry has been ordered," the railway said in a tweet.
In the statement, the railway stated, "It is learnt that the people run over were natives of Umarya & Shahdol of Madhya Pradesh working in SRG Company, Jalna of Maharashtra State. As per survivors, they left Jalna at 19.00 hrs on 07.05.2020 by walk initially on-road (up to Badnapore) and later onto the track towards Aurangabad. After walking for about 36 KMs, they became tired and sat on the track to take some rest and gradually slept."
The mishap took place at approximately 6:30 am on the Aurangabad-Jalna railway track.
The migrant labourers, who had been walking along the railway tracks fell asleep because of extreme tiredness. That they were mowed down by the train early in the morning, an official told PTI.
Prime Minister Narendra Modi issued a tweet saying that he has spoken to Union Railway Minister Piyush Goyal and asked him to keep track of the situation. PM Modi ensured that all possible assistance required is being given.
The incident comes at a time when stranded migrant labourers across India are going back to their native places in the midst of the nationwide lockdown.
Some of these migrant labourers were compelled to travel on foot long distances to their native states as they were unable to find any means transport.
Also Read: PM Modi condoles deaths in Aurangabad mishap, assures assistance to affected