At the mercy of the elite: 25% quota for poor in pvt schools doesn't work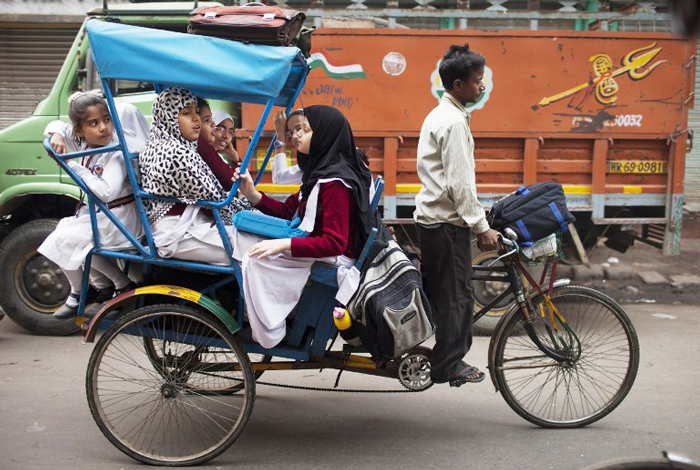 The facility
As per the 2009 Right to Education Act, private schools that take govt aid need to reserve 25% seats for poor kids
80% of private schools qualify for this. But only 29% of EWS seats are filled up
The disappointment
I tried to get my maid\'s bright kids enrolled under the programme. But nothing worked
With an annual monthly income of Rs 15,000, they weren\'t poor enough to avail the facility
More in the story
How the online process is loaded against independent poor families
The need for elite benefactors in the real implementation of the scheme
A few weeks ago, I saw an unknown number flash on my phone. I answered the call to hear an earnest voice asking me if I wanted to help a poor child get free education in a private school.
Cautiously, I asked how.
"Ma'am, please www.edudel.nic.in pe login kijiye," the voice said, taking me straight into the process.
A few questions later, I was hopeful that my maid's bright kids, Sneha (8) and Karthik (5), would finally have access to quality education.
The deadline for the implementation of the EWS quota was 6 February 2016. It came and went, and the hope that I had harboured for my maid's kids was extinguished.
Also read: Revamp of Delhi school education: Kejriwal's 'historic' mistake
Numbers that tell a story
According to the 2009 Right to Education Act, private schools which have taken support from the government - either by taking funds for setting up the school or by availing land at subsidised rates - have to provide 25% of their seats for economically weaker sections (EWS) and disadvantaged groups. This applies to 80% of primary private schools.
As per Right to Education Act, pvt schools that have taken govt help need to keep 25% quota for poor
About 80% of poor people don't know they can claim the EWS quota. And even if they do, most schools don't comply.
A national study conducted last year found that only 29% of the EWS quota seats are filled each year across India. Incidentally, of all states, Delhi has the highest number of applicants, with 92% of the EWS quota filled in 2015.
Not poor enough
Sneha studies in the third standard and her agile mind absorbs whatever she is exposed to. She loves to huddle in a corner with her mathematics book, and enjoys figuring out how many oranges and apples her characters need to buy.
She loves Hindi and poetry, and she draws using fine lines and vivid colours. In a lot of ways, she is an ideal student.
But the school she and her brother go to is a low-quality private school, where the teachers change each month; where ugly fights break out, and kids come home with bleeding ears or noses; and where hardly any teaching happens.
Also read: We need to save higher education from WTO: Anil Sadgopal
When I found out that the 25% quota is only for children up to the age of 6 and told her this, Sneha fell quiet. But soon, she came back to me with a question: was her brother allowed to avail the quota then?
The Delhi government's education website mentions that if a child is below 6, which Kartik is, two documents are needed to go forward with the application process - an income proof and an address proof.
What's the income threshold for poverty in Delhi? According to the rulebook, the family income from all sources needs to be less than Rs 1 lakh per annum.
To qualify as 'poor' for this facility, the net annual family income needs to be less than Rs 1 lakh
Kartik's father is a security guard at Pragati Maidan, and earns Rs 10,000 a month. He gets no salary slip. An income certificate from the local SDM office, along with a letter from his employer, would show Rs 1,20,000 as his annual income.
It is because their net family income is Rs 15,000 a month that they can pay Rs 4,000 towards the children's education at a private school, and Rs 4,000 rupees as house rent to live in Chilla village, East Delhi (infamous for murders and child rapes).
Also read: "Students can go hang themselves. Govt doesn't care": #RohithVemula fact finding team
That leaves a family of four Rs 7,000 per month for food, medical expenses, transport and miscellaneous expenses. And they don't have a ration card. By the end of each month, they are wiped clean.
Yet, the Centre doesn't consider them poor enough to avail a private school quota.
In the metropolis of New Delhi, which boasts of the highest per capita income in India, Rs 2.41 lakh per person, the EWS criteria means that no one parent should earn more than Rs 4,000 a month.
That immediately does away with almost all salaried employees. In this income bracket, one would find hardly a few rickshaw pullers or safai karamcharis, even fewer daily wagers, some unorganised labour and mostly beggars.
Address proof wanted
Even if parents from these social groups wanted to avail the system for their kids, the next biggest hurdle in their path is the lack of an address proof.
Ask Kartik's parents for their current address proof, and they pull out a gas book. The address reads: c/o Pappu Chaudhary, Chilla Gaon, East Delhi - 110096.
Pappu Chaudhary owns some buildings in Chilla, and Kartik's parents live at his mercy, just as they did in the house of their previous landlord, who asked them to vacate when his daughter was getting married.
So, each year, they relocate around Chilla, looking for a merciful landlord who won't throw them out soon. There is no rent agreement that testifies they live there.
The address on their Aadhar cards and bank accounts belongs to their former employer, who had helped them get the documents. It is not where they live now, and so, holds no value.
The only way to get an address proof is to get a gazetted officer to write a letter on a government letterhead, testifying that the family lives in the present location. This can then be used to change the Aadhar card address.
At every step, the only persons who can help are gazetted officers or benevolent employers
But which gazetted officer will sign a document to help an unknown poor family? It needs elite influence and grand benevolence.
A way out, but the door is barred
A Disadvantaged Group (DG) is a family belonging to an SC/ST category, which holds a government-issued certificate that testifies to the same. The rules say that if the child belongs to a DG, then no income certificate is needed.
Kartik's parents do have one such certificate, issued by a Gram Panchayat in Allahabad four years ago, from where they relocated in search of employment. The certificate says they belong to the basket-making community, a scheduled caste.
Is it valid enough proof? No, says the Delhi government. The caste certificate must be issued in Delhi alone.
The process involves submitting the local caste certificate, again with a testimony from a gazetted officer, that this caste certificate is true, along with an application form to request a new one, again attested by a gazetted officer.
The only gazetted officer I knew was out of Delhi for the period. There were no more doors left to knock on.
Also read: MGNREGA@10: In Banda, a job card can be the difference between life and death
Relying on elite benefactors
On the face of it, applying for an EWS or DG quota is a smooth online process.
All the details of the child or the parents are to be entered on the website.
All caste certificate numbers are to be keyed in. An online system then verifies their validity.

A child who fits into all categories and has all the documents in order is given a registration number, and is contacted once a school is allotted.
It's not as though there's another way - the online system is the ONLY way to apply.
But as we just saw, getting there is virtually impossible for a poor family which wants to avail the facility on its own. It needs elite testimonies and intervention at every level to even make it possible to apply. It needs a benevolent employer, who can spare the time to intervene at every step.
The problem with 'benevolence' is that it allows individuals to dictate what is good, and what quality of education is 'good enough'.
Also read: #NFHS4 says India still has a nutrition problem
Segregation is still real
Amity Schools across Delhi run a program called Amitangsha, to educate the girl child. A phone conversation with a very busy coordinator told me that the school, which was for the poor, operated from 2pm to 5:30pm, with a free lunch provided.
"We cut down on games and library time, to just focus on the classes," she said impatiently.
Later, I found that the classes are all in Hindi, and are taught by a separate set of teachers, who belong to an from an NGO. The school infrastructure and faculty are denied to these children.
Isn't this segregation on the basis of income?
A petition moved by a federation of private schools states that the EWS quota is unfair, and hurts their business interests. They demand that the government should bear the full costs for the education of these students.
Until educating the poor becomes our collective responsibility on priority, isolated acts of charity won't benefit anyone. Least of all, the child.
Edited by Shreyas Sharma