No Digital India for girls? 76% girls have never used Internet against 49% for boys, reveals ASER report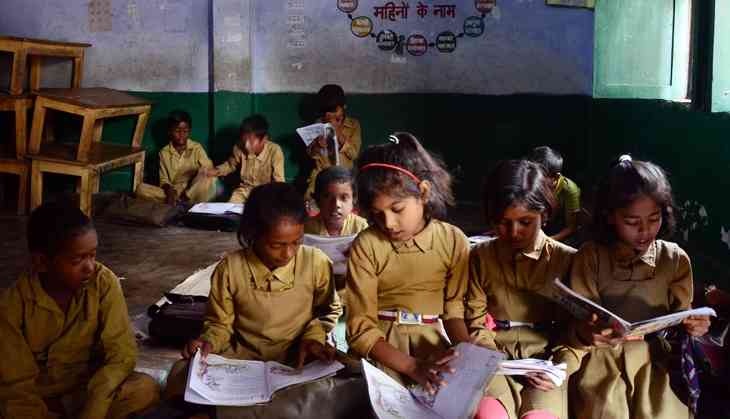 (Prabhat Kumar Verma/Getty Images)
Pratham education foundation's Annual Status of Education Report (ASER) for 2017 has chosen to focus on rural youth between the age group of 14 to 18 years.
The report that was released on Tuesday in New Delhi reveals some stark details on where rural youngsters stand on basic educational abilities. Chief Economic Advisor Arvind Subramanian and secretary at the ministry of skill development and entrepreneurship KP Krishnan, discussed the report with Madhav Chavan, co-founder and president of Pratham who was moderating the discussion.
The focus on 14 to 18 year olds is significant as are the first batch to have passed out of classed VIII after the implementation of the Right to Education Act which began in 2010. The report classified the parameters of assessment under four categories — activity, ability, awareness and aspirations.

According to the report, close to 120 million Indians are in the 14-18 age group today. The ASER survey covered more than 28,000 youngsters from 26 rural districts across 24 states.
The report said that 25% in the 14-18 age groups still cannot read basic text fluently in their own language, 57% of them struggle to solve a simple sum of mathematical division.
The report also suggests that the proportion of youngsters who have not acquired basic math skills by age 14 is the same for that of 18-year-olds.
As for English, 53 % of the 14-year-olds can read the language.
Even more shockingly, 14% of the respondents couldn't identify the map of India, 36% couldn't name the country's capital and 21% did not know the state they live in.
The report suggests that about 25 % of the respond cannot count money correctly. 44% couldn't add weights correctly in kilograms. 40% couldn't tell the hour and minutes on a clock.
Gender disparity
Despite the push towards digital India, 59% of youth have never worked on a computer and 64% have never used the Internet. Gender disparity is also significant in this case. While 49% boys have never used the Internet, close to 76 % girls have never done so.
Even in the case of media usage, there is gender disparity as in comparison to 12% of boys who had never used a mobile phone, there were 22% girls who had never used one. However, the survey found that 73% of the youth had used a mobile phone in the last week.
The enrollment of boys and girls at age 14 is the same but by the age of 18 at least 32% females are not enrolled as compared to 28% males.
Chief economic adviser Arvind Subramanian said, "The learning outcomes of boys and girls are similar but in the age group of 14-18, the wedge is opening up between boys and girls. It's important to address it."
Effect of RTE
According to the report, there is a huge difference between the youth who have completed more than eight years of education (6 to 14 years) and those who haven't, suggesting that the Right to Education (RTE) Act has made a difference.
The report says that while 46% of the former can perform arithmetic division, only 29% of the latter can do the same. Similarly, while 63% of the former can correctly read a small sentence, only 36% of the latter can do it.
"The Right to Education (RTE) Act was enacted in 2009, and in 2017 i.e eight years later, we have a first-of-its-kind situation when all children in India have passed class VIII, and we thought it was imperative to take a note of their abilities and aspirations," Rukmini Banerji, chief executive officer of Pratham said.
She also said, "The students who had 8 years of education under the RTE were visibly more knowledgeable than the ones that hadn't."
Other key findings
Overall 86% of children in the 14-18 age group are still within the formal education system.
Districts in central Indian states, which have low levels of literacy than their western and southern counterparts showed a lesser percentage of youth being able to count money or add weights. Most indicators for northeastern states fall behind these indicators that represent basic scholastic ability.
Another key finding was that Nearly a 42 percent youth in the age bracket of 14-18 are working, regardless of whether they are enrolled in formal education or not. Out of those who work, 79% work in agriculture. Also, more than three quarters of all youth do household chores daily – this figure is 77 % males and 89% in females.