As a nightmare 2016 ends, here's PM Narendra Modi's dream 2017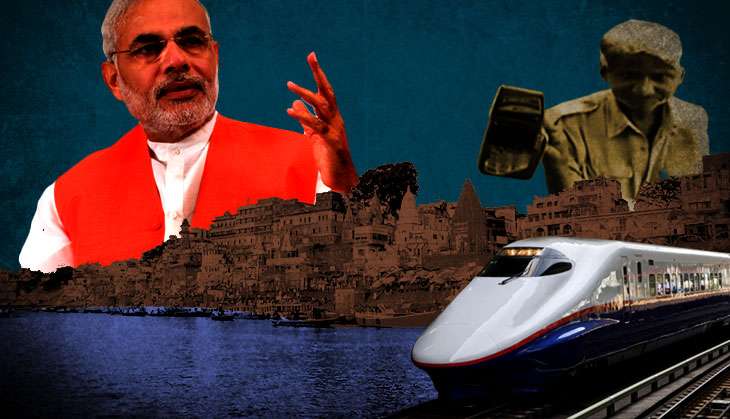 31 December 2017
Prime Minister Narendra Modi took his shades off. The gentle rocking of the boat was already lulling him into a sense of relaxation. But now was no time to relax, still, as they were, within range of the media frenzy that had taken over the river bank. Putting his hand to his forehead to protect his eyes from the sun, he surveyed the assembled media circus and, after determining where the highest concentration of photographers were, he repositioned himself for their benefit. It was time to make his move.
Modi fished around in his pockets, until he found the small chai glass he had brought along for the occasion. 'What great symbolism,' he thought to himself, 'a chai glass for the former chaiwala, the people will lap this up'. Then, as the media snapped away, he dipped the small glass into the river, and took a large gulp from it. 'Bhaiyo aur beheno,' he rehearsed under his breath, 'the river Ganga is officially as pure as me.'
Also read -Modi spoke at Jan Sabha because he's afraid of accountability in Parliament
It was a long time coming, 70 years of Congress filth clogging up the blessed river, but now, under the able guidance of Uma Bharti, the river Ganga was now pristine. Even as water sports and mineral water companies queued up for contracts, Modi reflected on his decision to appoint Bharti and the liberal outrage that had come with it. He knew, then as now, that a holy river needed a holy woman, not these science types.
He gently plucked a passing crocodile out of the river, 'How far I've come,' he thought, as he remembered the first crocodile he'd caught all those years ago in his little town in Gujarat. But the truth was that it wasn't just Modi who'd come this far, 2017 was the year India finally arrived as well, and it was all thanks to Modi.
Modi's dream 2017
National politics
The demonetisation fiasco had put Modi under a lot of pressure in 2016. However, it had weakened his political rivals more than it had weakened him.
Within his party, Arun Jaitley was now a political laughing stock. With the mismanagement of demonetisation attributed solely to him, the Finance Minister had retired from politics early to launch his own line of 'choose-your-own-ending' story books based on the expertise he had developed changing the demonetisation rules.
Mohan Bhagwat was shoehorned into a Presidential role, effectively neutering any political ambition or clout he had.
As for rival parties, demonetisation had done enough. Amit bhai directed the IT and CBI raids and all their rivals were shamed and routed. For the first few months though, the Congress, that thorn in India's progress, hailed Rahul Gandhi as pure, owing to the fact he had never been raided. This too, though, was part of Modi's plan.
Soon, Rahul Gandhi was finally made head of the Congress and set about taking the Congress to new levels of relevance at the escape velocity of Jupiter. Mamata Banerjee, meanwhile, hadn't left her secretariat in months after she received reports of sightings of the army in and around the state. In her absence the BJP was making steady gains.
As for Kejriwal, that crusading do-gooder was celebrating the resignation of Najeeb Jung as 2016 drew to a close. But, even before he could sober up from AAP's new year's eve party, the new governor, Anil Baijal, used the Shunglu Committee report to dismiss the Kejriwal government and imposed president's rule. Kejriwal had since gone on a hunger strike and, at the time of writing this, is beach body ready.
Demonetisation also made Modi some new friends. JDU chief Nitish Kumar's prohibition drive benefited greatly as no one had money to spend on illicit alcohol. Thankful to Modi for this, the JDU merged with the BJP.
Foreign policy
The end of 2016 had been a grim one for Narendra Modi. But even as politicians and civilians alike raged and ranted at his move, he had a global master plan in place that they would never have dreamed of.
The master plan began with his TIME Magazine reader's person of the year win exactly a month after demonetisation. Once his win was announced, Modi knew it almost guaranteed him a spot on TIME's person of the year shortlist - it did. To the common person, the TIME shortlist was nothing, but to the megalomaniacs in global politics, it meant everything. Soon, Modi knew, they'd be copying him to get on the list and that's when the fun would begin.
As always, Pakistan was the first to bite. Shortly after the TIME win, India's neighbours announced their own plans for demonetisation, and, unsurprisingly, things ended in disaster. The first month was rough, the second month even more so. By the third the government had fallen.
Even as the Pakistani army moved in to cement control, Modi was already playing a different game - Balochistan. Demonetisation had been the final straw, and, unlike how it tamed Kashmir, it set Balochistan free.
On August 13, PM Modi looked on proudly as Brahumdagh Bugti took office as the first President of Balochistan. 'Ha!' thought Modi, 'this will be a great gift for Pakistan's independence day.'
But that wasn't going to be his only gift to his beloved neighbours. A day later, on 14 August, India finally cut water supplies to its neighbour and Pakistan truly celebrated its independence day - the demonetisation-wrecked country seceded into 10 states. Back in India, Manohar Parrikar and Rajnath Singh fed each other laddoos.
Also read -Reality check for bhakts: Narendra Modi is not TIME's Person of the Year
Other countries too tried to follow the demonetisation trend. As these late adopters also bit into the poison pill, their economies tanked. India, which had a head start and was now recovering, gradually overtook these other economies.
The plan, which had begun with TIME magazine's readers choice poll, ended with TIME's actual person of the year award, which went to Modi.
Development
Modi had come into power on the back of promises of development and 2017 was the year he truly delivered. As demonetisation destroyed the black economy, India's actual economy grew in leaps and bounds.
The huge windfall meant that the BJP government at the centre was able to splurge on brand new projects. After hailing the Gatimaan Express as an achievement in 2016, bullet trains were imported from Japan.
But that was only the tip of the iceberg. Soon, each state controlled by the BJP was also the recipient of a gigantic statue. Madhya Pradesh got Ashok Kumar, UP, who'd voted the BJP into power, received one of Deendayal Upadhyay and Pune got two - Golwalkar and Hedgewar.
But the real beneficiaries of Modi sarkar were the poor. Modi managed to bring back all the money from Swiss accounts, depositing Rs 15 lakhs in every Indian's account. For those who still managed to stay poor despite the government's largesse, Modi's Gareeb Arth Upahaar (GAU) Yojana, all beggars were granted card swiping machines to help them. The ease of these transactions also improved traffic movement at busy intersections.
But these weren't the only occupants of India's roads who benefited from Modi's governance. The constitution was amended to make cow slaughter completely illegal. Those found rearing cows for meat were imprisoned and gau rakshaks formally joined the police's new cow patrol wing. Homeless shelters across the country were re-purposed into gau shaalas, ensuring that no cow ever had to suffer the ignominy of sleeping under the stars again.
With such a grand 2017, the 2019 elections cannot come fast enough.