Angry farmers announce protests in Mandsaur. Congress likely to take part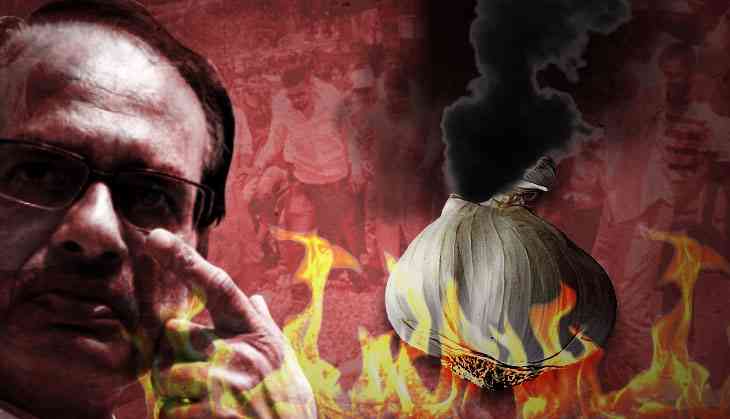 Seeking a fourth term as chief minister of Madhya Pradesh, Shivraj Singh Chouhan has yet again run into trouble with farmer groups that have announced a gaon bandh (village shutdown) from 1 June to 10 June over loan waiver and higher price for farm produce. To make matters worse for the incumbent chief minister, Mandsaur will yet again be the epicenter of the farm unrest. Last year, six farmers were killed in Mandsaur in police firing after violent protests erupted in the region.
It is for this reason that farmer groups and various political parties, including the Congress, have decided to congregate in the district to remember those who died last year. Sources have informed Catch that Congress president Rahul Gandhi is most likely to be present at Piplamandi in Malargarh Assembly segment to pay homage to those who died. Congress leaders have confirmed that senior leaders like Kamal Nath, Jyotiraditya Scindia and others would be part of this meeting.
Farmers' ire
Meanwhile, farmer organisations under the banner of Bharatiya Kisan Mahasangh and Kisan Ekta Manch will observe 6 June, the day police opened fire on protesting farmers, as "shahadat diwas" wherein they would gather at the site of the firing in Mandsaur. Moreover, farmers from the state will go on leave from 1 June to 10 June and will not indulge in supplying milk, vegetables and food grains to the cities.
"Farmers in the state have been protesting against the government for not providing one and a half times profit on their produce along with loan waiver and a steady source of income to ensure farming remains a viable occupation. The government and the traders are looting poor farmers which has not left us with much option. We are being forced to quit this profession which will spell doom for the nation," said Irfan Jafri, convener of Bhopal based Kisan Jagriti Sangathan.
Jafri was part of the five people committee formed to iron out differences between various farmer organisations to ensure a united front can be created to take on the government. "The government might say that they have managed to take care of the farmer unrest by providing them the right price for their produce. But that is a lie. In fact, garlic prices have plummeted so much that farmers are not interested in selling them. Garlic is being purchased from farmers at Rs 60 per quintal which comes to less than Re 1," he said.
He narrated the incident of a farmer in Ratlam who left seven quintals of his garlic produce at a mandi in the city to protest against the sharp drop in prices. To safeguard the farmers from such drastic drop in prices, the Shivraj government introduced the Bhavantar Bhugtan Scheme to pay for farm produce. In case of garlic, the government will pay Rs 800 for every quintal to the farmer.
Under this scheme, the government would compensate the farmer by paying the difference between the MSP and the existing market prices. The difference is calculated on the basis of average sale price of a crop in two neighbouring states.
However, the government has fixed 15 quintal as an average produce from one bigha which Jafri said does not even cover the actual input cost on a bigha. "According to the scheme, farmers would get Rs 12,000 from one bigha while the input cost is as high as Rs 20,000. So, this scheme is a sham," he added.
Hardeep Singh Dang, Congress MLA from Suwarsa, Mandsaur, claimed that the Bhavantar scheme is being used by traders to fill up their coffers. According to him, traders artificially depress the wholesale prices of certain produce for their profit and ask farmers to take the rest from the government. "This has been happening with garlic as well and the state government is doing nothing about it. The Bhavantar scheme has become a chhoomantar (vanishing) scheme," he said while adding that majority of farmers in Mandsaur have not even done registration to seek benefits of the scheme.
"For farmers to get benefit from the Bhavantar, they have to register but I can say it with confidence that out of nearly 2.5 lakh farmers in Mandsaur, only 40,000 have registered. The rest are just unable to sell their produce at a respectable price," he added. According to him, the state government have failed to live up to the promises made to farmers for which they will have to pay dearly in the upcoming elections.
What has led to a bumper production of garlic is also because many farmers, who suffered considerable losses after the prices of onions fell last year, shifted to garlic. It is estimated that nearly 10% onion growers shifted to garlic this year leading to bumper produce. In addition, the bumper crop of garlic in Rajasthan has made matters worse.
BJP cries foul

Meanwhile, BJP MLA from Mandsaur, Yashpal Singh Sisodiya, claimed that all the protest are being held in Mandsaur for political gains. He claimed that farmers of Mandsaur are a happy lot and they have received a lot of support from the schemes launched by the state government.
"The intent is to yet again disturb the peace and tranquility of the region. Non-issues are being raked up and the farmers have no issues at all in Mandsaur. Political parties like Congress, AAP, Swaraj Abhiyan, Samajwadi Party, Bahujan Samaj Party, among others are just using Mandsaur for political dividends. They should know that none of this will work," he said.
He stressed that since elections are drawing closer, these parties want to create a negative image of the BJP government which has worked relentlessly for farmers. When asked about the the falling prices of garlic, he said, "This keeps happening every now and then and it is no big deal. Just to make some more money, farmers began sowing garlic and their decision backfired. How can they blame the state government for that. We are trying our best to provide whatever support we can," he added.
Meanwhile, another BJP leader, who did not wanted to be named, said that these farm protests are being organised so that farmers can easily smuggle out opium from the district. Mandsaur is one of the districts where government allows farmers to grow opium for medicinal purposes and a lot of it is smuggled out to other states.
"They know if the entire administration is busy in trying to bring the situation under control, they can easily smuggle out their opium. It happened last year as well. It is not that farmers here in are any sort of distress," he said.