All Fr Sopena wanted was to be Indian. It took 67 years, but now he is
The man
Father Federico Sopena Gusi arrived in India as a student in 1949
The Spanish priest has been working for the upliftment of tribals in Maharashtra for decades now
The obsession
Fr Sopena fell in love with India, its people and its culture
All he wanted was to become an Indian citizen before he died
After two failed attempts, he finally got citizenship on 21 April
It's almost a retelling of Gabriel Garcia Marquez's classic tale Love in the Time of Cholera. A young man falls in love, and waits for decades, suffering the slings and arrows of fortune. And then, finally, at the ripe old age of 90, his love is requited.
Father Federico Sopena Gusi is that man. A Spanish priest who arrived in India way back in 1949, and fell in love with the country. All he wanted was to become an Indian citizen, only for the bureaucratic machinery to play hardball with him for decades on end.
But finally, his dream was fulfilled on Thursday, 21 April.
Love for India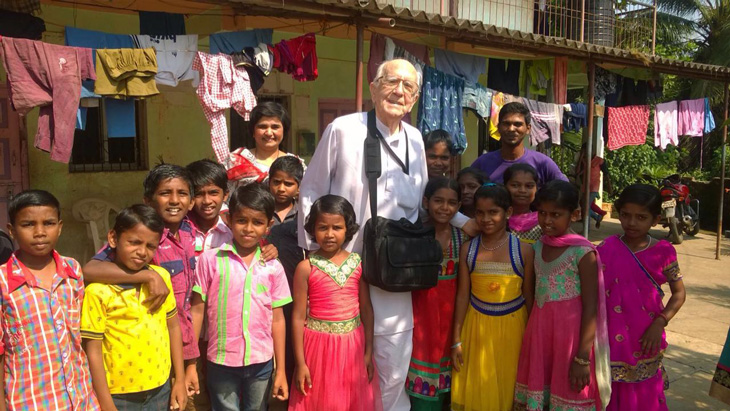 Speaking to mediapersons since Friday has taken its toll on Sopena. But even though he is hard of hearing and needs help from his students to interact with people, his enthusiasm to tell his story hasn't dimmed.
He first came to India as a student, and then became a social worker. For several decades, he has been working for the benefit of the Katkari tribals in Raigad district of Maharashtra.
"India is a country where one can experience all shades of life. There is a perception about India in the world that it is a country with lot of diversity in culture, and therefore not a good place to live. There are lot of contradictions in India such as poverty, inequality and corruption, to name a few. But this is true everywhere in the world, in one form or another. I love Indian people the way they are," Sopena says.         
Vaishali Patil, a social worker from Raigad who has been associated with Sopena for more than 20 years, says: "He had always been fascinated by Indian culture, especially the people. That is the reason he wanted to get Indian citizenship. Now that he has got it, Father Sopena feels accomplished and hopes to spend the remainder of his life peacefully here."
Ask him why Sopena was so obsessed with India, Patil replies: "The people are simply fantastic. Despite all the disparities, Indian people show a great level of resilience and continue with life happily. The social and personal bonds among people here, are rarely seen anywhere in the world. This is the biggest quality of people, Sopena Baba believes." 
The quest begins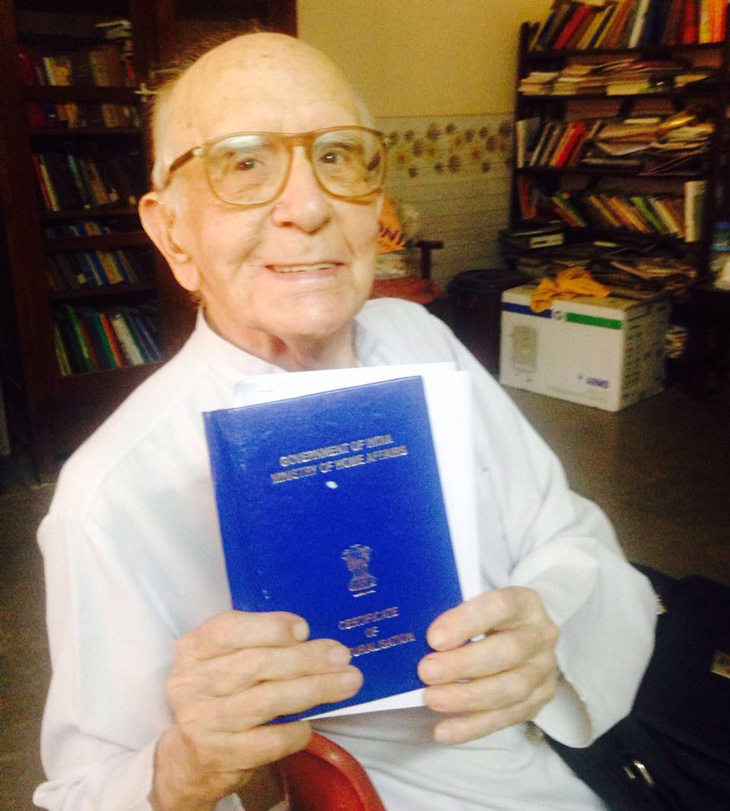 Asked if there was any particular incident that triggered his decision to apply for Indian citizenship, Sopena says it happened almost 40 years ago.
One day, he was riding his scooter to a remote place in Raigad district, when he came across a Katkari tribal couple injured and bleeding profusely. Both had broken noses, and lots of damage to their faces and bodies.
Sopena asked them in crisp Hindi about where they were headed and what caused the injuries. Their answer left him spellbound.
"They had both got drunk the previous night, and abused and thrashed each other. When the influence receded, they realised the gravity of their injuries and decided to see a doctor," he recalls.
That was the moment he decided to make India his home. Getting Indian citizenship became his life's passion, almost at par with working for the tribals' upliftment.
He learnt Marathi and Hindi, and also embraced the culture - so much so that despite being a Christian priest, he has also done the sacred Char Dham pilgrimage of Hinduism.
Born Spanish, will die Indian
Sopena had first applied for Indian citizenship 38 years ago. But despite applying a total of three times, he never got it - it was just stuck in red tape, or there were 'procedural complications'.
In the meantime, Sopena started facing health issues. He had to have a pacemaker fitted to keep his heart beating. He had already lost his left leg to an accident in 1989, and has since been using a prosthetic limb to move about the hamlets of Raigad. 
Even in this situation, he remained determined, and kept saying: "I was born Spanish, but I shall die Indian."
After two attempts had failed, Patil helped him reorganise the documents and reapply for citizenship in 2011. She followed up the case with government officials in Raigad, right up to the Directorate of Citizenship in New Delhi.
And finally, on Thursday, 21 April, Sopena finally received what he had desired all these years. The man who was born Spanish has now been reborn as an Indian, at age 90.