AgustaWestland: Is govt targetting Sonia but letting Raman Singh off the hook?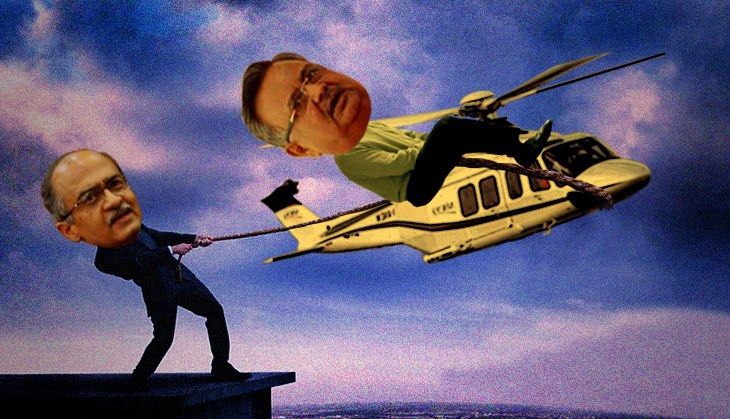 The Agusta kickbacks storm refuses to die down. Lawyer-activist Prashant Bhushan, on Thursday, accused the BJP government of shielding its own leaders. Bhushan, in a press conference, organised under the banner of his outfit Swaraj Abhiyan, claimed that the Raman Singh-led state government in Chhattisgarh had also bought an Agusta helicopter in a shady deal and that Narendra Modi's government is not investigating it.
"The apparent earnestness of the present government to go after the culprits of the 2010 Agusta deal is indeed commendable. But what is interesting is that another Agusta deal took place in Chhattisgarh in the year 2007, which though is equally if not more dubious, has gone without any investigation by the same central government despite it having being brought to its notice by CAG and a former secretary to the Government of India EAS Sarma," Bhushan said.
Bhushan's claims, which he backed with documents procured through Right to Information applications, show that Raman Singh's government purchased the Agusta helicopter from a shady dealer registered in the British Virgin Islands, a known tax haven, by paying a commission of USD 1.57 million which was almost 30% of the helicopter's cost. He says the Chhattisgarh government did not make any effort to inquire about other helicopters which may have been more suitable or cheaper.
Bhushan claimed that the Central government did not investigate the offshore accounts of Abhishek Singh, the son of Raman Singh, even though there is evidence to prove in the International Consortium of Investigative Journalists' (ICIJ's) offshore leaks that he opened account in British Virgin Islands and that it was brought to the notice of the government. The account was opened months after this "shady deal," according to Bhushan.
"These facts are available in the ICIJ website for several years. Though the name mentioned in this account is Abhishek Singh, the address of the Company Quest Heights is shown as Raman Medical, Kawardha which is the same as shown in the Affidavit of Raman Singh," he said. "This account of Abhishek Singh's company was brought to the notice of the Government of India by the former secretary EAS Sarma by letter dated 15 March, 2015. Subsequently in another letter dated 7 May, 2016, Sarma also mentioned about the curious manner of this deal mentioned in the CAG report of 2011," Bhushan claimed. He was accompanied by Yogendra Yadav and two RTI activists from Chhattisgarh who are both working with Swaraj Abhiyan.
How the 'shady' deal unfolded
According to government documents produced by Swaraj Abhiyan, the Chhattisgarh government proposed procurement of a new light twin helicopter in 19 December, 2006. The then helicopter in use, an EC-135, which ran on a Turbomeca engine, had completed four years flying facing 'adverse weather conditions'. And that premature failures and replacement of various components had increased the cost of maintainence and operation.
Bhushan says, within three days of this proposal, which he calls an amazing feat, on December 22, 2006 a meeting took place between the representatives of OSS, service providers of Agusta Westland Helicopters in India, with offices in Sardar Patel Marg, where OSS made a presentation about Agusta 109 Helicopter. "Within days thereafter makes an offer to supply this helicopter at USD 6.31 million to the govt," Bhushan pointed out.
He gave out documents which show that after this Agusta told the Chhattisgarh government that it would have to wait for two more years if it were to buy directly from them and that they could instead get it from a dealer called Sharp Ocean based out of Hong Kong but registered in British Virgin Islands. The correspondence stated that Sharp may be able to supply a pre-sold helicopter on an earlier date.
Curiously, the government had already interacted with OSS, which Bhushan says is a fully owned subsidiary of Sharp, and were told that a helicopter was available for 6.31 million USD. This included a commission of USD 200,000 which Sharp would charge for arranging the helicopter.
Bhushan says that at this point "a team was sent to Hong Kong to negotiate this premium of USD USD 200,000 down with Sharp. This team returned empty handed without any assurance of lowering the premium of USD 200,000." The lawyer pointed out that after this, the Chhattisgarh government. proposed to go in for "global tenders".
The global tender issued on 30 May, 2007, called for suppliers who could specifically supply the Agusta 109 Power E helicopter. "No attempt is made even at this stage to call for genuine global tenders from different manufacturers across the world," Bhushan points out.
Interestingly, the three bids received for the tender included Agusta, Sharp Ocean and OSS, the three companies already part of the negotiations in some manner. While OSS quoted the highest price of Rs 28.36 crore, Agusta quoted Rs 29.77 crore and Sharp Ocean quoted the lowest price of 26.11 crore (USD 6.57 million).
On the basis of these bids, the Raman Singh government decided to buy the helicopter from Sharp Ocean. Interestingly, the invoice provided by Sharp Ocean showed that the company paid only USD 5.1 million to Agusta and pocketed USD 1.57 million as commission. The helicopter came from Cyrus Poonawala's Serum institute which had ordered a helicopter in May 2006 and had decided to forego the rights in favour of Sharp Ocean which was supplying the same helicopter to the Chhattisgarh government.
"A contract is thereafter signed in October, 2007 which mentions that the delivery would be made by December 2007 when final payment would have to be made," Bhushan pointed out.
"The CAG has also indicted the Chhattisgarh government. in its 2011 report for having wasted considerable money by going through this charade of global tender etc," he adds.
Offshore accounts
Interestingly, 6 months after the payment was made to Sharp Ocean, Bhushan says Abhishek Singh and his former employers opened accounts in British Virgin Islands. "What makes this case even more interesting is the discovery of an account opened by Abhishek Singh through a company called Quest Heights Ltd. which appears to have been incorporated in British Virgin Islands on 3 July, 2008," Bhushan says. "At around the same time, Abhishek's previous employers, the Sarda Brothers set up another company in the British Virgin Islands by the name of Ideal positioning," he adds.
Sarma, in his letter to the Home Ministry, in March 2015, had pointed out that these accounts which figure in the ICIJ's expose in 2013, had since gone unnoticed. Demanding an investigation, he wrote "I feel both Raman Singh and Abhishek Singh have prima facie violated the law of the land in more than one way..."