Heritage at risk: is NGMA another inferno in waiting?
Fire at NMNH
The early morning hours of Tuesday, 26 April, saw the National Museum of Natural History gutten by a fire
A 160-million-year-old fossil bone of the Indian Sauropod Dinosaur was lost
National Gallery of Modern Art
NGMA is also at great risk
Painters such as Amrita Shergill, Raja Ravi Varma and SH Raza have original works of art there
More in the story
Audit report of NGMA
Less than 6% NGMA\'s art objects are on display
Financial misappropriation at the gallery
When fire gutted the National Museum of Natural History in Delhi on Tuesday, among the things that went up in smoke was a 160-million-year-old fossil bone of the Indian Sauropod Dinosaur. Irreplaceable pieces like this made up this historical museum that has now been lost to us forever.
Two kilometers away from it is the National Gallery of Modern Art (NGMA), which, due to a similar attitude of neglect, has put not just priceless artefacts stored within it but hundreds of visitors who throng the venue every week, at great risk.
In danger of erasure of our history
If a similar accident were to happen here, these are the painters whose original works of art would be destroyed forever - Amrita Shergill, Raja Ravi Varma, SH Raza, FN Souza, VS Gaitonde, Rabindranath Tagore, Nandlal Bose, AK Haldar, MV Dhurandhar, MF Hussain, Benode Behari Mukherjee and a number of Kalighat paintings.
Alka Pande, a noted art historian, said NGMA was a 'considerable treasure' and an incident like the one that gutted National history museum would mean an 'incredible loss' to Indian culture. She said an untoward incident at this gallery could mean 'erasure of our history'.
"NGMA has some very important works of modern Indian period. They have a real cache of modernists a lot of which have been acquired in the last ten to fifteen years. It is a record of history of post-independent Indian art, along with some pre-Independence art as well," Pande continued.
She added that there were unique collections that NGMA has, "for instance Raza and Hussain are also found in private galleries, but where will you find a Shergill or a Dhurandhar or a Tagore or a Benode Behari Mukherjee?"
According to the last count of art works stored here, NGMA had upwards of 16,000 original works of art.
A few hours after National Museum fire (http://www.catchnews.com/india-news/how-we-lost-a-slice-of-our-natural-history-1461724810.html), Catch went around NGMA to check the safety mechanism it had put in place to prevent incidents of fire or other similar eventualities, and this is what we found.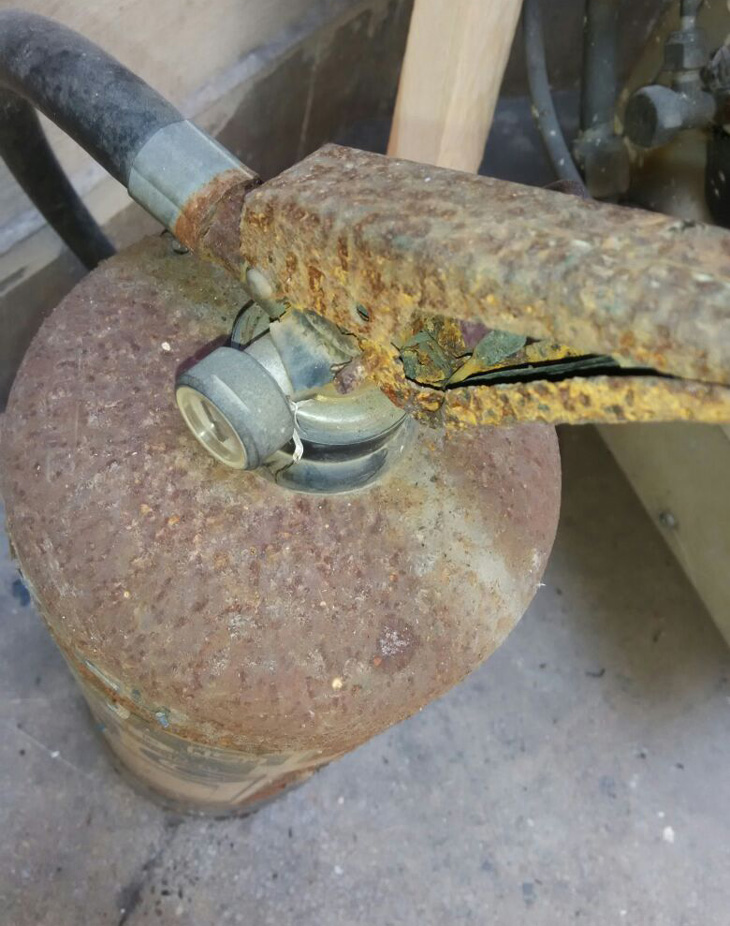 Photo: Suhas Munshi/Catch News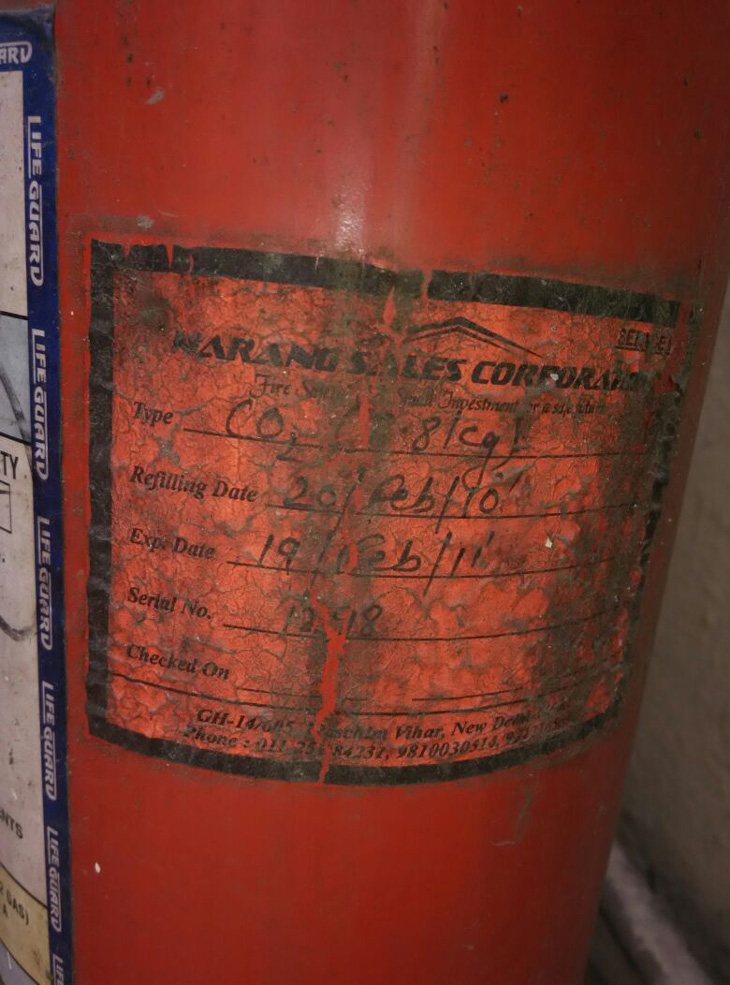 Photo: Suhas Munshi/Catch News
NGMA from the inside
Not only were all the fire extinguishers placed in NGMA past their expiry dates, exhibition halls were layered with inflammable substances, some halls had just one regular point of entry and exit. Also, sloping emergency staircases which were earlier installed at terraces at lakhs of rupees, had been replaced with straight staircases, such as are installed in swimming pools, which are practically useless for elderly and children in times of emergency.
According to an official at NGMA who did not wish to be named, the construction on most of the buildings at NGMA finished in 2008, which is when fire extinguishers were first installed. Fire extinguishers once serviced last for a year.
"The extinguishers were not maintained after 2009. Till 2014, for five years that is, this place worked without any fire safety mechanism. Then in 2014 all of them were refilled but by October 2015, were past their use-by date. All during this while public exhibitions were held in complete disregard of public safety and the safety of paintings and sculptures inside."
Photo: Suhas Munshi/Catch News
Jaipur House
A public exhibition, on Parsi culture, is currently being housed in the old wing of NGMA, also called Jaipur House. This hall has just one regular entry and exit point. Most of the fire extinguishers in this complex expired back in 2015. They're kept in a small open space and because of direct sunlight and rain, have rusted over time.
Jaipur House is the real treasure of NGMA. On its first floor is a store, which is not open to public viewing. This houses at least original 15,000 original paintings.
According to a 2011-12 report of the auditor general of India, the gallery only showcases 6% of its actual stock. Most of the real body of work, by Indian masters as well as by accomplished foreign artists, lies stacked in steel almirahs (wooden cupboards) in this storehouse.
Photo: Suhas Munshi/Catch News
Audit report of NGMA
Here's what the audit report of NGMA, carried out by the director general of the audit department found in their report:
The NGMA has not acquired any new work in several years. The last time an art object was acquired was almost a decade back, in August 20, 2006.
NGMA had not physically verified its 16,480 objects in the past 13 years. The report also found 'laxity in physical verification of fixed assets, which as per rules, should be verified at least once a year and its results must be recorded in a register.'
The audit report mentioned the fact that it is mandatory for museums to keep separate accounts for assets of historical or artistic value. However, 'the register maintained by NGMA is not in the prescribed format of GFR-42 and valuation of assets every five years as required was not done.'
While the gift shop at the NGMA stocks posters, portfolios, and mugs adorned with paintings of works by eminent artists, the last physical verification of those items was done in 1995. 'Even after a lapse of more than 14 years, no efforts were made to physically verify the publication stock.'
The report noted that 111 artworks had apparently been restored by the restoration laboratory. However, the report notes that 'in the absence of physical verification it couldn't be established which art objects required restoration and when, which is why the very purpose of restoration department is not fulfilled.'
Of the 16,480 works in the collection, many paintings are apparently locked up in steel cupboards and have not been framed due to alleged space constraints. The auditor noted that less than 6% of NGMA's art objects are on display.
The official at NGMA hinted at a huge scale of financial misappropriation at the gallery. He also claimed that around 18 paintings were missing from the gallery's archives.
Note:
The director of NGMA, Rajeev Lochan, wished to respond to all the queries for this story through his official email only. Accordingly a detailed email was sent on Wednesday morning. We will update the piece as soon as we receive his response.
Edited by Sahil Bhalla