After PM Abbasi's statement, Pakistan is in for some rare criticism in Valley
Riyaz Wani
| Updated on: 11 November 2017, 22:05 IST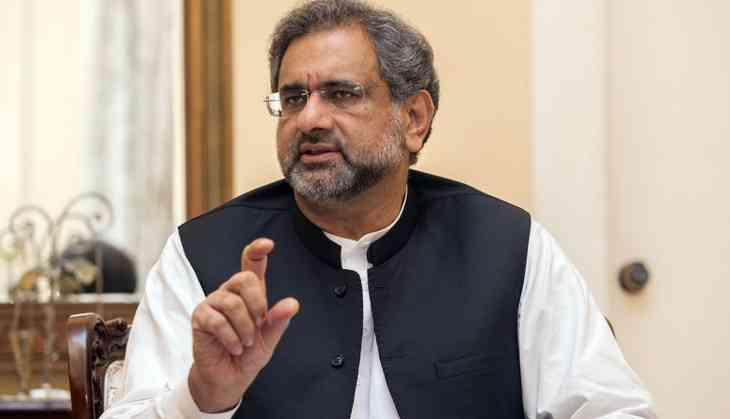 (Asim Hafeez/Bloomberg/Getty Images)
In a rare turn of events, Pakistan is in for some criticism in Valley. The provocation for such a turn in sentiment is a statement made by Pakistan Prime Minister Shahid Khaqan Abbasi, ruling out independence as an option for the state.
Addressing a recent conference on 'Future of Pakistan 2017' held at the London School of Economics' South Asia Centre, Abbasi said Azadi option "had no basis in reality". He claimed that there was "no support for the demand for independent Kashmir".
In some vocal sections of the Kashmiri society, the statement is being seen as a big let down by a country which was expected to stand by the aspirations of the people of the state, considering its support and vigorous championing of the ongoing separatist movement in the state.
Back up failure
In recent years, New Delhi's iron-fisted policy in Kashmir Valley has further raised the stock of Pakistan. The country's support at the international level about human rights violations in the state was perceived as acting as some kind of a check on New Delhi's unrelenting response to the situation.
But this immense goodwill for Pakistan does not necessarily mean that Kashmiris feel an obligation to join it as part of a settlement effort nor do they expect Pakistan to insist on this. On the contrary, people generally expect Pakistan to back the agency and right of the people of the state to decide their own destiny.
The sentiment in Kashmir
When Pakistan PM Shahid Khaqan Abbasi ruled out the 'Azadi' option, there was therefore an immediate criticism on social media.
"Khaqan is not going to decide the future of 10.2 million people," wrote one Farooq Ahmad Malik on Facebook.
"Hurriyat bats for Pakistan and the mainstream for India and there is hardly any one who bats for Kashmir and Kashmiris. People are themselves responsible for all the mess in place. They seriously got to wake-up," posted one Shafi Wani.
"I too don't subscribe to the idea of an independent Kashmir, but if the predominant majority wants that why should Pakistan oppose it when it has accepted so by endorsing the Hurriyat Conference constitution describing 'right to self determination shall include independent Kashmir.' Is it bad than being occupied by India? (sic)" posted one Manzoor Hussain Geelani on Facebook.
A cartoon in the leading daily Greater Kashmir showed Pakistan removing 'IN' from an already caged 'Independent Kashmir', rendering it 'dependent'. What is more, the country offers to the state another cage after its release from the existing one.
"The recent statement by Pakistan's prime minister Shahid Khaqan Abbasi, unilaterally eliminating the option of independence for Kashmir will only serve to intensify skepticism – are deep state India and deep state Pakistan colluding? It would not be the first time they have done it," wrote the historian and the former Vice Chancellor Islamic University of Science and Technology in a newspaper column.
US based Kashmiri academic Dr Nyla Ali Khan too expressed her disappointment: "Prime Minister Abbasi says there is no support for independent Kashmir. For me, a Kashmiri Muslim from the Valley, that is news. It reinforces the status quo and further reduces my neck of the woods to a battlefield," Khan wrote in a piece published in the weekly Kashmir Ink.
"Well, Mr Prime Minister, we, the people of Kashmir require peace and stability in both India and Pakistan to restore normalcy in our region. The goal should be to find a practical solution to the impasse, as opposed to forcing the people of Kashmir to remain in limbo and quietly watch our younger generation fall by the wayside".
Though Hurriyat didn't formally respond to Abbasi's statement, Jammu Kashmir Liberation Front (JKLF) supremo Yasin Malik did.
"For the past 70 years Kashmiri people are rendering valuable sacrifices for their right to self determination and freedom and have sacrificed lakhs of our young and old for achieving this sacred goal. In these circumstances any statement that may create confusion among the ranks and files of Kashmiris is not advisable and should be avoided in any case," Malik, who advocates for an independent Kashmir, said.
"Instead of issuing controversial statements, the Pakistani leadership needs to enhance its efforts to highlight the miseries of Kashmiri people and the gross human rights violations that are continuing in Jammu and Kashmir," he continued.
However, former chief minister Omar Abdullah rubbed it in that the separatists had maintained a studied silence over the controversial statement. In a tweet, he said: "Here's a question for the Hurriyat leaders in light of your PM's categorical statement - what was the last 30 years of turmoil all about? Will you boycott the Pak High Commission now?"
A tilt
The Valley's influential separatist camp comprises sundry ideological shades. While the hardline Hurriyat faction led by Syed Ali Geelani is a vocal supporter for Kashmir's merger with Pakistan, JKLF led by Malik wants independence for Kashmir. The factions led by Mirwaiz Umar Farooq, Shabir Shah and others too are partial towards Pakistan, but they privilege a consensus-based resolution of Kashmir between India and Pakistan over Kashmir's merger with Pakistan or its Azadi
In some opinion polls in past, Kashmiris have showed a marked tilt towards independence. One such poll carried out by Delhi's Centre for the Study of Developing Societies in 2007 found that nearly 90% of people living in Srinagar, Kashmir's summer capital, wanted Kashmir to become an independent country.
Similarly in 2010 a poll published by the British think tank Chatham House revealed that nearly half of the people living in the Indian and Pakistani parts of Kashmir wanted Kashmir to become an independent country.