After last year's riots, Dhulagarh's Hindus and Muslims come together to ties rakhis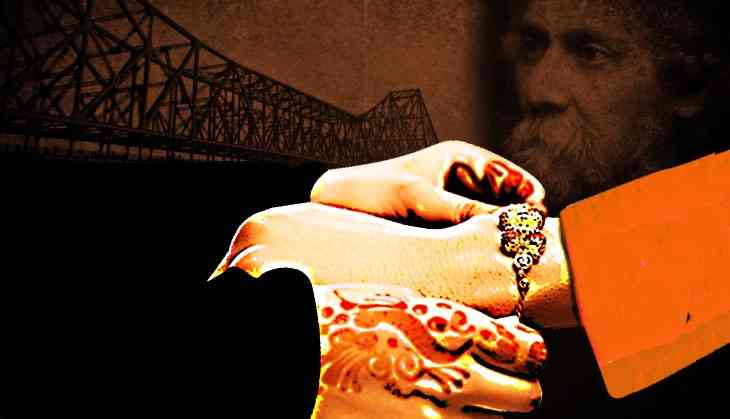 (Arya Sharma/Catch News )
Just a few months after a religious celebration turned violent at Dhulagarh in Howrah, with houses of both Hindu and Muslim communities burnt and ransacked, a different scene unfolded in the area on 8 May.
To instil a sense of brotherhood between the two communities, the Bangla Sanskriti Mancha decided to hold a Raksha Bandhan event to commemorate the occasion of Rabindra Jayanti - the birth anniversary of Rabindranath Tagore.
"Around 200 people from both communities came together for the cultural programme to mark the birthday of Rabindranath Tagore," said Dilip Roy, a resident of Dhulagarh.
According to the senior officials from the district administration, the event was organised under the banner of the Bangla Sanskriti Mancha. But according to a source, the organisation is run by leaders from the ruling part - the All India Trinamool Congress - and that they are holding such events at the behest of the party with the goal of ensuring the BJP does not successfully create communal tension in the state.
The inspiration is clear: in 1905, when the British was attempting to orchestrate the Partition of Bengal, Rabindranath Tagore decided to organise a Raksha Bandhan event to help fight the government's 'divide and rule' policy.
Political games
"Bengal is very strong and tolerant towards every religion," says state parliamentary affairs minister Partha Chatterjee. "We are happy that both communities tied Rakhis to one another on Rabindra Jayanti. We are sure that BJP cannot divide people along communal lines."
State BJP president Dilip Ghosh too said he was glad to hear of such an event. "The BJP does not want to divide people. We are opposing Banerjee's appeasement politics and we will continue our fight against the AITC."
The present day event's significance lies largely with the idea that the BJP is attempting to polarise Bengal along religious lines.
Amol Mukherjee, an eminent political analyst and former professor at Presidency College, said, "The need of the hour is to organise such events at regular intervals in every area in the state to spread the message to all the political parties that they cannot break the bond between the people of Bengal by trying to divide them along communal lines."
Referring to the clashes on 20 December, Mukherjee says that the Rashtriya Swayamsevak Sangh (RSS) attempted to capitalise on the opportunity by urging Hindus to unite to fight the evils of society.
Md Jahangir who lives near the highway in Dhulagarh, speaks of how the simmering tension after the clash prevailed for quite some time. At Mohan Bhagwat's rally in January, the RSS had even brought in several 'Hindu victims' to speak about how they were tortured during the violence.